Croatia Airlines Part 2: Privatisation will require finding bidders with a strategic motive
Analysis
In the first part of our analysis of Croatia Airlines, we examined its finances and highlighted an improving trend. The Croatian government's attempts to find a buyer for a 49% stake in the airline met with insufficient interest in 2013, but it is easier to sell a business where there are clear signs of profit returning than it is to sell a perennial loss-maker.
The potential privatisation has come back onto the agenda.
However, airlines rarely make a good investment on purely financial grounds and Croatia Airlines' prospects are likely to depend on finding a bidder with a strategic interest.
This second report looks into Croatia Airlines' network and market position and considers their possible appeal.
See related report: Croatia Airlines' privatisation is back on the agenda, helped by restructuring and return to profit
CAPA's World Aviation Summit will he held at the Hilton Antwerp Hotel on 20/21 November 2014, preceded by a Corporate Travel Innovation Day on 19 November.
To register to hear the highest level debates on EU objectives, liberalisation, the role of unions and many other critical issues, involving over 20 airline CEOs and numerous other industry and government decision makers, click here: CAPA World Aviation Summit and Corporate Travel Innovation Day
Still the largest airline in Croatia, but its market share is in long term decline
According to data from OAG Schedules Analyser, Croatia Airlines is the largest airline to/from Croatia by seat numbers, with a share of scheduled seats of 25% in 2014. This has fallen from 58% a decade earlier. Data from the same source indicate that LCCs have increased their share of seats in Croatia from 2% in 2004 to 21% in 2014. Croatia Airlines has a domestic monopoly and so the share of LCCs on international routes is higher than this.
Capacity in Croatia is highly seasonal, with many international carriers operating only in the summer season and so market share fluctuates seasonally. OAG data for the week of 6-Oct-2014 indicate that the top seven airlines also include Germanwings, Ryanair, Lufthansa, easyJet and Austrian Airlines.
This highlights not only the importance of LCCs, but also the significance of the German market, which is the largest international destination country. It also demonstrates the relatively strong position of the Lufthansa Group, with whom Croatia Airlines shares membership of the Star Alliance.
Croatia Airlines share of scheduled seats to/from Croatia 2004 to 2014

Croatia Airlines' main hub is at Zagreb, the capital and largest city of Croatia, where it has three times the capacity that it operates from each of Dubrovnik and Split. Its biggest base outside Croatia is Frankfurt, the largest Star Alliance airport, and its top ten bases also include the Star hubs Munich and Zurich.
Croatia Airlines top ten bases by seats 6-Oct-2014 to 12-Oct-2014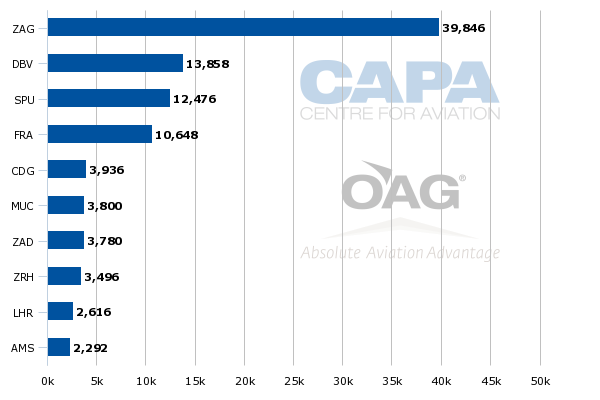 Croatia Airlines is the largest airline at Zagreb, with 58% of seats (week of 6-Oct-2014, source: OAG), and other Star Alliance members also make up a decent share of capacity.
It is also the largest airline at Dubrovnik and Split, but with a less dominant share of around one third of seats at each airport. Major European LCCs have a more significant share at the latter two airports than at Zagreb, where Lufthansa-owned Germanwings is the biggest LCC.
Zagreb Airport seat capacity by airline 6-Oct-2014 to 12-Oct-2014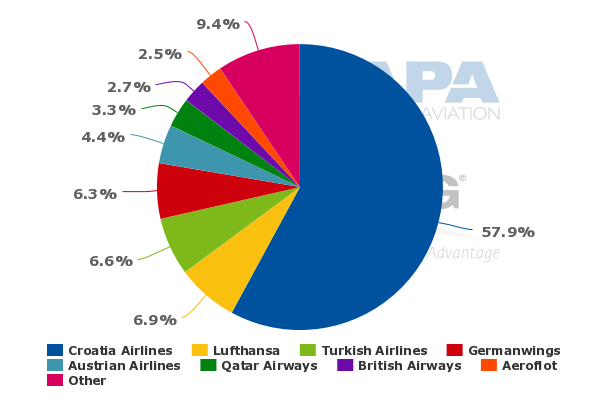 Dubrovnik Airport seat capacity by airline 6-Oct-2014 to 12-Oct-2014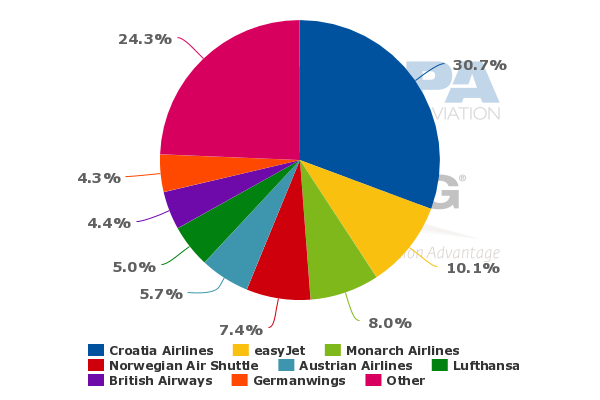 Split Airport seat capacity by airline 6-Oct-2014 to 12-Oct-2014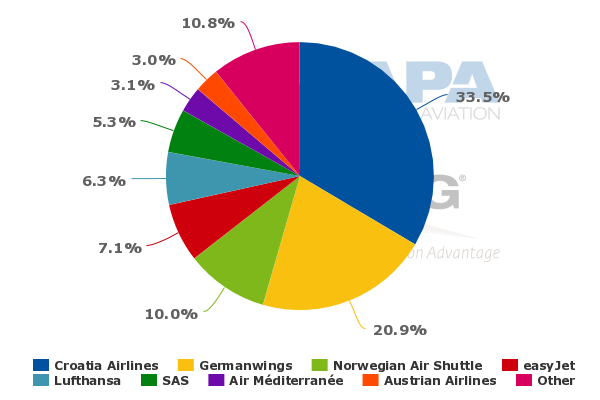 At its other Croatian bases of Zadar, Pula, Brac Bol, Osijek and Rijeka, Croatia Airlines has much less capacity. Ryanair dominates at Zadar, with 71% of seats, and Osijek, with 83%, and is also the largest airline at Pula, with 41%.
At Brac Bol, Croatia Airlines is the only airline with a once weekly Dash-8 service to Zagreb. At Rijeka, it is number three, with 12% of seats, behind Germanwings and Ryanair (source for all seat share data: OAG, week of 6-Oct-2014).
Croatia Airlines map of destinations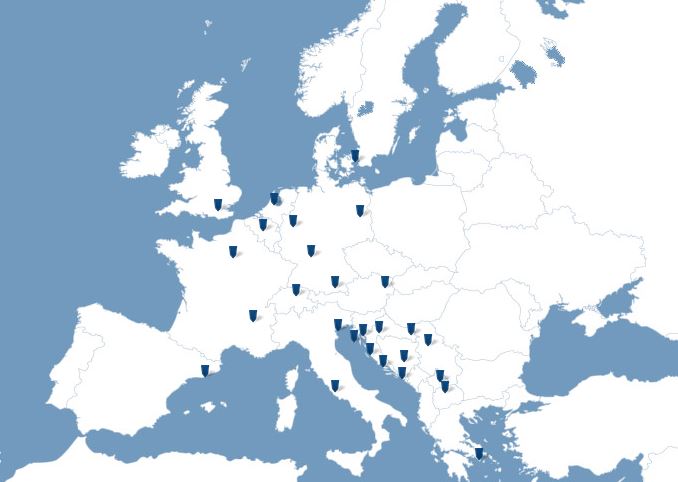 Croatian has no long haul destinations
Croatia Airlines' network is exclusively short/medium haul, covering eight domestic destinations, 9 in Europe and one in the Middle East (Tel Aviv, which it operates only in the summer, when it is the biggest airline on the route, ahead of El Al).
Through codeshares with Star Alliance partners and with Alitalia, it is able to offer other destinations that it does not serve itself in the Nordic region, Germany, Czech Republic, Lithuania, Poland, Portugal, Switzerland and Turkey.
Croatia Airlines Network Summary (at 12-Oct-2014)
| Region | Number of destinations |
| --- | --- |
| Domestic | 8 |
| | 19 |
| | 1 |
| Total non-stop passenger destinations | 28 |
International destinations account for 73% of Croatia Airlines' seat capacity and Western Europe accounts for 87% of its international seats. Germany is by far its biggest country destination by seat numbers, followed by France, Switzerland, the UK and Netherlands. These countries are important O&D markets, in particular for inbound leisure traffic to Croatia, but they also have major intercontinental hubs.
Croatia itself has no long haul connectivity and so its citizens must travel via Europe's big hubs to reach intercontinental destinations.
Croatia Airlines international seat capacity by country 6-Oct-2014 to 12-Oct-2014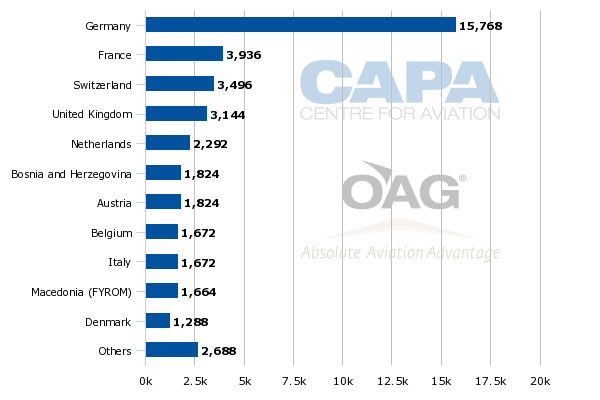 Croatia Airlines' network has a strong leisure focus, reflecting the importance of inbound tourism to the demand for its product. A number of routes are operated only in the summer and the ratio of its low season seat capacity to high season seat capacity is only 60% (using data for Jan-2014 and Aug-2013, source: Innovata). This compares with an average of 80% for all airlines in Europe.
This strong seasonality presents a challenge to achieving year-round profitability.
The leisure orientation of the network also reveals itself in Croatia Airlines' relatively low frequencies on many of its routes. It serves eight international routes with only one weekly frequency. Out of 37 international routes, it serves only eight with more than one daily flight (week of 6-Oct-2014, source: OAG).
Croatia Airlines number of international destinations served by frequency/week 6-Oct-2014 to 12-Oct-2014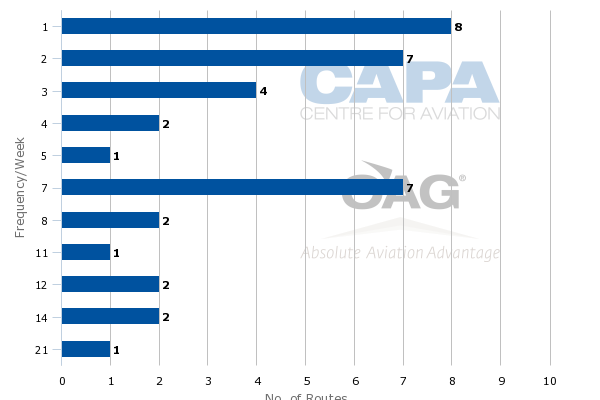 Croatia Airlines is well positioned on its top ten international routes
Six out of Croatia Airlines' top ten international routes involve Star Alliance hubs, three involve other major European hubs and one is a regional route to Sarajevo in neighbouring Bosnia and Herzegovina.
The Zagreb-Frankfurt route, serving Star's most important hub, is by far the biggest of these routes by number of seats.
Croatia Airlines top ten international routes by seats 6-Oct-2014 to 12-Oct-2014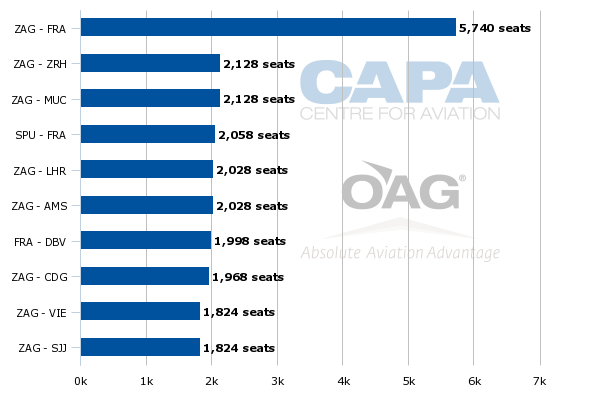 Croatia Airlines has a strong market position among its top ten international routes, occupying the number one rank on eight of them and ranking second on the remaining two in the list (Zagreb to Munich, where Star partner Lufthansa is number one, and Zagreb-Vienna, where Star partner Austrian leads). It has a monopoly on two of the ten routes and, among the eight where there is competition, five include Star Alliance partners.
Only on Zagreb to London is there more than one non-Star competitor (British Airways and easyJet) and this is also the only route in its top ten with LCC competition (although easyJet operates to Gatwick, while Croatia Airlines serves Heathrow).
Croatia Airlines market position on its top ten international routes by seats 6-Oct-2014 to 12-Oct-2014
Absent from some other large international routes to/from Croatia
Among the top 20 international routes operated by all airlines to/from Croatia, the national carrier is the number one operator on half of them and number two on a further three.
However, it does not operate at all on the remaining seven of these key international routes. Four of these seven are routes from Dubrovnik, one is from Split, one from Zadar and only one is from Croatia Airlines' main hub at Zagreb.
Dubrovnik-London has five operators, including three major LCCs (easyJet, Monarch and Norwegian). Dubrovnik-Vienna is operated by Austrian as a monopoly (Croatia Airlines ceased this summer-only route in 2013). Dubrovnik-Manchester is a LCC duopoly of Monarch and Jet2.com and Dubrovnik-Helsinki is a duopoly of Finnair and Norwegian. Split-Cologne is a Germanwings monopoly and Zadar-Brussels South Charleroi is a Ryanair monopoly (Zagreb-Brussels is a Croatia Airlines monopoly, but this route does not rank in Croatia's international top 20).
The remaining route on which Croatia Airlines is absent, Zagreb-Istanbul, would seem to have some appeal. Istanbul is home to Star Alliance partner Turkish Airlines and offers a large number of long haul destinations in Asia Pacific and Africa. Turkish Airlines carries Croatia Airlines' code on this route and has been the only operator since the latter withdrew in Mar-2013.
Top 20 international city pair routes operated by all airlines to/from Croatia by Seats 6-Oct-2014 to 12-Oct-2014
| | Origin | Destination | Total Seats | Croatia Airlines rank by seats |
| --- | --- | --- | --- | --- |
| 1 | | | 7,772 | 1 |
| 2 | | | 7,526 | Not present |
| 3 | | | 5,414 | 1 |
| 4 | | | 4,864 | 2 |
| 5 | | | 4,832 | 2 |
| 6 | | | 4,516 | Not present |
| 7 | | | 3,918 | 1 |
| 8 | | | 3,428 | 1 |
| 9 | | | 3,298 | 1 |
| 10 | | | 2,676 | 2 |
| 11 | | | 2,588 | Not present |
| 12 | | | 2,546 | Not present |
| 13 | | | 2,494 | 1 |
| 14 | | | 2,406 | 1 |
| 15 | | | 2,348 | Not present |
| 16 | | | 2,136 | Not present |
| 17 | | | 2,128 | 1 (Monopoly) |
| 18 | | | 2,032 | 1 |
| 19 | | | 1,890 | Not present |
| 20 | | | 1,824 | 1 (Monopoly) |
Croatia Airlines may be of greatest (strategic) interest to a non-European airline
According to press reports, a tender process is currently being devised by Croatia's government and external advisors may be appointed by the end of 2014, with a view to resuming the privatisation process for Croatia Airlines in spring 2015.
As we concluded in the first part of our analysis on the airline, potential acquirers will be encouraged by an improving profit trend, but Croatia Airlines still has one of the highest levels of CASK in Europe and a balance sheet in need of further strengthening. Moreover, the seasonality of its business may be a concern.
It seems less likely to attract a purely financial buyer, but may receive interest from those with a strategic interest in its network. Its domestic network is small, although it is the sole operator within Croatia and it has no long haul network.
Any strategic interest is likely to focus on its international connections into Europe. Other major European airlines already have bigger and better European networks and, in many cases, are already eating into Croatia Airlines' market share. LCCs, in particular, continue to make inroads in to the international market to/from Croatia.
Croatia Airlines has some strong positions on the routes it operates, but is absent from a number of important city pairs that are served by other airlines. In addition, a number of important European aviation markets are not served by anyone direct from Croatia (including Madrid, Milan, Palma de Mallorca and Lisbon). This suggests that there are opportunities for to grow its European network.
The airline may be of greatest interest to a non-European airline bidder that can build on Croatia Airlines' continental platform and marry this to its own long haul network. If any bidder can also push Croatia Airlines to reduce its cost base, through more aggressive restructuring in addition to extracting synergies from working more closely together, so much the better.
Finding such a bidder may not be so easy, especially given that Etihad - the most active strategic investor - currently has a very busy agenda with a number of European equity investments already. But there will no doubt be some attention paid by Asian airlines like the Hainan Group and All Nippon Airways, each of whom is publicly seeking airline partners.
See related report: Croatia Airlines' privatisation is back on the agenda, helped by restructuring and return to profit