Copa Airlines plans lower capacity growth in 2016 after weathering tough conditions during 2015
Analysis
No Latin American airline has escaped the region's ailing economy during 2015, not even the perennially strong company Copa. Although Copa has remained profitable, its net income and margins have fallen, as it works to withstand the effects a weak economy is having on demand in the region.
Copa believes 2016 holds the possibility for slight improvement in Latin America but is wisely forecasting capacity growth below 2015 levels, and is working to redeploy capacity to more promising geographies, eliminating capacity from unviable routes.
Although Copa is facing stiff headwinds in many regions where it operates, the airline is making logical moves by reducing its capacity to a fraction of the growth that it has posted during the last few years. The weak economies in Latin America show no signs of major improvement and the region's general outlook for 2016 only points to a modest recovery.
Weakness in Latin America pressures Copa's margins, but its performance remains solid
Copa has maintained profitability in each quarter in 2015, but economic conditions have caused its net income and margins to decline. Its profits (excluding special items) fell 62.5% year on year in 3Q2015, to USD37.4 million.
Similar to LATAM Airlines Group, Gol and Avianca, Copa has endured yield and revenue weakness in 2015, with yields and unit revenues each falling 20% year on year in 3Q2015.
The airline is also facing margin pressure in 2015 and 2016. After posting operating margins above 17% between 2005 and 2014, Copa is forecasting margins of 11% to 12% for 2015 and 10% to 12% in 2016. Arguably that is still a solid margin performance, given that Latin America's economy is contracting by approximately 0.1% during 2015.
Copa steadily cuts capacity to Brazil in 2015, and hints at more changes in 2016
The most challenging geographies for Copa in 2015 were Brazil, Colombia and Venezuela.
Copa has steadily reduced capacity to Brazil in 2015. It had previously estimated that it would cut capacity to Brazil by 18% as of Jun-2015 compared with Jan-2015. Between Aug-2015 and Nov-2015 Copa cut frequencies from Panama Tocumen to the Brazilian cities of Belo Horizonte, Brasília, Porto Alegre, São Paulo Guarulhos and Campinas Viracopos.
Now it plans to end flights to Campinas in late 2015, and is planning further capacity reductions to Brazil in 1Q2016.
Data from CAPA and OAG show that currently (23-Nov-2015 to 29-Nov-2015) Brazil and Costa Rica are tied for fourth place for Copa's seat deployment by country. Each country holds a 7% share.
Copa Airlines international capacity by country (% of seats): 23-Nov-2015 to 29-Nov-2015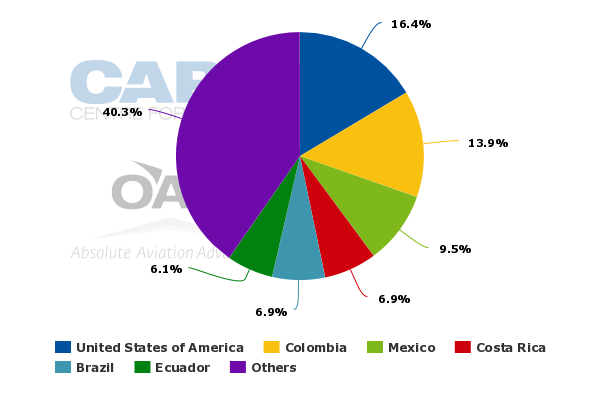 Recent Copa CEO Pedro Heilbron stated the company's capacity reductions to Brazil have had some positive effects. Although load factors on Copa's routes to Brazil remained lower year on year during 3Q2015, they improved sequentially from 2Q2015. "Even though yields were slightly weaker quarter over quarter [2Q to 3Q], overall profitability in Brazil improved during the third quarter", Mr Heilbron has said.
Copa concludes currency pressure drives down yields on routes in its Colombian network
Colombia is Copa's second largest market by seat allocation but it mainly operates international routes from the country, after a shift in strategy a couple of years ago. It offers flights between Tocumen and Barranquilla, Bogotá, Cali, Bucaramanga, Cartagena, Medellín, Cúcuta and Pereira. Copa also operates flights from Bogotá to Cancun, Caracas, Havana and Mexico City.
Copa's domestic network in Colombia includes flights from San Andres to Cartagena, Cali, Bogotá, Barranquilla and Pereia, but the schedules on many of those routes are less than daily.
Colombia's projected 2.5% GDP growth in 2015 is down from the 4.6% expansion posted in 2014, but still considered strong in light of overall anaemic conditions in Latin America. However, the COP's value fell 50% year on year against the USD during 3Q2015, which pressured yields, said Mr Heilbron.
Copa's CEO stated that additional competitive capacity also drove yield pressure on its Colombian routes, and that Copa's advance bookings for the Colombian market for 4Q2015 reflected a slight upward trend in load factors year on year. However, yields remained lower due to currency pressure and economic weakness.
Venezuela continues to drag down Copa's results, but it has added capacity in the market
Venezuela has been a drag on Copa's results for roughly a year. Of Copa's USD1.08 billion in cash at the end of 3Q2015, 39% was pending repatriation from the Venezuelan government. During 2014 Copa cut its capacity to Venezuela by roughly half, as the country's economy crumbled and global airlines ended up with funds trapped in the country.
During 2015 Copa has added some capacity back to Venezuela, due to the large Panamanian community residing in the country. Data from CAPA and OAG show that for the week of 23-Nov-2015, Copa's one-way seats on offer between Panama and Brazil have grown 21% to roughly 4,844, but still below the historical levels that Copa has offered between the two countries.
Venezuela's economy is projected to contract by 10% in 2015, and Mr Heilbron noted that even though load factors in Venezuelan markets improved sequentially from 2Q2015 to 3Q2015, yields were still down significantly year on year.
Copa slows its capacity growth to 3% in 2016, after solid expansion the years prior
Copa's early projections for 2016 show 3% capacity growth compared with a 5% rise in 2015. Its network expansion in 2015 has centred on routes largely to the US and Mexico; it has launched services from Tocumen to New Orleans, San Francisco (a hub for fellow Star Alliance partner United) and Puebla and Villahermosa, Mexico. The airline has also introduced flights to Belize during 2015.
Mr Heilbron has stated that Copa is "hardly growing next year". By contrast, Copa's annual ASM growth between 2010 and 2013 was consistently in the double digits, growing 22% in 2011 and 24% in 2012. Its capacity growth in 2014 was 9.5%.
Copa Airlines annual available seat miles: 2009 to 2014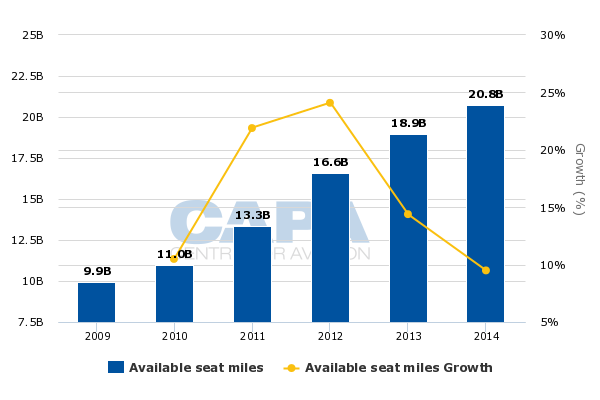 Most of Copa's 2016 route capacity is driven by the full year effect of its new route additions and up-gauging some routes from Embraer 190s to Boeing 737-800s. "In terms of new frequencies and markets, it's very little of what we're doing next year [2016]," said Mr Heilbron.
The story of 2015 is one of downward margin revisions for Copa. Will 2016 show promise?
Similarly to most Latin American airlines, Copa has refined is projections downward for certain metrics during 2015, as economic conditions have worsened in the region. Its initial operating margin forecast was between 16% and 18%, and the airline's capacity growth was originally 7% for 2015.
Citing conclusions by the IMF, Mr Heilbron stated that most economies in Latin America should see modest improvements in 2016. Nevertheless, economic headwinds in Brazil and Venezuela should "limit the opportunity of a full recovery".
He believes that the forecast for modest economic expansion of some economies, "will lead to a slight unit revenue improvement in 2016 over the last three quarters of 2015". Copa's passenger unit revenues in 2Q2015 fell 25%, and 20% in 3Q2015. It is likely the airline's 4Q2015 passenger unit revenue performance will not improve significantly, and will mirror its performance for the previous two quarters.
Even with the projected improvement, obviously Copa's unit revenues in 2016 will still fall far below historical levels, which means that there is still an uphill climb to restore unit revenues and yields to positive territory.
Copa takes rational approach to managing its business during tough times
Copa and other airlines operating in Latin America are working to build their businesses around high levels of uncertainty lingering for the short to medium term. Although the outlook for the region continues to be bleak, perhaps subtle shifts can occur in 2016 that will offer airlines reasons to be more positive.
For its part, Copa seems to be taking a conservative view, hunkering down and keeping capacity in check. Although its profits have fallen, its rational moves are at least preserving profits, which – given the tenuous conditions – is an accomplishment in itself.