Continental, American and Delta up, Hawaiian falls, following analyst comments
A fall in oil prices and positive analysis from Morgan Stanley on legacy carriers, Continental (+8.3%), AMR (+4.8%) and Delta (+4.8%), prompted a rise in airline stocks on 28-Jul-09. Morgan Stanley stated it expects stocks in the three carriers to increase over the next 60 days, following the completion of the earnings season. However, Morningstar believes Continental will gain in the long term, but stocks are likely to fall in the near term, as premium demand remains weak.
Meanwhile, Morgan Stanley identified Southwest (+1.2%), Hawaiian (-10.7%) and JetBlue (+1.8%) as likely underperformers. Hawaiian's plunge followed a +6.0% rise in its share price the previous day, following its positive 2Q2009 report.
The Dow fell 0.1% yesterday, largely shrugging off another weak US Consumer Confidence report.
LAN's (-1.5%) stock fell, with its profit report failing to live up to expectations (see below).
North & South America selected airlines daily share price movements (% change): 28-Jul-09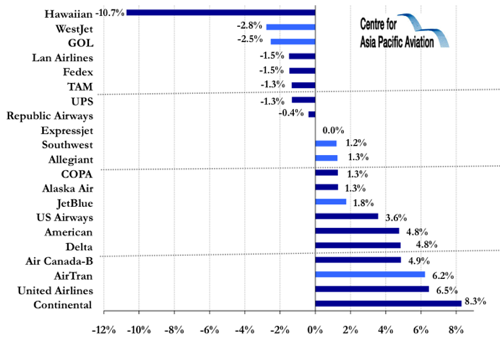 LAN reports net profit for 1Q2009
LAN (-1.5%) reported a net profit of USD4.2 million in 2Q2009, a 93.0% decrease year-on-year. The carrier stated the results were impacted by a USD57.9 million fuel hedging loss recognised during the quarter. Passenger revenues declined 21.7%, as RASK fell 19.7% decrease, partially offset by a 1.7 ppts increase in load factor to 73.6%.
Air Canada stocks rise following agreement with Jazz Air Income fund
Air Canada's B shares rose 4.9% yesterday, following Jazz Air Income Fund's announcement that it has reached a mutually beneficial agreement with Air Canada, to amend the terms of the Amended and Restated Capacity Purchase Agreement (CPA) between Jazz Air and Air Canada. Jazz Air Income Fund will reduce cash distributions by 40% and reduce its fleet to assist Air Canada in achieving "sustainable profitability".