Continental Airlines' June yields remain very depressed, though load factors and cash levels improve
Continental Airlines' 2Q2009 financial results are unlikely to make for pleasant reading. For Jun-2009, consolidated and mainline passenger revenue per available seat mile (RASM) are both estimated to have decreased between 19.5 and 20.5% year-on-year. For May-2009, consolidated passenger RASM decreased 19.9% compared to May-2008, while mainline passenger RASM decreased 19.1% year-on-year.
As a result, second quarter consolidated RASM is expected to have declined by approximately 17.5%, following a 12.5% reduction in 1Q2009.
Continental Airlines Reports June 2009 Operational Performance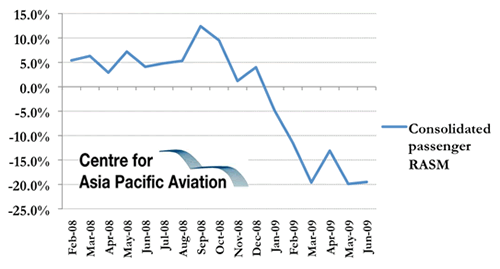 Better cash balances and load factors
On the positive side, Continental ended 2Q2009 (30-Jun-2009) with an unrestricted cash, cash equivalents and short-term investments balance of approximately USD2.77 billion, up from USD2.65 billion as at 31-Mar-2009.
It also reported record domestic load factors in Jun-2009 (see below), which could signal some traction on pricing is imminent for the US carriers.
Continental Airlines' Jun-2009 traffic report – edited press release
Continental Airlines reported a June consolidated (mainline plus regional) load factor of 84.8%, 1.1 points above the June 2008 consolidated load factor, and a mainline load factor of 85.2%, 1.0 point above the June 2008 mainline load factor.
The carrier reported an all time record domestic mainline June load factor of 88.1%, 2.2 points above the June 2008 domestic mainline load factor, and an international mainline load factor of 82.5%, 0.1 points above June 2008.
During the month, Continental recorded a US Department of Transportation (DOT) on-time arrival rate of 80.5% and a mainline segment completion factor of 99.8%.
In June 2009, Continental flew 8.1 billion consolidated revenue passenger miles (RPMs) and 9.5 billion consolidated available seat miles (ASMs), resulting in a consolidated traffic decrease of 6.5% and a capacity decrease of 7.8% as compared to June 2008.
In June 2009, Continental flew 7.2 billion mainline RPMs and 8.5 billion mainline ASMs, resulting in a mainline traffic decrease of 6.3% and a mainline capacity decrease of 7.5% as compared to June 2008. Domestic mainline traffic was 3.7 billion RPMs in June 2009, down 6.5% from June 2008, and domestic mainline capacity was 4.2 billion ASMs, down 8.8% from June 2008.
Continental's regional operations had a June load factor of 81.5%, 1.8 points above the June 2008 regional load factor. Regional RPMs were 846.5 million and regional ASMs were 1,038.8 million in June 2009, resulting in a traffic decrease of 8.2% and a capacity decrease of 10.3% versus June 2008.