Colombia aviation: latest government tax moves show old habits die hard
Analysis
Colombia's airlines embarked on 2023 facing higher taxes – the country's government eliminated VAT (value added tax) reductions that were instituted during the COVID-19 pandemic to help airlines weather the crisis.
Although Colombia did not offer direct financial aid to its airlines, the tax reduction and other measures that were instituted to ease the burden for operators garnered praise from the industry.
Now Colombia, which has experienced one of the swiftest recoveries worldwide, faces the potential that increased taxes and other macroeconomic factors could quash the country's quick rebound in demand.
The moves by the government could also send a message that as trends return closer to normal, old habits adopted by governments in Latin America could appear to be hard to break.
Summary
Colombia's passenger numbers continue to exceed pre-pandemic levels.
The country's airlines are attempting to usher change into Colombia's market.
Changes in ticket taxes could thwart those plans by dampening demand.
Taxation of the industry has been a mainstay of Latin governments.
Some airlines are hopeful for change.
Changing old habits among Latin American governments continues to be a challenge.
Colombia continues to chart an impressive air passenger recovery
The latest data from Colombia's Aerocivil show that for the 11 months ending Nov-2022 the country's total passenger levels increased approximately 19% compared with 2019, to 44 million.
Domestic levels grew by 25%, to 30 million, and the increase in international passengers was nearly 8%, to 14 million.
Colombia's system capacity measured by ASKs in 2022 was far above 2019 levels as the country's airlines worked to seize on the quick rebound in demand.
Colombia: system ASKs and annual ASK growth from 2012 to early 2023* (projected)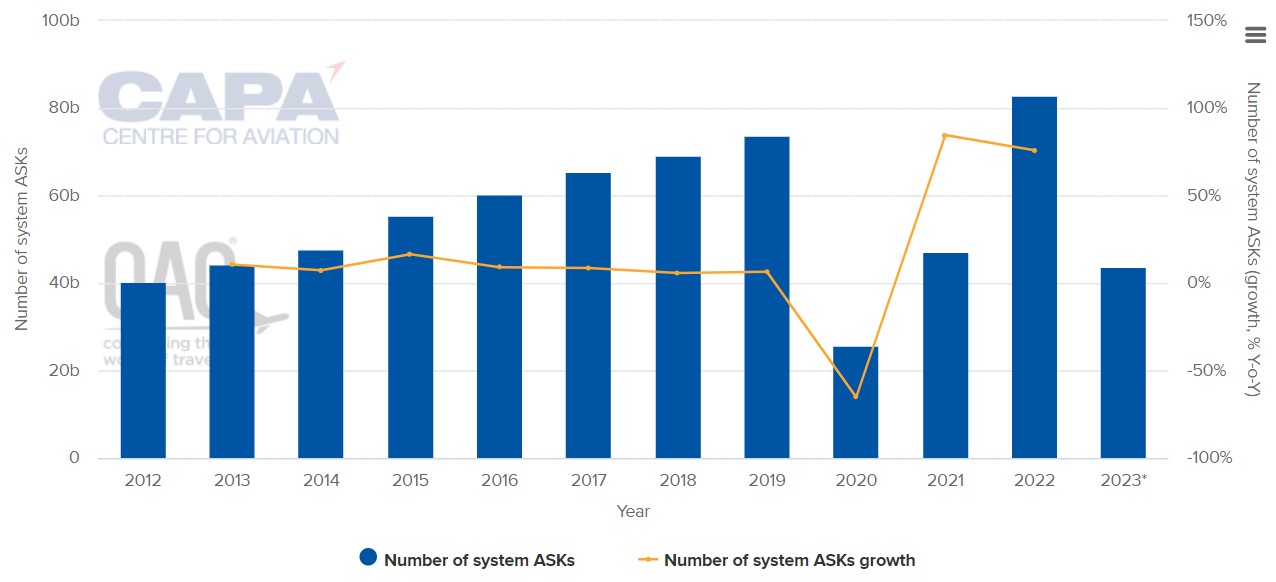 The air travel market in Colombia is as dynamic as ever
There have also been changes occurring in Colombia's aviation market during the past couple of years: the country's largest airline, Avianca, restructured under Chapter 11 and emerged with a much lower cost base.
A new ultra-low cost entrant, Ultra Air, also made its debut in early 2022, and the ultra-low cost airline group JetSMART is also working to launch a Colombian subsidiary.
Avianca is also working to acquire its Colombian ultra-low cost rival Viva, but the country's government initially rejected the bid.
The two airlines have offered concessions to push the deal through, including the relinquishing of slots at Bogotá El Dorado International airport.
See related CAPA report: Changes are afoot in Colombia as Avianca-Viva merger hangs in the balance
Colombia's reinstatement of the full VAT could have adverse effects
Although the Colombian market has been growing at a steady rate, IATA has calculated that the country's airlines lost USD1.55 billion during 1H2022.
The increase in airfares due to the restoration of the full VAT could create challenges for Colombia's airlines in managing ticket prices to recoup some of the increase in fuel prices.
More fundamentally, some would-be passengers could be priced out of air travel.
Indeed, the Latin American airline association ALTA has warned that even what seems like a few extra pesos in the final ticket price could tip the balance for air travellers to switch to other forms of transportation.
International travellers could opt to visit another country where airfares are cheaper, the association has said.
ALTA also explained that despite the industry's efforts to create more efficient operations and responsive travel models, taxes, inflation, currency devaluation, rising oil costs and currency devaluation have made the prices to purchase airline tickets more expensive for the population.
Heavy-handed taxation remains a mainstay in Latin America
Unfortunately, for Latin American and Caribbean aviation heavy taxation and regulation has been a recurring theme for the sector.
During 2022 legislators in Brazil unsuccessfully tried to push through the return of a free baggage allowance policy. But there's been a change in administration, and there is always the possibility the legislation could be re-introduced.
In late Oct-2021 IATA Director General Willie Walsh highlighted that no government in Latin America or the Caribbean offered direct financial assistance to their respective airlines. Most of the financial relief to airlines materialised in the form of deferred taxation, or in the reduction or waiving of fees.
Mr Walsh said that as traffic in Latin America was rebounding, "...in parallel we are seeing an increasing trend by our 'partners' in the aviation value chain to increase taxes and fees".
Mr Walsh cited Argentina's decision to implement extra taxes on ticket sales in local currency and increase the international departure tax. IATA's DG highlighted Costa Rica's plans to increase airport security fees at San Jose by more than 70%, and said the Dominican Republic was planning to increase ground handling fees by just over 6% in 2022.
At that time, Mr Walsh concluded that the decisions by the governments to raise taxes were "...unacceptable in this time of crisis. And we cannot tolerate others following in their footsteps".
Latin start-ups hope to convince governments of aviation's benefits
Although changing the mindsets of governments in Latin America and the Caribbean is a slow-moving process, perhaps there are some glimmers of hope emerging.
During the CAPA Americas Aviation and LCCs summit in May-2022 Victor Pacheco, the CEO of the Dominican low-cost start-up Arajet, said that the airline had a dynamic relationship with regulators in the Dominican Republic.
"I think that they see the power of low fares and what it can do for the economy", he said.
Arajet made its debut in Sep-2022 and flies to 18 destinations Latin America, according to data from CAPA and OAG.
Forging mindset change in Latin America is an uphill battle
Airline industry groups continue their work to educate governments about the economic value of commercial aviation in Latin America, and for them to understand the difficulty in forging mindset change.
But the latest developments show a pattern of "one step forward, two steps back", as governments could settle into familiar tendencies.