Chinese airline stocks stronger as aviation sector return to robus growth and profitable
Analysis
China's stocks rose for a fifth consecutive day yesterday, led by the nation's transport companies, including its airlines.
Commenting on the trend, Dazhong Insurance stated, "transport stocks are laggards; we'll see steady earnings growth among them next year as the demand for travelling and freight picks up along with the economy. The market is expecting some changes to the stimulus packages and that may impact it in the short term."
China Eastern Airlines' shares jumped 6.6% yesterday, after the company received approval for a share sale, with China Southern Airlines' share also up (by 2.7%), as the share price estimate for the carrier was raised by 25% to HKD2.09 at Nomura.
Hainan Airlines, meanwhile, surged 8.6%, with Shanghai Airlines up by 5.0%.
China aviation sector returns to robust growth and profitability: CAAC
CAAC Director General, Li Jiaxiang, meanwhile, stated China's aviation sector has returned to robust growth, with double-digit growth in all segments of the industry, and higher passenger numbers and profits at the country's airlines in the latest quarter.
Mr Li added that Chinese carriers, maintenance facilities, airports and other aviation businesses reported a profit of CNY9.2 billion (USD1.35 billion) in the three months ended 30-Sep-2009, compared to a loss of CNY28 billion in the previous corresponding period.
World Bank raises China's economic growth forecast
Also in China, the World Bank raised China's economic growth forecast for this year from 7.2% to 8.4% (after real GDP growth surged 8.9% in 3Q2009 from a low of 6.1% in 1Q2009) and projected a slightly faster pace of expansion in 2010, with an anticipated GDP growth of 9.7%.
According to the World Bank, "exceptionally large fiscal and monetary stimulus has supported a strong recovery in China's economy despite the large drag on growth from exports amidst the global recession".
China real GDP growth (%): 2001 to 2009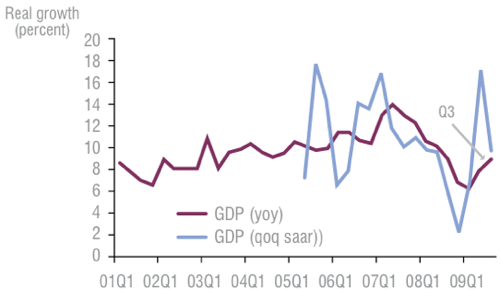 Shanghai Disneyland project approved
Airline stocks prices are also supported by Central Government approval of the Shanghai Disneyland Project, as many Chinese airlines have announced their intention to open Disneyland flight routes following the settlement of the Disneyland project in Shanghai.
Korean Air expects "significant recovery" in 4Q2009 and 2010
Also in North Asia, Korean Air's shares price slipped 1.8%, despite CEO, Cho Yang-ho, stating the carrier expects a "significant recovery" during the remainder of 2009 and in 2010, on stabilising oil prices and a strong Korean Won.
However, he cautioned that the spread of the H1N1 flu virus is still adding uncertainty to the industry outlook.
Rescue package for JAL "impossible" by year-end: ETIC
In Japan, Japan Airlines' shares slipped 1.8%, as Enterprise Turnaround Initiative Corp of Japan President, Hiroshige Nishizawa, stated it would be "impossible" to complete a rescue package for the carrier in 2009.
Asia Pacific selected airlines daily share price movements (% change): 05-Nov-09