Chinese airline stocks gain, Singapore gains despite yield pressuring warnings, Qantas and JAL also
Most Asia Pacific airline shares gained on Wednesday (15-Jul-09), reflecting bullish sentiment on global equity markets, with the Chinese carriers leading the way. Shares in China Eastern, Air China and China Southern rose 11.0%, 7.8% and 6.8%, respectively, with Shanghai Airlines, Hainan Airlines and Cathay Pacific also gaining, up 5.1%, 1.4% and 1.3%, respectively.
Asia Pacific selected airlines daily share price movements (% change): 15-Jul-09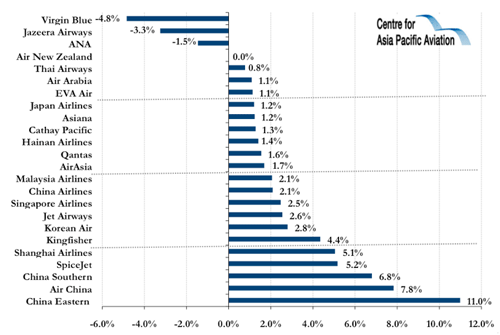 Air China's increasingly bullish outlook
Air China's shares gained the most in six weeks in Hong Kong, after the carrier stated it expects "not less than 50% growth" in its 2009 interim results, due to the implementation of State industry support policies, the reduction in fuel costs and negative fair value from fuel hedging contracts and "stable growth" in the domestic air passenger market.
Supporting this statement, the carrier reported a 13.1% increase in passenger numbers in Jun-2009, driven by strong domestic growth (of 18.1%; NB: off last year's weak base), with overall load factors improving 0.8 ppts to 73.4%. Cargo volume, however, was down, by 2.8 ppts, although domestic cargo was up by 3.7%.
Air China share price growth: Jan-09 to Jul-09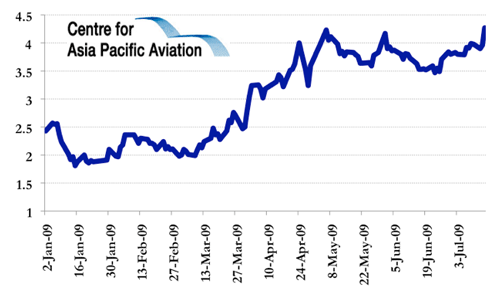 Singapore Airlines meanwhile stated "aggressive competition" has led to yield pressure in recent months, with the carrier also reporting "soft" traffic results for Jun-2009. The carrier's share price, however, gained 2.5% on Wednesday. According to JP Morgan, most Asia Pacific airline share prices, including Singapore Airlines, will experience a pricing recovery over the next 12 months.
Among the losers yesterday, ANA's shares slipped 3.3%, as the carrier reported weak Jun-2009 traffic, with domestic passenger numbers down 13.8% and international traffic slipping 19.3%. Load factors also slipped, down 6.3 ppts for domestic and 7.9 ppts for international operations. Domestic and international cargo volumes were down 0.5% and 4.2%, respectively.