26-Nov-2008 11:16 AM
Chinese airline shares smashed again - not much left in the tank
China Southern and China Eastern again headlined the selling in Asian airline shares on 25-Nov-08, with further double-digit declines. Rumours of an imminent government bailout appear to have run out of stream, Chinese airlines have lost around 85% of their equity base this year, while their debts continue to grow. Some emergency surgery is now required.
Chinese Mainland carriers' share price index from 01-Jan-08 to 24-Nov-08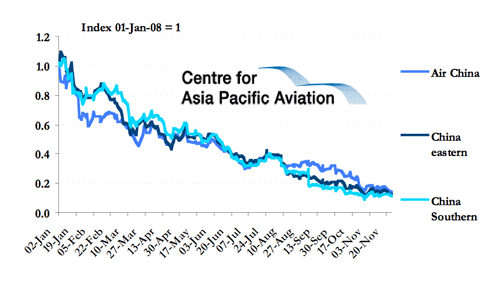 Thai Airways' shares had a lift on reports its President, Apinan Sumanaseni, is quitting on 01-Jan-09, due to "health issues and differences over strategy". The outgoing President stated earlier this month that some radical steps were required to put the carrier back on track.
Asia Pacific selected airlines daily share price movements (% change): 25-Nov-08