Chinese airline bailout stokes shares, Virgin Blue falls on free lunch
China Southern Airlines' parent has received a much-needed USD439 million cash injection from the Ministry of Finance. Beijing typically seeks a fresh issue of shares in exchange for funding and China Southern is now preparing for a placement of new shares (to the government).
The move paves the way for government funding injections into other struggling Chinese airlines. China Eastern has already called for a cash injection. On top of its operational problems and weak demand, the Shanghai-based carrier has revealed a sixfold increase in its fuel hedging losses to around USD268 million as at 31-Oct-08.

Chinese airline shares soared on the news of the government bailout, with China Southern up 12.1% ahead of a trading halt and China Eastern up 15.4% - making up some of the recent trading losses. Air China's shares rose 5.6%.
Asia Pacific selected airlines daily share price movements (% change): 26-Nov-08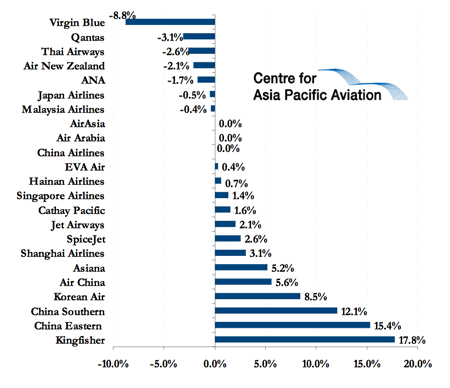 Meanwhile Virgin Blue's shares slumped 8.8% on the same day the carrier announced plans to offer complimentary food, beverages and individual seat back satellite TV programming to Premium Economy travellers, to attract more higher yielding business, as companies "trade down" to cheaper travel options. CEO, Brett Godfrey, stated "in the current economic climate, every cent counts whether the travel budget is coming from your own pocket or from your employers, so the new "upgraded" Premium Economy offering is going to add more value at a time when many companies are looking to trim their travel costs rather than their frequency of travelling".

Qantas shares tumbled another 3% on reports that Moody's Investors Service is reviewing the airline's credit rating following the airline's profit downgrade earlier this week.