China's major airports suffer but mid-sized airports prosper, as the airline market turns down
Analysis
Chinese Mainland Airlines passenger numbers and growth: 2003 to YTD Oct-08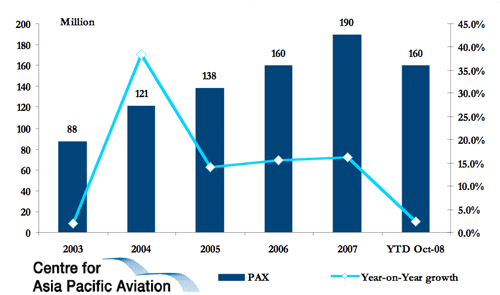 The exception to this has been Guangzhou, the home of China Southern, where passenger growth even this year has fallen just short of 10%. But its cargo growth was less exciting, almost flat for the year to date.

The bigger gainers, for both passenger and freight movement, have generally been mid-sized airports, as regional centres start to assume some of the limelight of the larger eastern airports. These are typically predominantly domestic airports (although they are in some cases starting now to attract some services), so have not been as exposed to the steep fall in international operations as have major hubs like Beijing and Shanghai's Pudong.

Tourist springboard, Haikou, has stood out this year in the under-10 million passenger throughput, up 18.7% and Zhengzhou, Dalian, Shenyang and Wuhan have all grown at near or above 10% in the ten months to 31-Oct-08.
Top 20 China airports: passenger numbers and growth, 10 months to 31-Oct-08
Freight growth also spills into mid sized airports
Likewise, despite exceeding 15% expansion in 2007, cargo generally has not performed well for the airlines over the year to date.
Chinese airlines: cargo volume and growth: 2003 to YTD Oct-08
Certain exceptional circumstances occurred during the year, inflating some airport cargo throughput. The Beijing Olympics for example stimulated growth at the home airport (up 13.3% to 1.1 million tonnes for the year to date - note: not included on the chart below); Tianjin, with 40%+ expansion, received a sniff of the future when it too became the overflow for Beijing's added activity. Chengdu and Chongqing also saw added cargo movement in the wake of Sichuan's disastrous earthquakes.

But mid sized airports like Dalian, Nanjing, Qingdao, along with the larger Hongqiao all continued to move ahead.
Chinese airports cargo volume and growth: 10 months to 31-Oct-08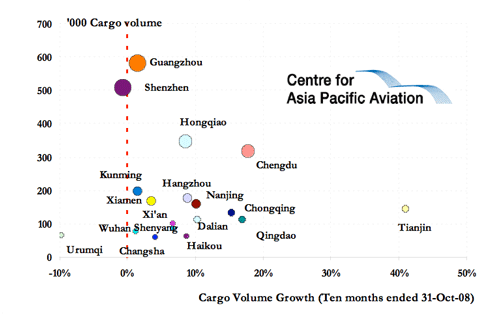 These signs of growth are good omens for the regional airports and, as part of the maturing of China's aviation system, spell equally good news for the dissemination of economic expansion more widely.