China to lead regional economic and air traffic recovery?
Analysis
The World Bank's latest global economic forecast paints a fairly optimistic picture about China's outlook, which could help kick-start traffic and financial recoveries for its beleaguered airline sector.
China's aggressive stimulus programme will lead to a bottoming out of the economy by the middle of 2009, according to the World Bank, with full-year GDP growth predicted to reach 6.5%. This is slower than the 9% pace of expansion achieved last year, and below Beijing's official target of 8% growth, but better than some market projections for as little as 5% growth this year.
The World Bank stated a mid-year economic recovery in China would "take full hold in 2010 [and] should contribute strongly to the region's recovery". The World Bank predicted that China would help developing East Asia to expand by 5.3% this year, down from its previous estimate of 6.7% growth and the 8% rate for the region last year. But it is a stronger outlook than many other regions.
Although China remains "a bright spot in the region", the report warned that its economy remains heavily reliant on exports to key trading partners whose economies are contracting. The World Bank stated, "China cannot escape the external weakness", but it is nevertheless cautiously optimistic about the strength of China's domestic demand.
March air traffic preview
Upcoming monthly traffic reports for airlines based in Mainland China are expected to show further improvement in domestic demand, albeit off a depressed base last year due to Olympics-related capacity and security constraints (which held back demand in some of the major cities, particularly Beijing).
International volumes are also expected to show some improvements after double-digit declines for much of 2008 and the first two months of 2009.
The CAAC reports Mainland Chinese carriers handled 34.5 million passengers in the first two months of 2009, up 15.3% year-on-year. Total cargo volumes were down 16.6% to 524,404 tonnes.
CAAC total passenger and cargo growth (% change year-on-year): Mar-08 to Feb-09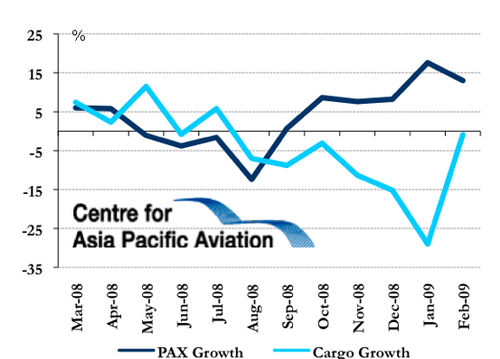 Domestic passenger numbers soared 19.1% in the first two months of 2009 to 32.2 million, but international traffic was still deeply negative, falling 21.1% to 2.3 million.
CAAC international and domestic passenger growth: Mar-08 to Feb-09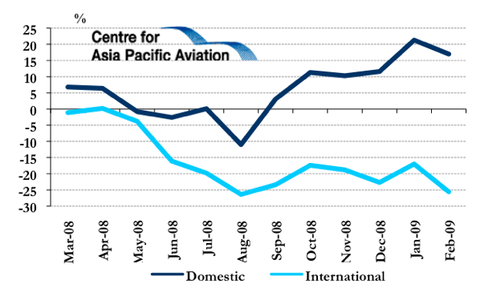 Investors growing in confidence
Chinese airline shares have soared in the past six weeks as investors become more confident in the traffic outlook. For example, Air China's shares hit five-month highs after Goldman Sachs upgraded the stock from "neutral" to "buy", stating investors could be "pleasantly surprised by a normalisation of international traffic".
Shares in China Southern and Air China have risen around 40% since the start of Mar-2009, while China Eastern and Cathay Pacific have also gained altitude.
Airlines on the move: Chinese airline share price index (1 = 01-Jan-09)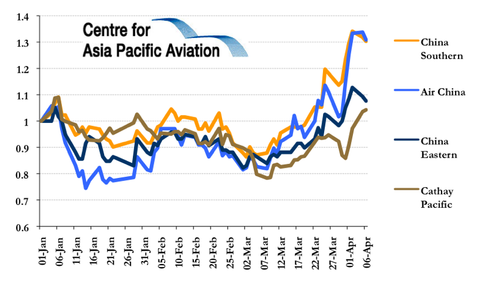 But all eyes will be on the traffic statistics for March due out shortly, to see if investors will be repaid for their optimism.