China Southern is Asia's biggest loser - followed closely by Virgin Blue: 2008 share price wrap
Analysis
With a few days left to trade, 2008 will go down as by far the worst year ever for Asian airline shares. The reductions in equity valuations have been spectacularly severe, with five carriers reporting 80%+ share price falls and another five reporting losses of over 70%.
China Southern Airlines was this year's worst performer on the stock exchange, losing around 87% of its value (to 23-Dec-08), followed closely by Virgin Blue and another Chinese government bailout recipient, China Eastern. Air China, Hainan Airlines and Shanghai Airlines also fell heavily this year as Chinese aviation was hit by several external events.
Virgin Blue's fall from grace reflected investor discontent with the airline's strategies to cope with rising competition in many of its core markets, as well as the soaring price of oil amid concerns over V Australia's launch and its overall strategy.
Indian aviation also struggled as high fuel prices and excess capacity crippled the finances of that country's airline sector, prompting increases in fares that slashed traffic growth rates.
Thai Airways (-79%) struggled under political and economic challenges and the carrier's inability to restructure during the good times. Government interference and frequent management changes have left Thai Airways a legacy of inefficiency and weakened decision making that will hamper its performance in 2009.
Of Asia's premium airlines, Singapore Airlines (-34%) fared much better than Qantas (-54%), and Cathay Pacific (-60%), due to superior capacity management and product advantages. Air New Zealand was marked down 54% on a lack of strategic options amid intensifying competition in many of its key markets.
Asia Pacific selected share price movements: 02-Jan-08 to 23-Dec-08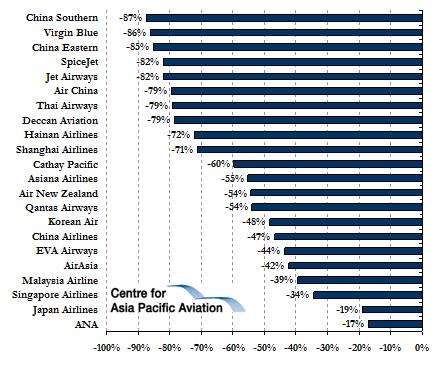 Korean Air (-48%) outperformed Asiana (-55%) in a highly competitive Korean sector, while EVA Air (-44%) fared better than China Airlines (-47%) in the troubled Taiwanese market, which was given a ray of light late in the year with the introduction of weekday cross-Strait charters to Mainland China.
Malaysia Airlines (-39%) did slightly better than LCC rival, AirAsia (-42%), as MAS continued to manage its capacity carefully and attack the LCC with strategic promotions.
Ironically, it was in Japan (whose economy entered recession first in the region) where airlines performed best (or least badly). The conservatism of their capacity plans and generally risk-averse business approach has appealed to investors in this environment.
2008 was a year of two halves - the first half dominated by record fuel prices and the second by the unravelling of the global economy. The latter has been far more damaging and the extent of the downturn in passenger numbers and revenues dominates the outlook for 2009.
Airlines take note - conservatism is king - although another approach would see LCCs taking advantage of the adversity to expand.