China sees single-digit traffic growth as Asia's airlines brace for tough 2012
Analysis
China's air transport industry has entered a stage of slower growth, registering single-digit total air traffic (RTKs, including passenger and cargo traffic) of growth in 2011 according to CAAC. China's aviation industry experienced double-digit traffic growth from 2004 through 2010, according to CAAC, with 2010 clearly a banner year of recovery for China, after the downturn in 2008/09. 2011's volumes have been well below expectation, particularly since the middle of the year.
In the wider Asia Pacific region, the Association of Asia Pacific Airlines (AAPA) has noted that Asian carriers are bracing themselves for another tough year in 2012 as the outlook is impacted by the "unresolved concerns about the Eurozone debt crisis and wider uncertainty about the global economic outlook for 2012". However, the association noted the region's airlines are faring better than airlines in other regions and that they are still "relatively well placed" to benefit from future growth opportunities.
The longer-term outlook is also "positive as evidenced by fleet expansion plans and the establishment of new business ventures," AAPA said. The association has previously noted that airline margins have been "squeezed" in 2011, due to sharply higher fuel prices, echoing similar comments made by IATA.
CAAC reports USD7.2 billion industry profit in 2011
CAAC director general Li Jiaxiang this week stated China's aviation growth is being impacted by the global economic crisis, but noted, as quoted by China Daily, that "the growth speed is still the highest in the world, and so is the industry's total profit, estimated at CNY45.6 billion (USD7.2 billion) for 2011, which accounts for more than half of the profits of the global air transport industry". He added 2011 would mark the "second consecutive year that China ranks the world's number one in terms of net profit".
Deputy director general Li Jun noted the country's high-speed rail network had claimed some of the passenger traffic from airlines and the limited airspace set aside for civil aviation has also restricted the growth of passenger transport. International growth is also being impacted by global economic concerns and rising oil prices, Mr Li said.
Chinese airlines handle 290 mill pax in 2011
According to CAAC, Chinese carriers will handle 290 million passengers in FY2011, an 8.2% year-on-year increase. A 2% decline in cargo volumes to 5.5 million tones is forecast. In FY2012, passenger growth of 10% is expected, for full year passenger traffic of 320 million. Cargo growth of 4.7% is expected to 5.8 million tonnes.
CAAC profit and traffic forecasts: FY2011 and FY2012
FY2011:

Profit: CNY45.6 billion (USD7.1 billion), +5.1% year-on-year;
Passenger numbers: 290 million, +8.2%;
Total traffic (RTKs): 57.4 billion, +6.6%;
Passenger load factor (11 months to Nov-2011): 72.3%;
Cargo volume: 5.5 million tons, -2%;
Number of airports with annual passenger numbers exceeding 10 million: 21;

FY2012:

Passenger numbers: 320 million, +10%;
Cargo volume: 5.8 million tons, +4.7%;
Investment in fixed assets: CNY158.5 billion (USD24.8 billion);
Infrastructure investment: CNY75.0 billion (USD11.7 billion).
CAAC in Oct-2011 cut its official air traffic forecast for 2011 as international passenger and cargo volumes weakened amid deteriorating global economic conditions. China's passenger growth forecast was cut from 13% to 8% this year to 288 million passengers (ie 13.4 million fewer passengers than previously anticipated but up from 267 million passengers in 2010). Forecasts now indicate growth of 8.2% in 2011, for 2 million more passengers than previously forecast. While the air cargo growth forecast in Oct-2011 was dramatically slashed from growth of 11.5% to flat in 2011, the actual freight result has failed to even meet this revised growth, with a 2% cargo decline anticipated. China's long-term growth forecasts remain unchanged, with an increase to 450 million passengers still expected by 2015, despite the impact of high-speed rail.
CAAC passenger numbers and growth forecast: 2003 to 2030F
CAAC freight traffic (million tonnes) and growth forecast: 2003 to 2015F
China's commercial fleet reaches 1745 aircraft; fleet additions to be limited to no more than 150 aircraft in 2012
China's commercial transport fleet reached a total of 1745 aircraft, with the addition of 148 aircraft in 2011. According to Mr Li, China took delivery of 805 aircraft between 2008 and 2011, which is 149 short from its forecast. Like 2011, when Chinese airlines were requested to delay the delivery of 60 new aircraft, Mr Li said that "control (on the importing of planes) will continue next year, and not more than 150 planes would be added to the fleet in 2012". CAAC is, however, encouraging airlines to acquire more widebody aircraft to replace the current single-aisle aircraft on high-density domestic sectors, especially between Beijing, Shanghai and Guangzhou.
In terms of infrastructure development, the "original plan of building 60 new airports during the 12th Five-Year Plan period (2011-2015) will be extended to 70 in order to encourage the development of local air transport," Mr Li said. China has 180 airports at the end of 2011, up from 175 in 2010.
CAAC operational highlights for the nation's aviation industry in 2011:
Number of carriers: 46 (including 11 freighter carriers), three more than 2010;
Number of airports: 180, five more than 2010;
Number of aircraft: 1745 aircraft, 148 more than 2010;
General aviation flight hours: 455,000 hours, +16.3% year-on-year;
Fixed asset investments: CNY69.0 billion (USD10.8 billion) including CNY46.0 billion (USD7.2 billion) in airport construction and CNY1800 million (USD281 million) in air traffic control construction;
Number of pilots: 27,569 including 25,853 Chinese nationals and 3293 foreign pilots;
Number of aviation employees: 1.2 million;
Bilateral agreements: Signed one new bilateral air transport agreement in 2011, bringing China's number of bilateral agreements to 114 nations and regions.
Meanwhile, on-time performance (OTP) has greatly improved in China over the past year. The country's flight punctuality rate reached nearly 77% in the first 11 months of 2011, up 1.9 ppts year-on-year. The CAAC will continue to improve flight punctuality, and strive to raise the OTP rate by 2 ppts in 2012.
CAAC separately reported a 13.8% increase in passenger numbers to 23.7 million in Nov-2011, with a 3.1% decline in cargo volumes to 485,900 tonnes. Passenger load factors improved 2.6 ppts to 80.2%.
CAAC domestic passenger growth vs international passenger growth: Jan-2010 to Nov-2011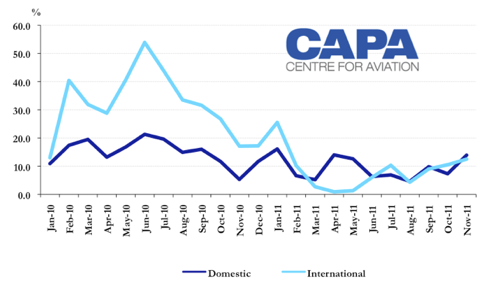 CAAC passenger numbers growth vs cargo volume growth: Jan-2010 to Nov-2011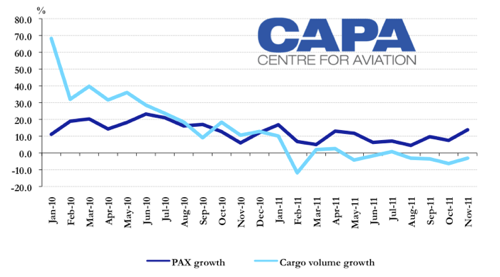 Asia Pacific airlines have over 350 aircraft on order over next three years
Overall, Asia Pacific airlines have 350 aircraft on order over the next three years, of which 100 are widebodies, foreshadowing continued growth in this region, with much of the new deliveries acting as growth and not replacement aircraft. Much of the region's growth will come from Chinese airlines, both the 'Big Three' and the second tier carriers, as they expand their presence in the region and increase long-haul markets.
Asia Pacific projected delivery dates all aircraft as at 29-Dec-2011
Asia Pacific fleet breakdown for aircraft as at 29-Dec-2011
Low-cost carrier expansion is also a key trend in this region, with three LCCs to enter the Japan market – AirAsia Japan, Jetstar Japan and Peach Aviation – with other LCCs including AirAsia Philippines, Scoot, Thai Smile and VietJet all planning launches in 2012.
Asia Pacific aviation represents a quarter of global passenger traffic, 42% of cargo traffic: AAPA
According to AAPA, Asia Pacific aviation now represents a quarter of global passenger traffic and 42% of global air cargo traffic. Asia Pacific aviation handles 521 million annual passengers, comprised of 433 million domestic and 188 million international travellers, and 18 million tonnes of freight, generating revenues of USD144 billion.
Continued passenger traffic growth and freight weakness in Nov-2011: AAPA
AAPA preliminary figures for Nov-2011 showed a continuation of the established trend of growth in international air passenger traffic and continued weakness in international air freight markets.
AAPA international traffic highlights: Nov-2011 and 11 months to Nov-2011
AAPA members handled 15.7 million international passengers in Nov-2011, a 4.0% year-on-year increase. Passenger numbers have increased in all but one month (Mar-2011) of 2011 and in every month of 2010 as the region's carriers have continue to see growth in demand for both business and leisure travel. International passenger numbers in the 11 months to Nov-2011 have increased 3.6% to 173.6 million.
AAPA airlines passenger numbers and passenger numbers growth: Apr-2011 to Nov-2011
In Nov-2011, international traffic (RPKs) increased 3.5%, outpaced by an 5.9% capacity (ASKs), resulting in a 1.7 ppt reduction in load factors to 74.4%. International capacity growth at Asia Pacific airlines has exceeded traffic growth for the past 12 months. As a result, load factors have also declined for the past 12 months (Dec-2010 through Nov-2011) after 16 consecutive months of year-on-year gains between Aug-2009 and Nov-2010.
AAPA airlines passenger numbers growth and passenger load factor: Oct-2009 to Nov-2011
AAPA airlines passenger traffic growth and capacity growth: Oct-2010 to Nov-2011
AAPA airlines passenger load factor growth: Oct-2010 to Nov-2011
Cargo declines continue
International air cargo markets showed further declines in Nov-2011 with the region's carriers feeling the impact of a continued moderation in export and import markets. Asia Pacific international air cargo demand (FTKs) declined by 6.5% year-on-year in Nov-2011, for the eighth consecutive month of year-on-year declines. Cargo capacity was reduced by a lesser decrease (-0.6%) resulting in a 4.1 ppt decline in the average international air cargo load factor for the region's carriers to 64.9%.
AAPA airlines freight traffic growth and freight capacity growth: Sep-2010 to Nov-2011
Asian carriers registered a 4.8% decline in international air cargo demand during the first 11 months of the year, reflecting "cautious management of supply chain inventory levels given the prospect of weaker consumer demand in the major developed economies", AAPA noted.