China Eastern's pain could be Air China's gain
Analysis
Air China and China Eastern Airlines reported big swings in operating profits, moving into the red in the first half of 2008, as weak demand and high fuel costs took their toll. Costs rose almost twice as fast as revenues at both carriers and the outlook is for more of the same.
Air China slipped to a first half operating margin of -1.3%, while China Eastern's margin of -5.2% is of greater concern. Two of China's major carriers are the worst performers in the region.
Selected Asia Pacific airlines' operating profit margins (%): 1H08*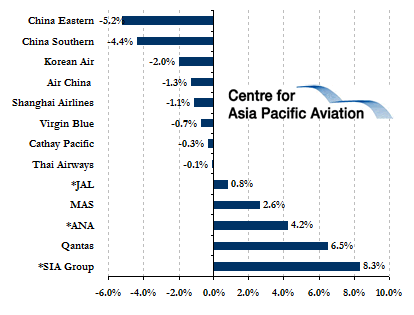 The Shanghai-based carrier is losing almost USD1 million per day and only a government bailout, merger or a white knight foreign investor can save it.
China Eastern stated it faces an "extremely complicated operating environment" in the second half, with "increasing uncertainties in the global economy, [while] the Chinese economy will probably experience a slowdown under the macroeconomic adjustment policy". The carrier concluded that demand is "likely to experience a downturn, while pressure from ever-increasing costs is likely to pose a threat to the development of the air transport industry".
This is the first official indicator by a Chinese airline that the much-hoped for post-Olympics recovery may not materialise.
Air China was more optimistic, stating that although there are uncertainties in the development of the industry, the Chinese economy is "still experiencing continued and steady growth, the post-Olympics economy and the direct cross-Strait flights will bring new opportunities to the PRC aviation industry".
It added, "concurrently, the changes which may be made to the industrial business landscape will also create new opportunities for us". This intriguing comment could foreshadow some major changes Beijing is plotting to restructure the sector.
Air China's parent successfully blocked Singapore Airlines' (SIA) bid for China Eastern at the start of the year - a move that left the Shanghai-based airline to wither on the vine. SIA is less likely now to attempt a recovery of a severely weakened China Eastern, leaving Air China (and its former Chairman, now CAAC Director, Li Jiaxiang) to pursue a "domestic solution" - ie the formation of a Chinese 'mega airline'.
China Eastern's pain could be Air China's gain.