China aviation industry seeing a "massive recovery", JAL investors not so optimistic about recovery
Analysis
According to CAAC, China's aviation industry has made a "massive recovery", with Chinese carriers reportedly achieving a combined CNY8 billion (USD1 billion) profit in 2009 as of 12-Sep-2009, compared to a loss of USD4.1 billion in 2008. No breakdown of the profit figure was provided.
CAAC also stated passenger numbers were up 42% in Aug-2009 (following a 12% contraction in Aug-2008 due to additional security controls put in place for the Olympics), with cargo volumes increasing 18% year-on-year.
Shares in China Southern Airlines and China Eastern Airlines advanced by as much as 5.3% and 3.6% in Shanghai, although both ended the day down in Hong Kong, down 1.6% and 0.4%, respectively.
Asia Pacific selected airlines daily share price movements (% change): 15-Sep-09
JAL down on share sell-off
Japan Airlines' shares slipped 3.4% on Tuesday, as investors took profits following sharp gains on Monday, following news over the weekend of negotiations for a capital alliance between the airline and overseas counterparts, including American Airlines and Delta Air Lines.
The sell-off suggests that the market remains skeptical of the carrier's prospects of returning to profitability, despite a three-pillar recovery plans to make "drastic reductions" to its route network (reportedly to include reductions of approximately 20% of its international network), a review of personnel costs (involving the expected reduction of 14% of its workforce) and a capital tie-up, possibly with an international partner.
JAL's shares have fallen 20% so far in 2009, compared to a 15% gain in the Nikkei 225 Stock Average.
Japan Airlines share price growth: Jan-2009 to Aug-2009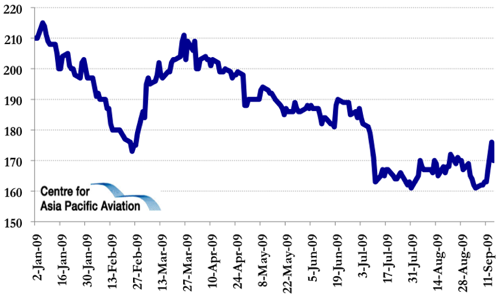 ANA international traffic gaining, domestic demand remains weak
Also in Japan, ANA's shares were down slightly (-0.4%) on Tuesday, as the carrier reported an 8.0% reduction in domestic passenger numbers and a 5% gain in international passengers in Aug-2009.
Domestic load factors were also down (-3.3 ppts to 67.5%), while international load factors were stronger, gaining 4.6 ppts to 80%. Cargo volume also remained in negative territory, down by approximately 3% domestically and internationally.
Singapore Airlines see double-digit passenger and cargo contractions in Aug-2009
In other traffic news, Singapore Airlines experienced double-digit contractions in both passenger numbers and cargo volume in Aug-2009, down 16.0% (to 1.4 million) and 16.9%, respectively, as the economic slowdown continued to negatively impact demand.
Singapore Airlines RPK growth and ASK growth: Aug-08 to Aug-09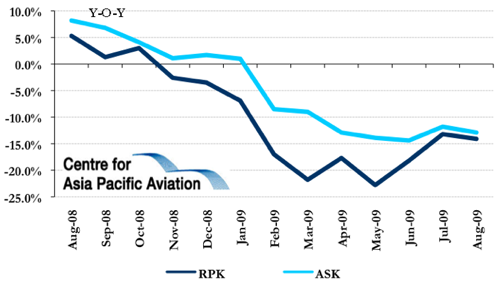 SIA's load factors were also down, by 1.1 ppts to 78.3%, and have been falling for over a year.
Singapore Airlines passenger number growth and PLF growth: Aug-08 to Aug-09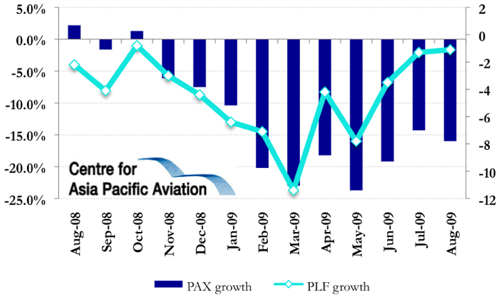 Reduced jet fuel prices in India
Shares in the listed Indian carries were up yesterday, as the Indian Oil Corp, Bharat Petroleum Corp and Hindustan Petroleum decreased jet fuel prices by approximately 3.2% on 15-Sep-09, following three consecutive increases. Leading the gains was SpiceJet, which soared 16.2% yesterday.