China Airlines and EVA Air's yields remain depressed; JAL downgraded (again)
Analysis
Taiwan's leading airlines, China Airlines (+0.5% yesterday)and EVA Air, reported continued double-digit reductions in passenger yields, of 21.8% and 14.9% respectively, in Sep-2009. These falls are, however, an improvement from Aug-2009 and Jul-2009 levels, and come off a base of growth in Sep-2008.
China Airlines and EVA Air passenger yield growth (%): Sep-2007 to Sep-2009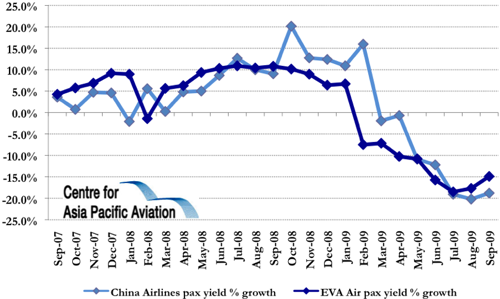 Awful cargo yields
The ongoing global economic crisis is most clearly reflected in the painfully low cargo yields of EVA Air and China Airlines, which are among Asia's largest airfreight operators.
In Sep-2009, EVA Air's cargo yields slumped 31.7%, with China Airlines' cargo yield's down 24.3%, although this represents a marked uptick from Aug-2009 levels.
China Airlines and EVA Air cargo yield growth (%): Sep-2007 to Sep-2009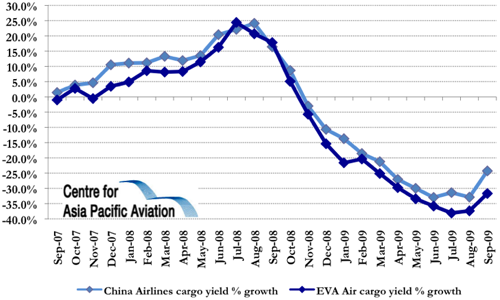 EVA and CAL face the prospect of a slow recovery in yields. For the cargo segment, the coming weeks will be crucial, with airlines banking on signs of the usual pre-Christmas cargo rush.

Also in North Asia, Japan Airlines' shares were up 0.9%, despite the carrier's being further downgraded by Standard and Poor's from already speculative grades, following a previous downgrade less than three weeks ago.
S&P lowered the long-term corporate credit ratings on JAL and Japan Airlines International by two levels, from 'B-minus' to 'CCC' and maintained its credit watch with a negative outlook. The downgrade "is based on the recognition it is becoming more likely that JAL will opt for a debt waiver by its creditors or for a debt equity swap in its restructuring plan" under the supervision of a quasi-public body.

Shares of Kingfisher Airlines rose 14.2% yesterday after the company was reported to have reached an out-of-court settlement with Bharat Petroleum Corp Ltd (BPCL) over a long-pending ATF payment. Kingfisher, which reportedly owes BPCL USD67 million, will reportedly pay USD8.5 million in the next 12 days and the rest in 12 monthly instalments.
Also in India, Jet Airways' and SpiceJet's shares both gained by double-digits, up 12.7% and 10%, respectively.
Meanwhile, Virgin Blue (-3.0%) shares showed the largest fall yesterday.
Asia Pacific selected airlines daily share price movements (% change): 04-Nov-09