Chicago airport traffic bounce - or just a blip?
Chicago's O'Hare and Midway airports are straining to move back into positive traffic growth after heading deeply into negative territory last year. The Chicago Airport System and the Chicago Department of Aviation could use some good news, after the USD2.5 billion privatisation deal at Midway fell through.
See also the April traffic review from the US Air Transport Association.
O'Hare, which opened a new runway and ATC tower in Nov-2008 under its modernisation programme, has suffered less during this downturn than Midway, mostly thanks to its international traffic profile. The airport, the second busiest in the world, handled 70.8 million passengers in 2008, down 7% year-on-year. Domestic traffic was down 7.7% (to 59.3 million passengers), but international traffic proved more resilient, declining 3.5% to 11.5 million over the year.
Midway saw an earlier and deeper decline than O'Hare, with total passenger traffic down 10.5% last year. Domestic traffic, which accounts for 99.8% of total volume, was down 10.1%, to 17.7 million. The small base of international traffic at Midway slumped 72.8% year-on-year.
However, Midway's recovery is taking shape earlier than O'Hare's. At the start of the year, traffic was down 19.0% at the airport, but the drop off has slowed considerably since Feb-2009, and Apr-2009 numbers were down just 4.4%. But Apr-2009 was boosted by Easter traffic.
For the year to Apr-2009, O'Hare's traffic is down 10.5% (less than Midway, which has declined 12.9%). However, O'Hare's recovery is likely to be more protracted. A return to positive growth in May-2009 is not assured for O'Hare (off last year's stronger base), but probable for Midway (off a lower base), based on recent trends.
Chicago O'Hare International Airport and Chicago Midway Airport passenger growth rates: May-2008 to Apr-2009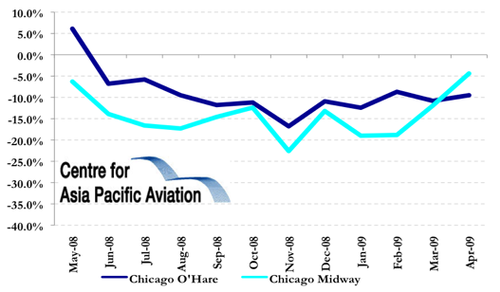 Gate reshuffle to boost O'Hare in late 2009 ?
Traffic at O'Hare may get a boost later in the year as several major carriers at the airport reshuffle their operations. This will free up some gates, potentially allowing more LCC competition into the airport. Continental Airlines confirmed last week that it will move its operations into United Airlines' Terminal 1, making the most of their cooperation agreement and Continental's entry into the Star Alliance, while Delta Air Lines will move from Terminal 3 in Nov-2009 to take nine gates in Terminal 2, sharing space with its merger partner, Northwest Airlines, as they integrate their operations.
The result will be six free gates at the airport, which could be enough to encourage new carrier entry. Virgin America has reportedly been seeking space at the airport and both JetBlue and Spirit Airlines both already operate from Terminal 3, making them potential candidates to lease the spare gates.
Stiff competition at O'Hare, Southwest dominating Midway
O'Hare is dominated by full service carriers, with United claiming the lion's share of capacity. Its cooperation agreement with US Airways will meanwhile also see more connectivity between the carriers. United is facing stiff competition from American Airlines, which still controls more than a third of capacity at O'Hare. The merger between Delta and Northwest will see them leapfrog US Airways in terms of capacity, athough their combined capacity share will still be below 5%.
Chicago O'Hare International Airport capacity and frequency share: Top 10 airlines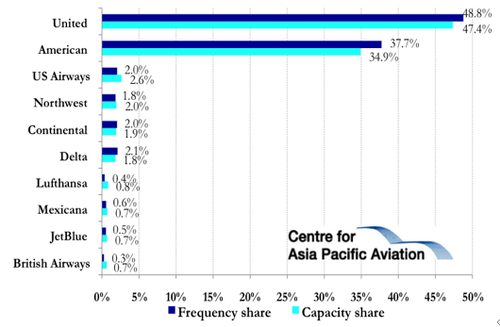 Midway is almost completely dominated by Southwest Airlines, which operates approximately 55 routes to/from the airport, having selected Chicago as one of its 'focus cities'. The carrier has managed to entice passengers away from the crowded O'Hare, capitalising on Midway's closeness to the downtown area and its convenience for domestic passengers. AirTran has also selected Chicago as a focus city, but has made little impact on Southwest's market share. What little international traffic there is at the airport is mostly handled by Canada's Porter Airlines.
Chicago Midway Airport capacity and frequency share: Top airlines