Changi Airport Group interested in increasing stake in Gemina; TAV Airport shares down 6.2%
Changi has approached Fondiaria-Sai SpA about purchasing its 4.2% stake in Gemina. The group's offer is reportedly "far" from the asking price. Meanwhile, Gemina's share price rose by 1.9%.
Meanwhile, TAV Airports shares lost the most ground on Tuesday (23-Nov-2010) and dropped by 6.2%.
Selected airport operators/investors daily share price movements (% change): 23-Nov-2010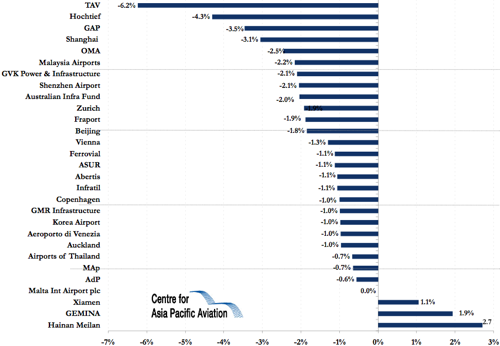 Airport supplier shares were mostly down on Tuesday with Stefanel (-4.3%) and Autogrill's (-2.3%) shares dropping while Hellenic DFS (2.2%) and MISR Duty Free Shops (+1.9%) shares were on the rise.
Selected airport suppliers daily share price movements (% change): 23-Nov-2010