Cathay Pacific's premium demand slumps, freight tanks in Dec-08 - capacity being adjusted
Analysis
Cathay Pacific reports it carried 0.3% fewer passengers in Dec-08, while cargo volumes sank 23.9% year-on-year. CEO, Tony Tyler, stated that passenger revenue is "poor", but cargo is "even worse".
Cathay Pacific passenger numbers growth (% year-on-year) and cargo volume growth (% year-on-year): Jan-08 to Dec-08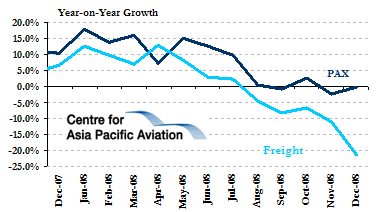 The airline is even gloomier about the outlook, with Mr Tyler stating the pronounced drop in revenue streams "may get worse".
Yields are under fire, although the carrier has not disclosed any figures. In an in-house staff magazine, the CEO stated, "the numbers of passengers actually paying proper First and Business class fares is now very low, whatever the on-board loads may look like". He added the airline has also put some "very cheap deals into the market to shore up the back-end of the plane".
Mr Tyler stated the "only glimmer of good news" is the fact that fuel prices have fallen so much, "but the reason for that is the weak world economy, which is also the cause of our revenue problems". Cathay Pacific last week revealed mark to market losses on its fuel hedging programme of approximately USD980 million in 2008.
Regarding the traffic outlook, spokesman, Titus Diu, stated, "we expect the market to remain weak in the first quarter of 2009 and we have revised our capacity to Europe and North America downwards in line with expected demand". The airline's capacity growth to North America has dropped into negative territory in recent months, following massive expansion earlier in the year - a strategy that has clearly backfired.
Cathay Pacific passenger capacity growth by region: Jan-08 to Dec-08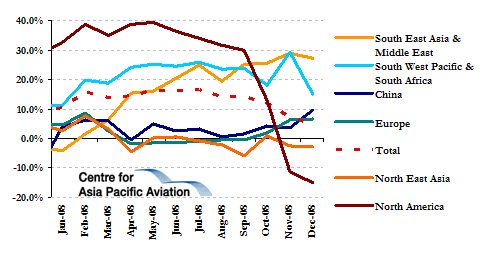 Load factors dipped after the Summer peak, but have improved somewhat as the capacity slowdown kicks in.
Cathay Pacific passenger load factor by region: Jan-08 to Dec-08