Cathay Pacific shares gain ground despite record loss, Qantas pursues a new strategy to compete with
Cathay Pacific shares increased 5.9% despite posting a loss of USD1.1 billion for the 2008 financial year. The carrier's share price has been in sharp decline for the last two weeks in anticipation of a poor result. The record loss was attributed in large part to the impact of unrealised fuel hedging contracts. The airline stated that the outlook for 2009 remains "extremely challenging" due to the economic slowdown and the carrier's traffic exposure to the financial services industry in Hong Kong.
Cathay Pacific share price: 02-Jan-09 to 11-Mar-09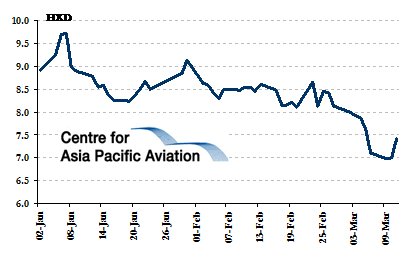 Meanwhile, shares in Qantas - a frequent and vocal critic of "unfair competition" from Gulf carriers, particularly Emirates - rose 8.0% on news that the airline signed a codeshare agreement with Etihad Airways, extending its network reach to the Middle East, a region it does not currently serve.
Asia Pacific selected airlines daily share price movements (% change): 11-Mar-09