04-Aug-2009 11:20 AM
Cathay Pacific seeing "no signs of any sustained recovery" but 1H2009 profit expected
Asian airline shares were mixed on Monday (03-Aug-09), as Asian equity markets generally strengthened (with exception of the Tokyo Stock Exchange) and fuel prices increased again. Once again, the Chinese carriers were again stronger on Monday, led by China Southern, up 6.8%, as the Shanghai Stock market continued to strengthen, gaining 1.5% to its highest level since Mar-2008 (China's stock market has soared 85.2% in 2009, the largest increase among the world's major economies). Cathay Pacific added 1.8% (see below).
Shanghai Airlines (+2.1%), meanwhile, stated it expects to report a financial loss for the six months ended 30-Jun-2009 due to falling traffic, particularly cargo traffic, due to the twin impacts of the global financial recession and the H1N1 flu epidemic.
Leading the decliners on Monday was EVA Air, down 3.1%. Singapore Airlines, Japan Airlines and Qantas were stronger.
Asia Pacific selected airlines daily share price movements (% change): 03-Aug-09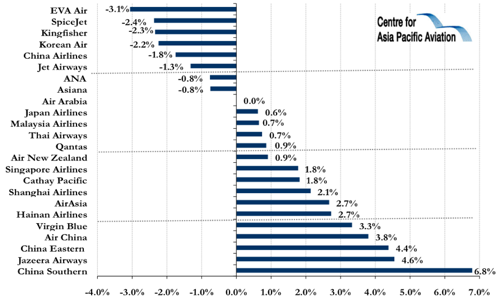 Cathay sees further pressures
Shares in Cathay Pacific also gained 1.8% yesterday, as investors focused on news that the Hong Kong-based carrier saw a bottoming out in weekly revenues last week. Separately, Merrill Lynch stated it expects Cathay Pacific to return to profitability in 1H2009, due to one-off fuel hedging gains, with the company expecting the carrier to report a net profit of HKD326 million (USD42 million) in the period (results to be released on 05-Aug-09), compared to a net loss of HKD663 million (USD86 million) in the previous corresponding period.
However, this seemingly positive news hides a darker truth: Cathay Pacific faces an extremely tough operating environment in the months ahead, with CEO, Tony Tyler, in a weekly memo to airline staff, warning that he sees "no signs of any sustained recovery" for the airline, which is "still some way of climbing out of our deep hole". Advance premium bookings, according to Mr Tyler, are no longer comparable with 2008 levels and are heavily down for 4Q2009, with Mr Tyler stating that "corporates were not pre-booking travel as they did before." The carrier stated it would know in early Sep-2009 whether Business travel would show any signs of a turnaround.