Cathay Pacific reports further traffic weakness in Oct-08 - issues second profit warning
Analysis
Cathay Pacific issued its second profit warning for the year on 05-Nov-08, noting that full-year financial results are expected to be "disappointing".
A tidal wave of bad news has swamped the carrier recently:
Oct-08 traffic was weak once again, with passenger numbers growth of 2.6% well below its 11.6% increase in capacity (ASKs). Cargo traffic for the month fell 7.4% to 144,466 tonnes, while capacity fell 2.6%, compared to a year ago.
Cathay's GM Revenue Management, stated October is traditionally one of the busiest months for corporate travel, "but the peak didn't materialise this year". He added, "we also continue to see the fallout from the financial crisis on the most long-haul routes as well as regionally, reflecting a tightening of corporate travel policies and reduced travel for both business and leisure".
Overall, it would appear that passenger numbers and freight volumes have bottomed in Sep-08, but a recovery to start-of-year levels will take time.
Cathay Pacific passenger numbers vs cargo volume growth (% change year-on-year): Nov-07 to Oct-08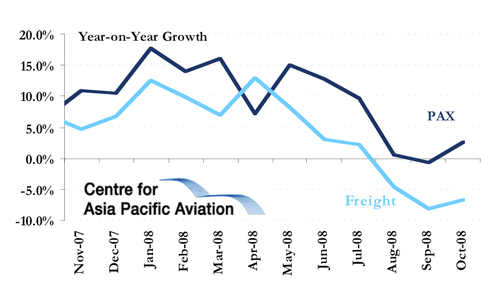 Cathay's capacity redeployment plans have seen a dramatic slowing in its rate of expansion across the Pacific.
Cathay Pacific passenger capacity growth (% change year-on-year): Nov-07 to Oct-08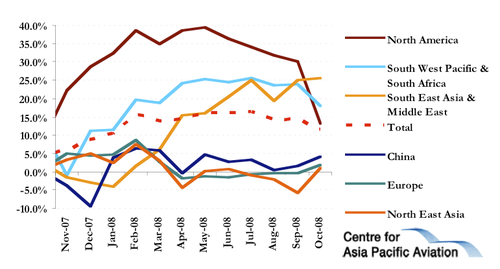 The European route region reported the best load factor in Oct-08, but load factors continue to weaken in Southeast Asia (where Cathay faces rising LCC competition) and the Middle East (where Cathay has added significant amounts of capacity recently).
Cathay Pacific passenger load factor by region (%): Nov-07 to Oct-08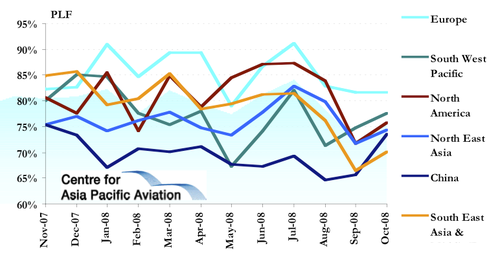 Only in North East Asia did Cathay experience load factor improvements last month.
Cathay Pacific passenger load factor growth by region (ppts change year-on-year): Oct-08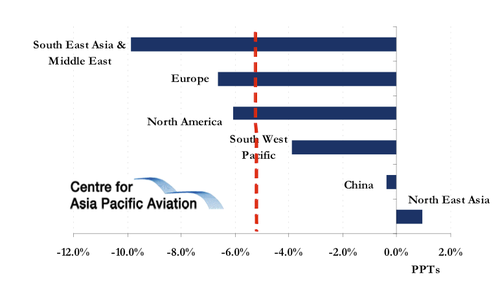 Besides weak overall demand, Cathay's profit warning also covered the following areas of concern:
CEO, Tony Tyler, elaborated that its business has been "hit hard by the financial turmoil". He added, "our front end business has been hammered, as the great majority of our corporate customers are in the banking and financial sector".
Revenues are reportedly tracking around 5% below target. Cathay Pacific's share price plunged 19% on 27-Oct-08, as the carrier announced currency fluctuations would hit revenues in Nov-08. The broader Hong Kong market fell 15% on the day, the most since the 1989 Tiananmen Square crackdown, on rising concerns the global credit crisis will impact Hong Kong's exports and financial services sector.
Mr Tyler explained exchange gains had been helping passenger revenue "a lot" in 2008, but have reversed this month as the Hong Kong dollar strengthened (as it is pegged to the US dollar). Cathay Pacific has expanded its network rapidly this yea to destinations such as Australia and India, whose currencies have depreciated markedly over the past few months.
Cathay generated roughly 45% of its revenue outside Hong Kong in the first half of 2008. The carrier also stated earlier in Oct-08 that revenues in Hong Kong had been suffering in recent weeks, particularly as premium demand eases.
Staff hiring freeze instigated
Mr Tyler stated, "sadly, the bad times are back and there's no point pretending otherwise. And this time I think we all should be concerned that the rebound may take somewhat longer than it did 10 years ago [during the Asian economic crisis], or indeed after other shocks like 9/11 and the SARS crisis".
The carrier confirmed it instigated a recruitment freeze from 24-Oct-08, including at its Dragonair subsidiary. But the carrier had not adopted a "slash and burn policy" with regard to its network, according to Mr Tyler. He stated, "that means not cutting back on the premium product we deliver that separates us from many of our competitors. The heart of our strategy is to keep our network intact and our team together".
Outlook: "No need to panic"
Nowhere in its detailed profit warning statement did Cathay indicate it would be adapting its strategy. It only advised investors to "exercise caution" in dealing with the company's shares.
Mr Tyler stated, "the situation is currently extremely volatile, with banks not lending and people and companies not spending". He added, "there's no reason to panic, but equally we have to be realistic about the fact that things are not looking good... It's getting more difficult to push up revenue due to the softening passenger demand".
He remains bullish about industry prospects once the recovery comes, stating, "I remain unashamedly optimistic about the future of aviation in Asia - just think of the potential in China and India alone". He added, "there is no place I'd rather be than Asia to ride out this current storm. And there is no other place in Asia better than Hong Kong to do so".
Cathay Pacific has only once recorded a full-year loss in its 62-year history - ten years ago during the Asian financial crisis. Mr Tyler stated, "in this fickle business of ours it doesn't pay to be anything but a realist - and I foresee the Fasten Seat Belts signs being on for some time yet".