Cathay Pacific reports 'firm' premium demand but 'slump' in Japan routes; load factors weak in Mar
Analysis
Cathay Pacific stated premium demand remained "firm" in most markets in Mar-2011 although the "slump" in demand in the carrier's Japanese routes was evident. Outgoing CEO Tony Tyler stated that "in general, the company is in very good shape or there are solid plans in place to put it in very good shape".
However, the carrier in its Mar-2011 CXWorld staff newsletter, noted that the business is again threatened by rising fuel prices which will impact on the airline's future profitability. Mr Tyler however stated that being a financially strong carrier, Cathay "can afford to do what's necessary to stay ahead of the competition". Mr Tyler also stated that during his time at Cathay Pacific, "I've only seen the first few chapters of the Asian aviation growth story: what's coming next will continue to drive the progress of our group".
Traffic declines slightly in Mar-2011. Second month of declines
Combined Cathay Pacific/Dragonair traffic revealed a slight year-on-year decline in the number of passengers carried. The carriers handled 2.2 million passengers in Mar-2011, a 2.8% year-on-year reduction. This marks the second consecutive month of passenger declines, after a 1.2% fall in Feb-2011.
Cathay Pacific Airways Passenger Numbers (2009 to 2011)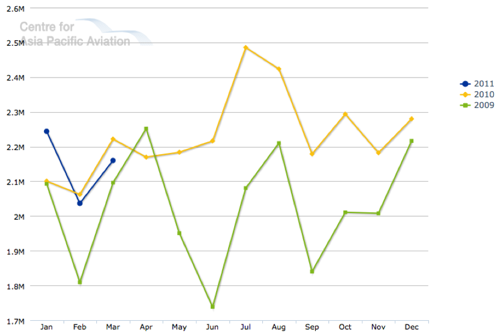 Load factors slump
Passenger load factor slumped 8.8 ppts to 76.9% as traffic (RPKs) growth of 1.8% failed to match the 9.6% surge in capacity (ASKs).
Cathay Pacific Airways Passenger Load Factor (%): 2009 to 2011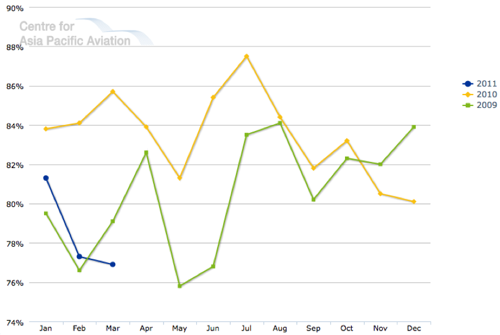 The number of flights operated by the carrier in the month increased 11% to 5316.
Cathay Pacific Airways Number Of Flights ('000s): 2009 to 2011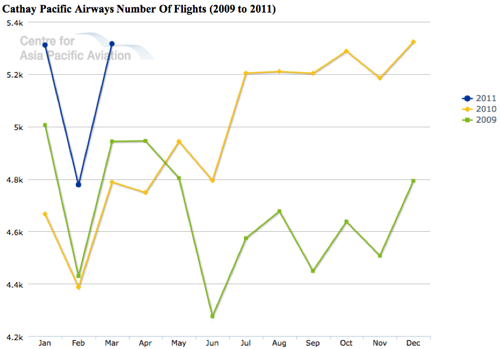 China traffic declines in Mar-2011
Traffic (RPKs) declined by 5.5% on China services in Mar-2011, despite a 4.6% capacity (ASKs) increase on these sectors. This likely occurred due to the placement of Chinese New Year at the beginning of February in 2011 as opposed to the middle of February in 2010. Chinese New Year is scheduled to take place in January in 2012.
Cathay Pacific Airways Revenue Passenger Kilometres (China) (mill): 2009 to 2011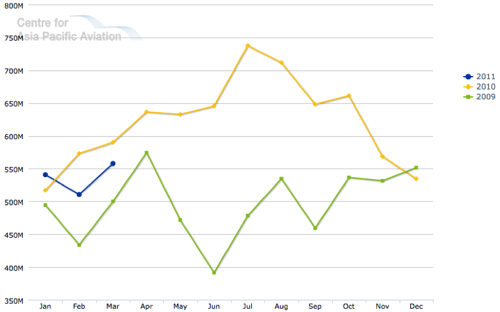 Cathay Pacific Airways Available Seat Kilometres (China) (2009 to 2011)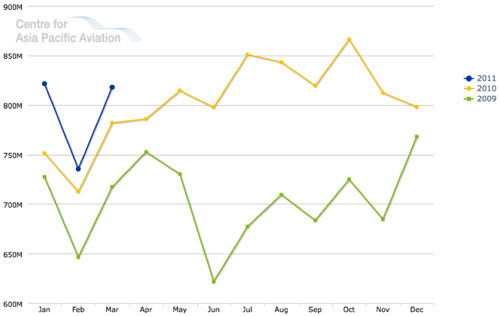 "China markets remain encouragingly strong overall, although we face revenue challenges specifically on the Shanghai routes off a very high base in 2010," according to General Manager Revenue Management Tom Owen.
Cathay Pacific former COO and incoming CEO John Slosar has similarly stated robust growth in passenger and cargo services in mainland China is expected to provide a boost for the carrier. He added that the rapid growth of international travel from China will probably be the most interesting story of the decade and the airline will take good advantage of the opportunity.
"North American and Southeast Asian markets remained strong, although it was a challenging month for the Economy Class cabins on European and South West Pacific routes, affected to some extent by an Easter seasonality shift as well as heightened competition," Mr Owen said. Cathay Pacific North America traffic (RPKs) has grown every month over the past two years.
Cathay Pacific Airways Revenue Passenger Kilometres (North America) (2009 to 2011)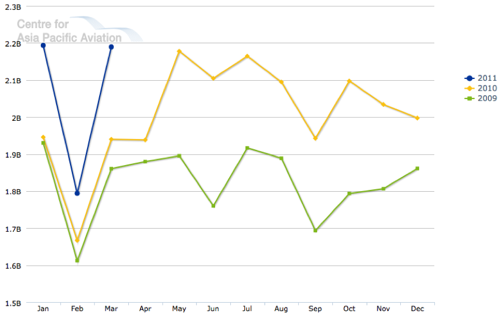 Cathay Pacific expects several months of weakness on Japan services
Traffic (RPKs) on North East Asian sectors slumped 11.6% in Mar-2011, as the carrier's operations were negatively impacted by the 11-Mar-2011 earthquake and tsunami in Japan. Capacity (ASKs) on these routes increased by 18.0% resulting in a big fall in load factors.
Cathay Pacific Airways Revenue Passenger Kilometres (Northeast Asia) (2009 to 2011)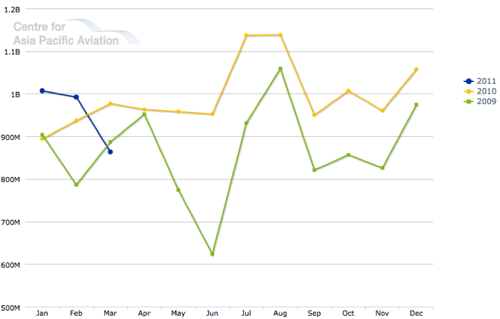 Cathay Pacific stated it expects "several months of weakness with a recovery towards the summer" following the recent events in Japan. Cathay reduced capacity to/from Japan from 01-Apr-2011 to 15-Apr-2011 in response to weakening passenger demand. At present, Cathay Pacific operates seven daily services to and from Tokyo.
Freight demand back into Asia remains robust
In the freight market, the airline's General Manager Cargo Sales & Marketing James Woodrow noted that traffic back into Asia "remained robust during March, the demand from Hong Kong and Shanghai was comparatively soft particularly to Europe. Demand did improve towards the end of the month due to an increase at the end of the quarter. The tragic earthquake in Japan did briefly affect our Japan operation however the Cathay Pacific Japan team worked heroically to get cargo flowing again almost immediately."
The two airlines carried 161,461 tonnes of cargo and mail in Mar-2011, an increase of 1.4% year-on-year, while the cargo and mail load factor slumped 10.7 ppts to 71%. Capacity was up by 21.1%, while freight traffic was up by 5.3%.
Cathay Pacific Airways Cargo Volume (2009 to 2011)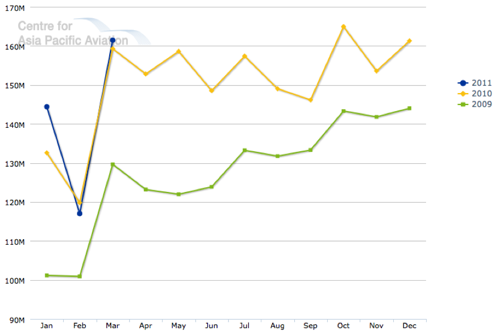 Partnership with Air China blossoms
In related news, Cathay Pacific and Air China stated their Air China Cargo JV commenced services on 30-Mar-2011. Operations started after the venture obtained the final regulatory approvals, Cathay Director Ian Shiu said. The transaction was completed on 18-Mar-2011. Cathay previously stated it expected services to commence as early as Oct-2011.
Cathay Pacific increased its stake in Air China from 18.43% to 18.77% in Apr-2011, paying around HKD40 million (USD5.15 million) for 5.48 million shares. Cathay Pacific acquired the Hong Kong-listed (H shares) shares for an average HKD7.348/share. Cathay Pacific stated Air China was a good investment and it would increase its holding in the company. Air China is a substantial shareholder of Cathay, owning nearly 30% as of the end of 2010, after Swire Pacific which held 43% in the Hong Kong-based airline.
APPENDIX: Cathay Pacific Mar-2011 traffic highlights