Cathay Pacific reports "dramatic decline in premium traffic"
Analysis
It won't be a bright end of year at Cathay Pacific, as all traffic segments experienced falls in November, ranging from "dramatic", through "particularly sharp" to "much weaker than expected". Traffic is down and yields are plummeting as its key markets dry up.
According to the carrier, most of its key passenger markets weakened again for the month; premium traffic showed a "dramatic decline" (meaning yields will have again been sharply down), Hong Kong market demand reduction was "particularly sharp..especially on the corporate side", and the annual pre-Christmas freight peak "simply didn't happen", with demand "even weaker than expected".
Cathay Pacific and Dragonair pax (RPK) and cargo (RTK) growth: Dec-07 to Nov-08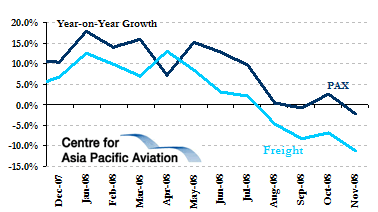 Nowhere is the decline more obvious than on North American services, where capacity was reduced by 11.2% y-o-y, although the route load factor rose off its lows in October and November as a result.
The financial sector in particular has been badly hit on Pacific routes and, given the carrier's comments on premium demand and the decline in the carrier's home market, this probably translates to significant negatives on yield.
Cathay Pacific passenger capacity growth by region: Dec-07 to Nov-08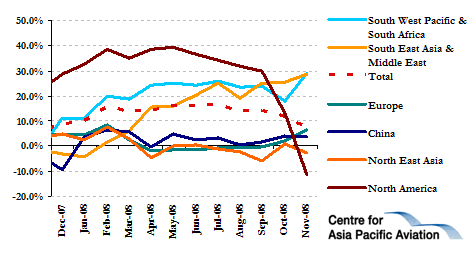 In contrast, massive amounts of capacity have been added to Australasian (+29.1%) and South East Asia/India/Middle East (+28.8%) markets. Overall, capacity has increased 7.4% y-o-y.
Cathay Pacific Passenger load factor by region: Dec-07 to Nov-08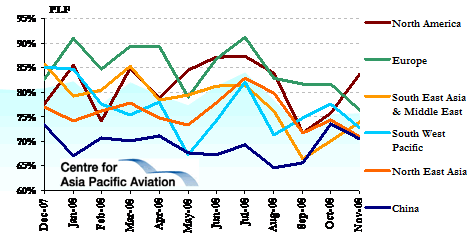 By juggling capacity among Cathay's various markets - a great advantage that this truly network airline has - load factors across the routes are being held more or less at similar levels in each route group, with the exception of Australasia/South West Pacific. This already low-yielding sector has shed 7.4% in load factor compared with last year, while the South East Asia/Middle East lost a whopping 11.0%.
Only North America, thanks to the hefty capacity reduction, showed positive in load factor terms for the month.
Cathay Pacific passenger load factor growth by region: Dec-07 to Nov-08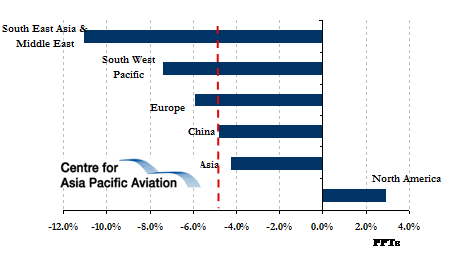 The China market
One saving grace for Cathay and its Dragonair subsidiary had previously been the strength and growth potential of the mainland market. But this too has turned soft, although not to the extent of other markets (although no yield figures are issued to allow a view of the impact of pricing in maintaining demand).
Meanwhile, good news for investors does not appear imminent. The carrier's share price has more than halved this year and the outlook does not offer much hope for a rapid improvement, as excess capacity dogs progress. Grounding several freighters and reducing aircraft utilisation is some consolation, but more aircraft are arriving.
Cathay Pacific share price: 10-Jan-08 to 10-Dec-08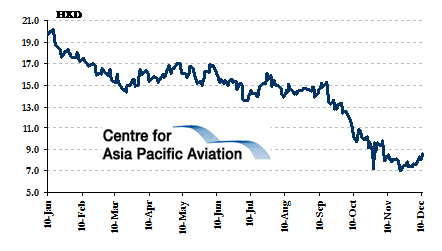 Those empty inbound loads mean that the parties in Hong Kong will be smaller and the gifts fewer this holiday season. Everyone will be hoping that, at least, the atmosphere will be a little better this time next year.