Cathay expects 2010 profit to exceed 2007; to nearly triple 2009 result
Cathay Pacific stated it expects net profits for the 12 months ended 31-Dec-2010 to be "not be less than HKD12.5 billion (USD1.6 billion)" as demand for passenger and cargo services has "remained very strong with revenues at high levels". The anticipated result is nearly triple its full-year profit from HKD4.69 billion in 2009 and would represent a record result for the carrier. Cargo and passenger traffic was up strongly in Oct-2010
Cathay Pacific CEO, Tony Tyler, commented: "We are expecting an outstanding financial result following a very difficult period brought about by the global financial crisis. We are of course delighted to be so handsomely in the black, but the dramatic turnaround in our fortunes serves to illustrate yet again the volatile and cyclical nature of our business. Two years ago we suffered a record loss - this year we expect to make a record profit. This only goes to show that we must manage our business prudently, so that we are able to thrive in the good times and survive the bad times".
The carrier, in Oct-2010, had announced that it expected rates of return to remain stable and profits to grow in 2H2010, with full-year profits to exceed the record registered in 2007. The carrier's profit in FY2007 stood at HKD7,023 million (USD905.2 million).
Cathay Pacific net profit: 1999 to 2010 forecast
Benefiting from "very strong" profits at Air China; profits from HACTL and HAECO
A contributing factor to the profit outlook is the "very strong" profits earned by Cathay Pacific's strategic partner, Air China Limited, for the nine months ended 30-Sep-2010.
Cathay Pacific expects to record a share of HKD1.7 billion (USD219 million) in profits from Air China for 2H2010. Cathay Pacific owns 19.27% of the issued share capital of Air China and accounts for its share of the results of Air China three months in arrears.
The profit forecast has also taken into account the aggregate profits of HKD2.165 billion (USD279 million) from the sale of its interests in Hong Kong Air Cargo Terminals Limited (HACTL) and Hong Kong Aircraft Engineering Company Limited (HAECO), and the European Commission's imposition of a EUR57.12 million (HKD618 million) fine on the airline.

Returning capacity to pre-crisis levels
Cathay Pacific is returning capacity to pre-crisis levels after reporting a more than eightfold increase in profit to HKD6,840 million (USD881.6 million) in 1H2010 amid a continued and significant recovery in its core business. This followed the extremely challenging conditions experienced for much of 2009.
Part of the recent profitability can be attributed to the careful management of capacity that Cathay and other flag carriers have managed during the past year, including sharply reduced utilisation as compared with 2008. But expansion is to recommence. The carrier plans to increase capacity by 10% in 2011 to take advantage of robust demand in the aviation market. The carrier plans to take delivery of nine new passenger aircraft: six B777s and three A330s in 2011 and six B747Fs with at least two new destinations to be added. It may also lease two to four more A350s to add capacity, with these aircraft to be delivered between 2016 and 2019. The carrier is also studying whether to add A380Fs or B747-8 orders to its cargo fleet.
Seeing "much improved revenue quality and volumes"

Upon the release of the carrier's traffic highlights for Oct-2010, Cathay commented that it has witnessed "much improved revenue quality and volumes" in both its economy and premium cabins over recent months. However, Mr Tyler has stated that premium revenues have still not returned to levels seen before the global downturn, despite steady improvements over the past year.
Cathay again achieved high load factors across most of its network in Oct-2010, operating an average passenger load factor of 83.2%.
A substantial freight operator (and CAPA's Cargo Airline of the Year), Cathay's peak season kicked upwards in Sep-2010 with "very strong" demand out of Hong Kong on all major trunk routes. The carrier has separately stated its cargo joint venture with Air China may gain regulatory approval in early 2011.
Share price strengthening as performance improves
Cathay's share price on the Hong Kong market has recovered strongly since mid-2010 as its results reflect economic recovery and the airline's strong positioning. It has traded today (16-Nov-2010) at a 12-year high.
Cathay Pacific share price: May-2010 to Nov-2010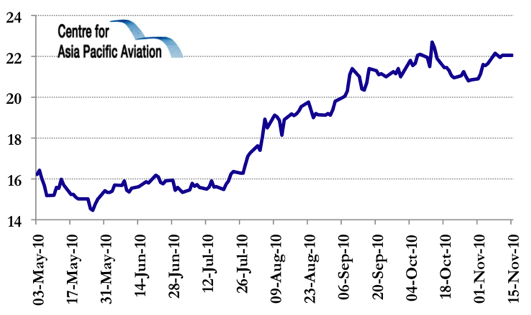 Employees to "have a good share of the rewards", but cost management to remain
Cathay's employees will benefit from the carrier's improved 2010 results through its profit-share scheme.
Mr Tyler commented: "I can assure our hardworking staff that when the company is performing well, they will have a good share of the rewards, primarily through the company's profit share scheme. Our policy is to reward staff during the good times through market based salary increases, supplemented by profit share and year-end bonus, and make every effort to preserve their jobs during the bad times, as we did in the recent downturn and during SARS, for example. Our intention is to follow that policy in this very good year, but we have to keep our feet firmly planted on the ground in controlling costs".
He continued: "We are in a very capital and people intensive business and managing our costs sensibly is an absolute imperative for the competitiveness of an airline like ours that is wholly commercial and receives no government financial support or subsidy. We therefore need to ensure that our financial resources are in the best possible shape to meet operating costs and our ongoing expenditure commitments. If we don't stay competitive, we won't make money in the good times - and we won't be able to protect jobs in the bad times".
The carrier plans to recruit between 800 and 1000 flight attendants next year. Cathay has hired 700 cabin crew so far this year and is expected to hire a further 100 flight attendants before year-end.
Greatly improved outlook after challenging 2009
The outlook for Cathay Pacific Group is now much improved after a very challenging 2009. In 2010, Cathay has been able to get its business back on track, with capacity being restored, an improved financial situation and a strengthening of the carrier's balance sheet. Continued improvement in cargo volumes and yields over the peak season lead up to Christmas would also signal a strong beginning to 2011.
The carrier's yields have benefited from the continuing low level of the Hong Kong dollar, which is linked to the Chinese yuan. Although fuel costs have had to be absorbed in full as prices rose to USD85, the lower cost base of Cathay delivers it a significant strength. The carrier is also benefiting from its high exposure to the Chinese market. COO John Slosar has said he believes mainland China will become the most watched aviation market over the next five to 10 years and that Cathay and Dragonair will be able to benefit through their network cooperation with Air China.