Cathay boosts cash levels by trimming HAECO stake/B777 sale-leaseback, JAL investors remain cautious
Analysis
Cathay Pacific's shares gained 4.0% yesterday, as the carrier entered two separate agreements to improve its cash position as the economic downturn drags on.
Cathay agreed to sell 20.7 million shares, representing 12.45% of its shareholding, in Hong Kong Aircraft Engineering Co Ltd (HAECO) in a transaction valued at approximately USD245 million. If approved, Cathay Pacific's direct interest in the issued share capital of HAECO will decrease from 27.45% to 15.00%, while Swire Pacific's stake in the maintenance provider will rise from 33.52% to 45.96%.
Cathay also signed a purchase and leaseback agreement with BOC Aviation, covering six of the carrier's 19 B777-300ER aircraft currently on order. The carrier also stated that while it has no intention to cancel aircraft orders, it is in negotiations with manufacturers to better aligned capacity with expected demand.
Cathay is currently conducting a review of its business model, as it encounters structural changes in its core markets, especially premium passenger traffic.
Air China experienced double-digit growth across the board in Aug-2009
Shares in Cathay's cross-equity partner, Air China, gained 3.8% yesterday, coinciding with the release of the carrier's Aug-2009 traffic results.
The carrier stated it saw a "pick up" in the air traffic market in the month, with domestic and regional routes experiencing "significant" growth in passenger traffic, up 42% and 43%, respectively. The airline also experienced double-digit growth in international passenger traffic (+16%) for the first time in 2009. Cargo traffic returned to positive territory for the first time in 2009 last month, up 11% year-on-year.
Asia Pacific selected airlines daily share price movements (% change): 16-Sep-09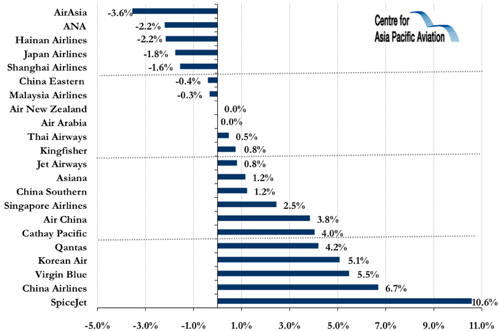 Also in North Asia, Japan Airlines' shares slipped 1.8% as investors continue to be cautious regarding the carrier's prospects of returning to profitability. Adding to concerns were comments by Japan's new Transport Minister, Seiji Maehara, that he would review JAL's turnaround plans to determine whether the State-supervised revitalisation for the carrier is feasible. Mr Maehara has previously questioned the heavy involvement by government in the aviation industry and urged further deregulation.
These statements could be interpreted as lending support to the idea of a foreign-airline(s) backed proposal to help sponsor JAL's turnaround. Air France-KLM and British Airways are apparently supportive of proposed investments by the rival SkyTeam and oneworld members, Delta Air Lines and American Airlines, respectively, and could contribute financially to the bids.
Singapore Airlines' shares gained 2.5% yesterday and was upgraded by Citigroup yesterday, from 'sell' to 'hold'. According to Citigroup, "we view that passenger/cargo traffic is bottoming, which in time, should stem yield pressure. Capacity cuts, cost controls and lower hedging losses may bring relief towards year-end. The latest July and August operating data, together with signs of recovery from broader economic data, lead us to view that this should prove to be the earnings trough for Singapore Airlines, although admittedly the road to recovery isn't likely to be V-shaped".
Macquarie Research, meanwhile, upgraded Taiwan's China Airlines from 'underperform' to 'outperform', citing a "significant improvement" in its cargo business. China Airlines' shares soared 6.7% yesterday.