CAPA Awards for Excellence in Asia Pacific Aviation 2014: Invitation to submit proposals
Analysis
CAPA is pleased to announce the return of its highly regarded Awards for Excellence for airlines and airports based in the Asia Pacific region.
The Awards ceremony will be held at a Gala Dinner on 14 October 2014 at CAPA's Asia Aviation Summit and LCC Congress, to be staged at the spectacular Capella Hotel in Sentosa, Singapore on 13-15 October.
"Asia has been at the vanguard of strategic change and rapid expansion in aviation over the past decade – and we look forward to crowning the region's best-in-class for 2014 at one of the region's most spectacular venues, Capella Singapore, on 14 October", said CAPA Executive Chairman, Peter Harbison.
CAPA's awards for strategic excellence will cover the following categories in the Asia Pacific region:

The CAPA Awards for Excellence are not driven by customer surveys, popular votes or sponsorship.
They are independently researched by CAPA's leading team of analysts, then selected by an independent international panel of advisors.
CAPA - Centre for Aviation is now inviting submissions from airlines and airports based in Asia, to support our short-listing process.
We invite all interested airlines and airports to answer a simple question in your submission with supporting information:
In what ways is your airline/airport/executive demonstrating strategic leadership for the industry?
Please email us your submission, with full justification by 31 July 2014.
About CAPA and the CAPA Awards for Excellence
Established in 1990, CAPA – Centre for Aviation is the leading provider of independent aviation market intelligence, analysis and data services, covering worldwide developments.
CAPA's Aviation Awards for Excellence are intended to reward airlines and airports that are not only successful but have also provided industry leadership in adjusting to a new environment. At a time of industry upheaval, our winners are adopting strategies that offer new directions for others to adopt.
Note: The Global CAPA Awards for Excellence will be announced at a Gala Ceremony at the World Aviation Summit in Brussels/Antwerp on 20 November 2014. More information about these awards will be released later in August 2014.
Reserve your place at the CAPA Asia Aviation Summit & LCC Congress, 13-15 October, Singapore
To reserve your place at CAPA's Asia Aviation Summit & LCC Congress, please visit our website.
We are expecting 40 airlines to take part in the event.
Confirmed speakers include:
Air New Zealand, Regional General Manager Asia, Sandeep Bahl
AirAsia, Founder, Dato' Sri Tony Fernandes
AirAsia, CEO North Asia, James Rhee
AirAsia X, CEO, Azran Osman-Rani
Brand Karma, CEO, Morris Sim
CarTrawler, CCO, Michael Cunningham
Dobrolet, CCO, Mike Hayden
eBay Enterprise, Regional General Manager Asia Pacific, Darren Fifield
Facebook, e-Commerce & Travel Strategist, Simrat Sawhney
Firefly, CEO, Ignatius Ong
FMI, CEO, Bruce Nobles
Heidrick & Struggles, Partner, Con Korfiatis
Hong Kong Airlines, Assistant Director, Commercial, Michael Burke
Hong Kong Express, Deputy CEO, Andrew Cowen
IATA, Regional VP Asia Pacific, Conrad Clifford
Korn Ferry, Senior Client Partner, Global Industrial Markets, Asia Pacific, Torbjorn Karlsson
National University of Singapore, Professor of Aviation Law, Alan Khee-Jin Tan
NOK Air, CEO, Patee Sarasin
Peach, CEO, Shinichi Inoue
Priceline Group, SVP, Corporate Development, Adrian Currie
Rio Tinto, Global Category Lead, Travel & Expense Management, Kurt Knackstedt
Scoot, CEO, Campbell Wilson
Skyjet, Chairman/CEO, Joel Mendoza
SpiceJet ,COO, Sanjiv Kapoor
Vanilla Air, President, Tomonori Ishii
(Many others to be confirmed)
Our Event Partners: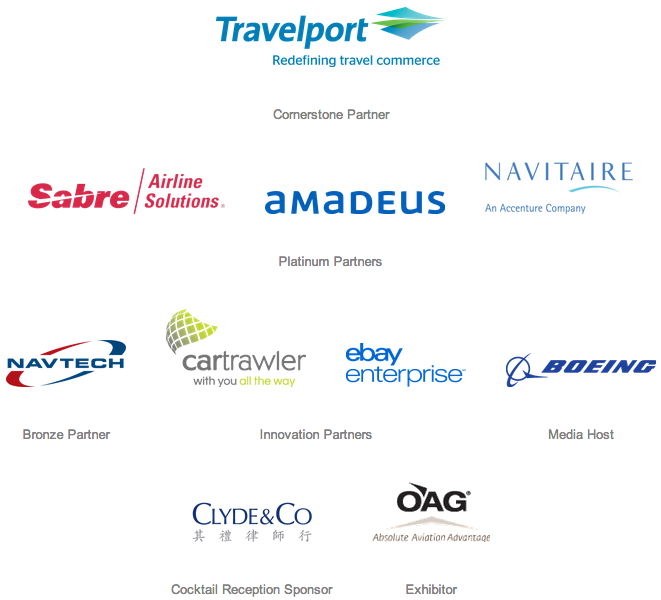 Asia Aviation Summit Draft Agenda
Day 1, 13 October: Asian LCCs powering the Budget Travel Revolution
09.00: Keynote Addresses
09.50: Executive Panel: Asian LCC strategy spotlight
Franchise vs independent LCCs: Can both win?
Will LCC subsidiaries of full service airlines work – and why is Asia any different?
Is short-haul premium demand dying and can FSCs still be full-service on regional Asian routes?
How can LCCs capture the corporate market?
Are infrastructure constraints limiting growth and are LCCs getting locked out of major business hubs?
FSCs are losing money on short-haul, but making money on medium/long haul. Is this sustainable?
11.00: Coffee Break
11.30: Panel discussion: LCC evolution – is there any point remaining 'pure' and what are the benefits/pitfalls of adopting hybrid models?
Are Asian carriers in danger of becoming overly homogenous?
Will the threat of over-capacity and consolidation force some carriers to change tack?
12.45: Innovation Roadshow
13.00: Lunch
14.00: Keynote Address
14.40: Panel discussion: The outlook for ASEAN liberalisation and the market opportunities and challenges in Southeast Asia
2015 is a key milestone in ASEAN liberalisation. Will it be achieved – and if not, why not?
Are expectations of growth in ASEAN over-optimistic and have Southeast Asia's airlines over-ordered aircraft as a result?
15.45: Coffee Break
16.15: Keynote Address
16.45: Panel discussion: Successful sales, marketing and distribution strategies in Asia
17.30: Cocktail Reception
Day 2, 14 October: Asian airlines prepare for future shocks
09.00: Keynote Address
09.30: Panel discussion: Low-cost long-haul – evolving for the long-term
What have the low-cost long-haul airline experiences to date told us about the strengths and weaknesses of the model?
Are fuel prices the biggest threat to airlines in this sector?
What do new aircraft technologies offer airlines in this sector?
How are airports facilitating or hindering the long-haul to short-haul low-cost feed opportunity?
How are full service carriers responding to the threat of LCC competition on longer sectors?
10.30: Coffee Break
11.00: Panel discussion: LCC strategies for sustainable top line revenue growth
Ancillaries and merchandising strategies: how are airlines making the lion's share of their profits from add-ons?
The latest on distribution strategies – and how airlines are extending their reach
12.00: Panel discussion: Start-ups: What are the keys to success, and which business models can truly prosper?
Starting an airline in Asia faces significant barriers. Are these any higher than 10 years ago?
Finding the right partner(s) is often crucial to success. What does the ultimate partner bring to the table?
Delays in overcoming regulatory and competition barriers can severely impact a start-up carrier's plans and cash flows. What lessons can be learned from those that have gone before?
13.00: Lunch
14.00: Panel discussion: New markets ripe for LCCs – A focus on Myanmar & Vietnam
14.50: Panel discussion: Innovate or die – Out-of-the-box solutions for handling industry disruption
What radical innovations are influencing customer behaviour?
What new technologies are airlines embracing to increase revenue, reduce costs and improve customer service?
How do airlines overcome the stumbling blocks to innovation?
15.45: Coffee Break

16.15: Panel discussion: Airline business model innovation - 'What's next for Asia?'
Airline business models are constantly evolving. Will the process of hybridisation accelerate in Asia?
What are the newer airline business models, on the periphery, that will make their presence felt in Asia in the next five years?
17.15: Close of Day 2
19.30: Gala Dinner & CAPA Awards ceremony, hosted by Travelport
Day 3, 15 October: Asia's Full Service Airline & Corporate Outlook
- The Gulf, India, China and Corporate Travel driving change
09.00: Keynote Address: The transformation of Asian aviation: how Asia's full service airlines have adapted after a decade of shocks
09.45: Panel discussion: Harnessing the explosive growth in India and China – how Asian aviation 'ain't seen nothin' yet'
Is China's evolution from fully inclusive groups to fully independent travellers going to be significantly compressed, compared to the Japan and Korea experience?
Which airline models will succeed in China?
10.30: Coffee Break
11.00: Panel discussion: The role of the Gulf carriers in reshaping Asian aviation
The sixth freedom centre of gravity has shifted west. Will the Gulf carriers continue to gain share at the expense of Asia's hub carriers?
What are the implications for carriers at either end of the line?

13.00: Lunch
14.00: Keynote Address: TBC
14.30: Panel discussion: Adapt or perish: Where will Asia's full service airlines be in 2020?
A forward-looking high-level wrap of the Summit's key findings and the insiders' views on the Asian aviation landscape at the end of this decade.
15.30: Summit close