CAPA Airline Fleet & Finance Summit – less than a week to go. More airlines confirmed!
Analysis
CAPA is pleased to announce a strong and diverse line-up of airlines will be present at its upcoming aircraft fleet and air finance Summit in Singapore. The airlines will be joined by leading finance sector analysts and commentators in what is considered the most airline-centric air finance event on the calendar.
The CAPA Airline Fleet & Finance Summit, at Singapore's stunning Capella Sentosa, will showcase the latest financing trends and feature detailed fleet and finance updates from 15 airlines over two days, 25/26 March.
Confirmed speakers include:
Air Costa, Vivek Choudhary, CFO
Air India, Venkat Srinivasa, Director-Finance
Allegiant Air, Tom Doxey, VP Fleet and Corporate Finance
ATR, Christophe Potocki, General Manager, Sales ASEAN & Pacific
BOC Aviation, Peter Davis, Head of Treasury*
Cabot Aviation, Tony Whitty, CEO
CAPA - Centre for Aviation, Jonathan Wober, Chief Financial Analyst
CAPA - Centre for Aviation, Brendan Sobie, Chief Analyst
Citi, Anup Mysoor, Managing Director
Citi, Peter Hammond, Director Export & Agency Finance
Citigroup, Cristina Chang, Director and Head of Asia Pacific Securitized Products and Asia Pacific Transportation Finance
DVB Bank, Vicente Alava Pons, Aviation Finance Managing Director
Embraer, Mark Dunnachie, Vice President Asia Pacific Commercial Aviation
Garuda Indonesia, Mega Satria, Treasurer
Hong Kong Express, Andrew Cowen, Deputy CEO
IBA, Phil Seymour, President and COO
Jeju Air, Hyuk Park, Head of Planning
Lion Group, Leithen Francis
Lufthansa, Markus Ott, Head of Corporate Finance
mba, David Tokoph, Head of Aircraft Appraisal Group
Mega Maldives Airlines, George Weinmann, CEO
National University of Singapore, Alan Tan, Head, Air Law and Policy Programme
Oriel, Olga Razzhivina, Senior ISTAT Appraiser
PT Citilink Indonesia, Albert Burhan CFO
SriLankan Airlines, Yasantha Dissanayake, Head of Finance
TAP Portugal, Teresa Lopes, Finance Director
Transportation Partners, John Duffy, Chief Operating Officer
TUI Travel, Tom Chandler, Director of Aircraft Acquisition and Finance
UK Export Finance, Gordon Welsh, Head of Aerospace
VietJet, JV Khanh, Managing Director
*Awaiting final confirmation
These speakers will be joined by Treasury/Finance/Fleet and other executives from:
AirAsia Bhd
ANA
Jetstar Airlines Group
For Airline registrations, please email CAPA Events
For all other registrations, please click here
There will be four major networking sessions during the Summit, known as the Fleet MarketPlace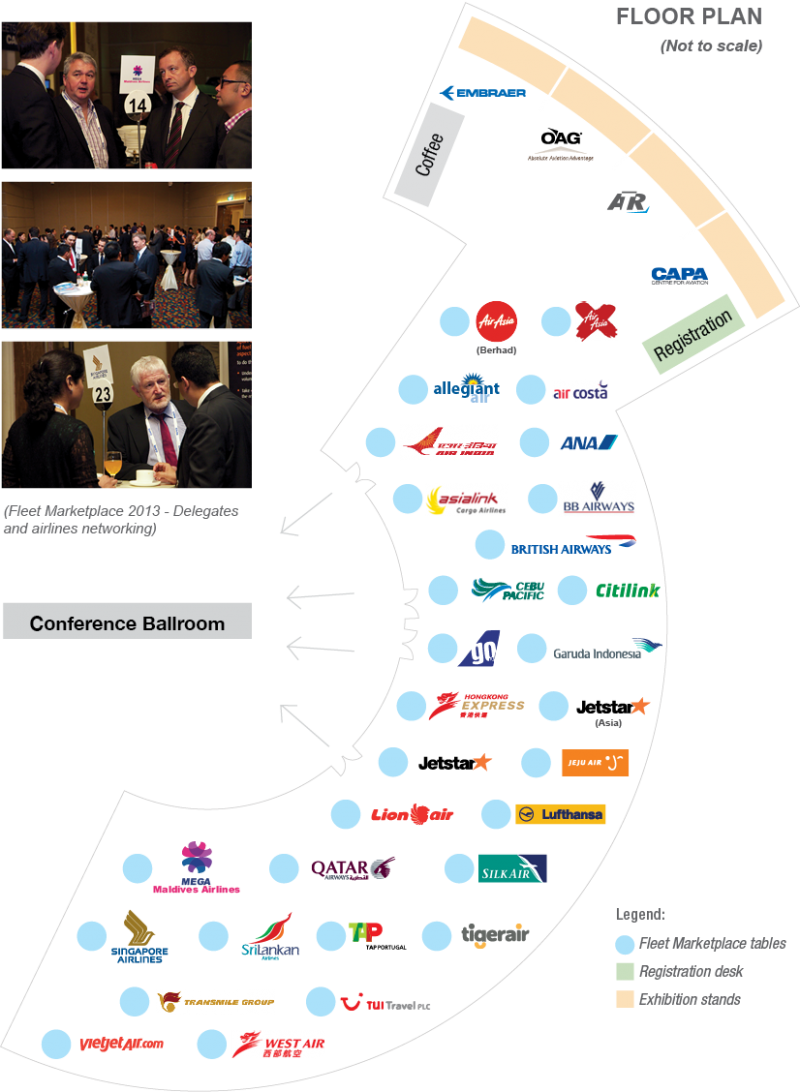 Final Agenda released
The agenda for the CAPA Airline Fleet & Finance Summit is now available
Day 1: Tuesday 25 March 2014
08:00
Registration
09:00
Welcome by Conference Chairman, Anup Mysoor, Citi
09:10

Keynote Address: Witness to a structural change in profitability?
The latest industry developments according to CAPA's Chief Financial Analyst Jonathan Wober:

What can we learn from airline unit cost benchmarking?
The global cycle of airline profitability and its links with the cycle of orders and deliveries
How will the record order backlog be funded?

09:35

Keynote Address: Deutsche Lufthansa, Markus Ott, Head of Corporate Finance
Followed by brief Q&A with CAPA's Chief Financial Analyst, Jonathan Wober
10:15


Keynote Address: TAP Portugal, Teresa Lopes, Finance Director
Followed by brief Q&A with CAPA's Chief Financial Analyst, Jonathan Wober
11:00
Fleet Marketplace Part 1 & Coffee

11:45
Panel Discussion: The latest on Capital Markets & Ratings
With Ryanair's expected Rating and British Airways' and Virgin Australia's EETC, is capital markets now more relevant to non-US airlines and lessors than ever before?

13:00
LUNCH

14:15
Airline Fleet & Finance Strategies

Hyuk Park, Head of Planning
Albert Burhan, CFO
VJ Khanh, MD
15:00
Fleet Marketplace Part 2 & Coffee

15:45
Panel Discussion: ASEAN open skies – what does it mean for aircraft orders and deliveries?


Moderator: National University of Singapore, Alan Tan, Head, Air Law and Policy Programme
Cebu Pacific, TBC
Embraer, Mark Dunnachie, VP Asia Pacific Commercial Aviation
Transportation Partners, John Duffy, Chief Operating Officer
CAPA, Brendan Sobie, Chief Analyst

17:00
Cocktail Reception, hosted by Clyde & Co
Day 2: Wednesday 26 March 2014
08:00
Registration
09:00
Welcome by Conference Chairman, Anup Mysoor, Citi
09:10
Keynote Address: The changing role of Export Finance
UK Export Finance, Gordon Welsh, Head of Aerospace

What is the impact of increased premiums under the new ASU?
What is the target volume for ECA finance for the next 3 years?
An update on the development of the EU Bond market
Should ECA airline ratings be made public?

Followed by brief Q&A with Anup Mysoor, Citi
09:35



Keynote Address: Air India, Venkat Srinivasa, Director - Finance
Followed by brief Q&A with Anup Mysoor, Citi

10:05


Keynote Address: Allegiant Air, Tom Doxey, Vice President, Fleet and Corporate Finance
Followed by brief Q&A with Anup Mysoor, Citi
10:45
Fleet Marketplace Part 3 & Coffee

11:15
Airline Fleet & Finance Strategies
Mega Satria, VP Treasury & Vice Chairman Aircraft Financing
Andrew Cowen, Deputy CEO
11:45
Panel Discussion: Where are aircraft values and lease rates heading for the most popular types in Asia?

Panellists:


Moderator: Cabot Aviation, Tony Whitty, CEO
mba, David Tokoph, Head of Aircraft Appraisal Group
IBA, Phil Seymour, President and COO
Oriel, Olga Razzhivina, Senior ISTAT Appraiser

13:00
LUNCH

14:00
Airline Fleet & Finance Strategies
Vivek Choudhary, CFO
George Weinmann, CEO
Yasantha Dissanayake, Head of Finance
Leithen Francis, Public Relations
15:00
Fleet Marketplace Part 4 & Coffee

15:30


Keynote Address: TUI Travel, Tom Chandler, Director of Aircraft, Acquisition and Finance
15:45
Closing Finance Panel: Where will the capital come from for aircraft deliveries to Asia in 2014 ?
A wide-ranging discussion on the availability, pros and cons and expected cost of various finance sources for the year ahead, including bank debt, capital markets, ECA/Eximbank, SLBs, EETCs, ABS, Islamic Finance and more...

Panellists:

Moderator: DVB, Vicente Alava Pons, MD Aviation Finance
Citi,

Peter Hammond, Director, Export & Agency Finance

Allegiant Air, Tom Doxey, VP, Fleet and Corporate Finance
TUI Travel, Tom Chandler, Director of Aircraft, Acquisition and Finance
Transportation Partners, John Duffy, COO
CAPA, Jonathan Wober, Chief Financial Analyst

16:55
Wrap up by Conference Chairman, Anup Mysoor, Citi
17:00
Conference close
With thanks to our event partners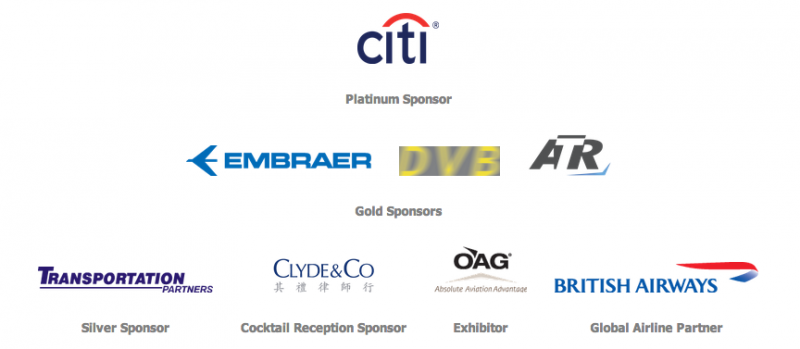 Please contact CAPA if you are interested in receiving information about sponsorship