Cambodia Airports records strong traffic growth as one of ASEAN's smallest markets shows potential
Analysis
Cambodia Airports has been experiencing strong traffic growth in 2011 as traffic at Siem Reap recovers to 2007 levels. The recently rebranded airport operator, which is owned primarily by French firm Vinci, expects continued growth at Siem Reap and Phnom Penh while it continues to work on attracting a carrier to its third airport at Sihanoukville.
Cambodia Airports handled 1.808 million passengers in 1H2011, including 912,000 passengers at Phnom Penh and 896,000 passengers at Siem Reap. Phnom Penh ended 2010 with 1.7 million passengers while Siem Reap handled 1.5 million passengers last year.
Cambodia Airports secretary general Phillippe Laurent told last week's Airport Leaders Forum in Singapore that traffic at Siem Reap has been growing at a 22% clip so far this year. After a difficult 2008 and 2009, when traffic at Siem Reap shrunk sharply, "we're returning to normal," Mr Laurent said. Traffic at Siem Reap is now projected to slightly surpass the previous peak of 1.7 million passengers reached in 2007.
The global economic downturn had an impact on Siem Reap traffic in 2008 and 2009 as fewer tourists travelled to see Angkor Wat and the surrounding temples. Traffic at the capital Phnom Penh, which is more a business destination compared with Siem Reap, shrunk only slightly during the economic downturn of 2007 and 2008. The 1.7 million passengers recorded at Phnom Penh last year was an all-time record and this figure should be surpassed this year, driven in part by new service from Air France.
Annual passenger traffic for Cambodia Airports, 1998 to 2011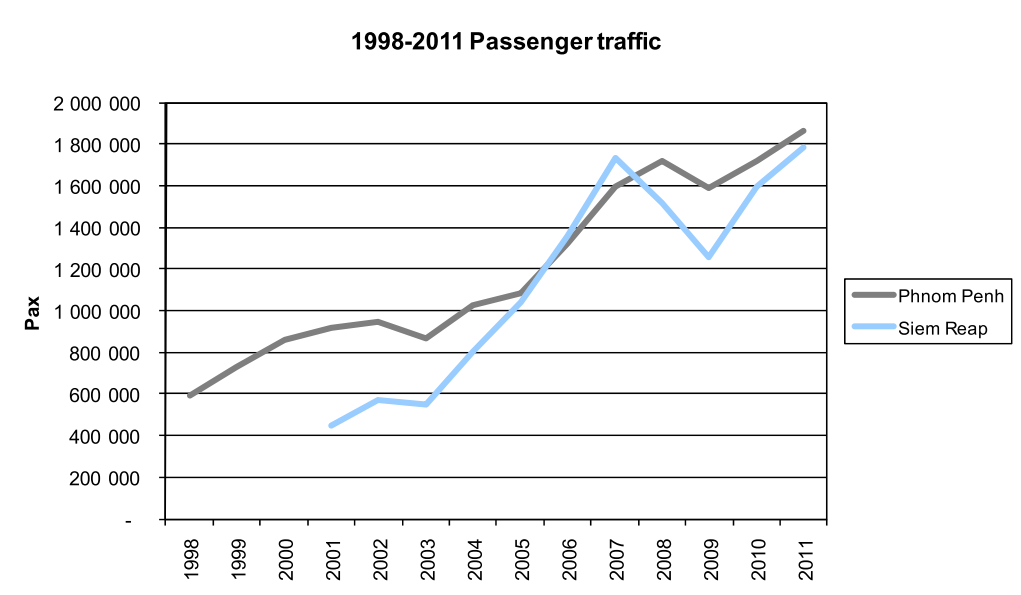 At the end of March Air France launched three weekly flights to Phnom Penh, marking the return of the French flag carrier in the former French colony after a 37-year hiatus. Mr Laurent says Cambodia Airports constructed a new crew lounge for Air France which was opened in time for the first Air France flight and is also now being used by other carriers.
The Air France flight, which is operated with an A340 on a Paris-Bangkok-Phnom Penh routing, is the only widebody aircraft currently serving Cambodia. But Aeroflot has indicated it is also looking to resume flights on the Moscow-Phnom Penh route later this year. Aeroflot hasn't served Cambodia since the early 1990s.
In addition to Air France, Phnom Penh is currently served by 17 Asian carriers. This includes small flag carrier Cambodia Angkor Air and three low-cost carriers – Singapore-based Jetstar Asia, Kuala Lumpur-based AirAsia and Bangkok-based Thai AirAsia. According to Innovata data, low-cost carriers now account for 23% of capacity at Phnom Penh.
Phnom Penh Airport capacity (seats per week) by carrier, 18-Jul-2011 to 24-Jul-2011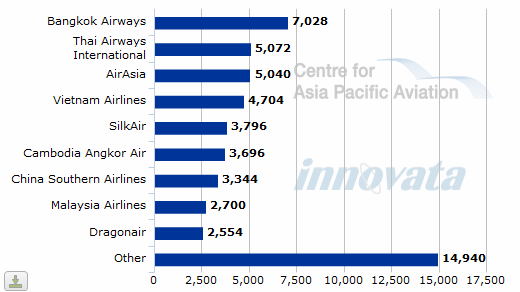 Phnom Penh Airport capacity share (seats per week) by carrier type, 18-Jul-2011 to 24-Jul-2011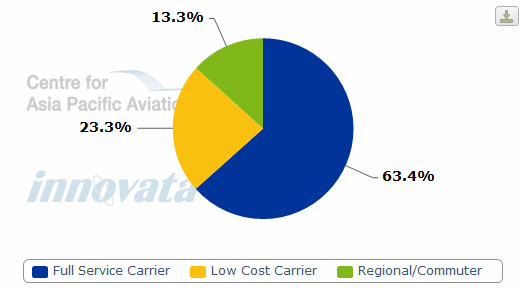 Thai boutique leisure carrier Bangkok Airways is currently the largest airline serving Phnom Penh, operating four daily flights from its Bangkok base. Bangkok Airways also operates four daily flights from Bangkok to Siem Reap.
Vietnam Airlines, however, is the largest carrier in Siem Reap and in Cambodia overall. Siem Reap is currently served by 13 carriers, including two low-cost carriers – Malaysia's AirAsia and Jetstar Asia. LCCs account for 28% of capacity at Siem Reap.
Siem Reap Airport capacity (seats per week) by carrier, 18-Jul-2011 to 24-Jul-2011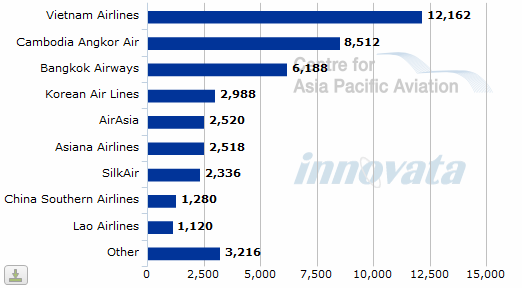 Siem Reap Airport capacity share (seats per week) by carrier type, 18-Jul-2011 to 24-Jul-2011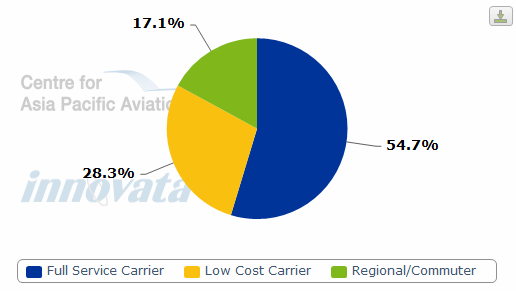 Vietnam Airlines has rapidly grown its Siem Reap operation since launching one daily flight on the Hanoi-Siem Reap route in 2003. From Siem Reap, the carrier now offers 26 weekly frequencies to Hanoi, 16 weekly frequencies to Ho Chi Minh and seven weekly frequencies to Luang Prubang in Laos. From Phnom Penh, Vietnam Airlines currently operates one daily flight to Ho Chi Minh City and one daily flight to Vientiane in Laos.
Vietnam Airlines also has a 49% stake in Cambodia Angkor Air. The airline was established in 2009 as a joint venture between the Cambodian government and Vietnam Airlines. It currently has a fleet of one A321 and two ATR 72s, according to data from Ascend. The turboprops are used to operate domestic services between Phnom Penh and Siem Reap and on the Phnom Penh-Ho Chi Minh route while the A321 is used on the Siem Reap-Ho Chi Minh City route.
Combined Vietnam Airlines and Cambodia Angkor Air currently offer over 5000 seats per week (in each direction) between Siem Reap and Ho Chi Minh City, making it the second largest route from Cambodia. The largest route from Cambodia is Phnom Penh-Bangkok, which has about 8000 seats per week (in each direction) and four carriers.
Phnom Penh to Bangkok capacity (seats per week, one way), 18-Jul-2011 to 25-Jul-2011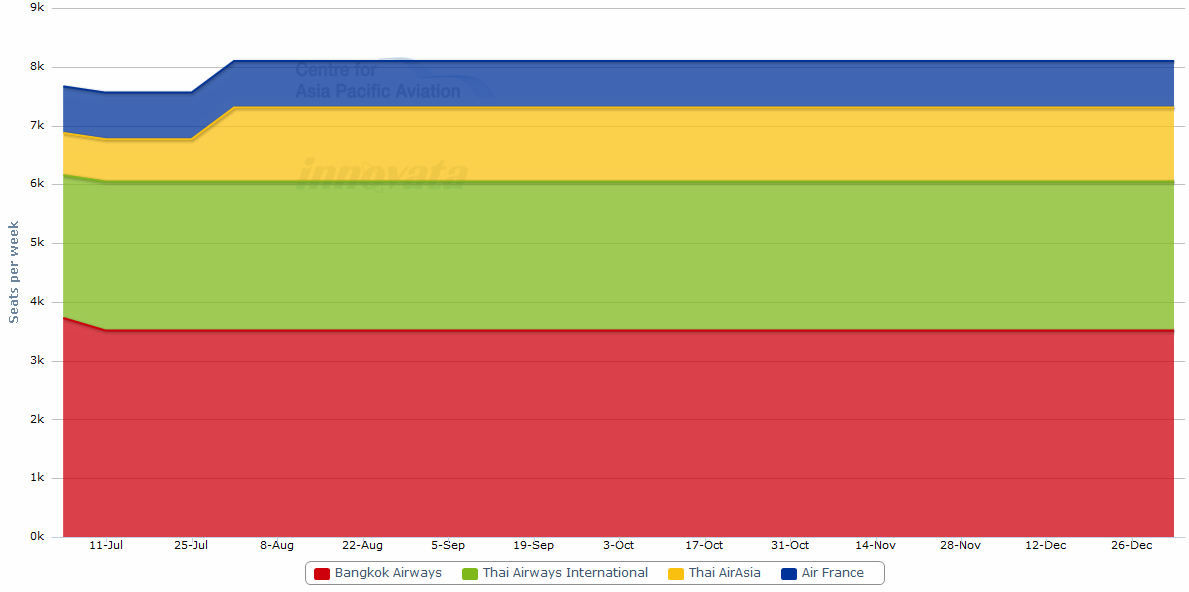 Bangkok Airways, which is the largest carrier on the Phnom Penh-Bangkok route with nearly 50% of the seats in the market, also previously operated domestic services in Cambodia. But the domestic services as well as some flights to countries other than Thailand such as Laos had to be stopped after Bangkok Airways was forced to close its Cambodian subsidiary, Siem Reap Airways, in late 2008. The subsequent establishment of Cambodia Angkor Air was controversial as the government-owned airline was seen to be given preferential treatment.
Sihanoukville - an empty airport with lots of potential
The shutdown of Siem Reap Airways had an impact on traffic at Siem Reap but more significantly set back hopes for a resumption of scheduled services at Sihanoukville. Siem Reap Airways had been planning to launch services in late 2008 to Sihanoukville, a beach destination on the Cambodian coast, from Siem Reap and Bangkok. But Siem Reap Airways suddenly ceased operations and nearly three years later Cambodia Airports is still trying to attract an airline to Sihanoukville.
In 2006 Cambodia Airports took over the Sihanoukville airport, which had been dormant for several years. The airport now has a small terminal capable of handling 700,000 passengers per year and a 2500m runway capable of accommodating a B737 or A320. After the terminal was opened it was used briefly for domestic services, including by PMTair, a Cambodian carrier which ceased operations after its An-24 crashed in 2007 on a flight from Siem Reap to Sihanoukville. PMTair was one of several Cambodian airline casualties last decade as economic and political instability have made Cambodia a challenging market for start-ups.
Coastal Cambodia is still undeveloped, including a large group of pristine offshore islands, and lacks significant infrastructure. But as new roads and resorts are built, Sihanoukville is expected to get the influx of tourism needed to support domestic and international services.
Map of Cambodia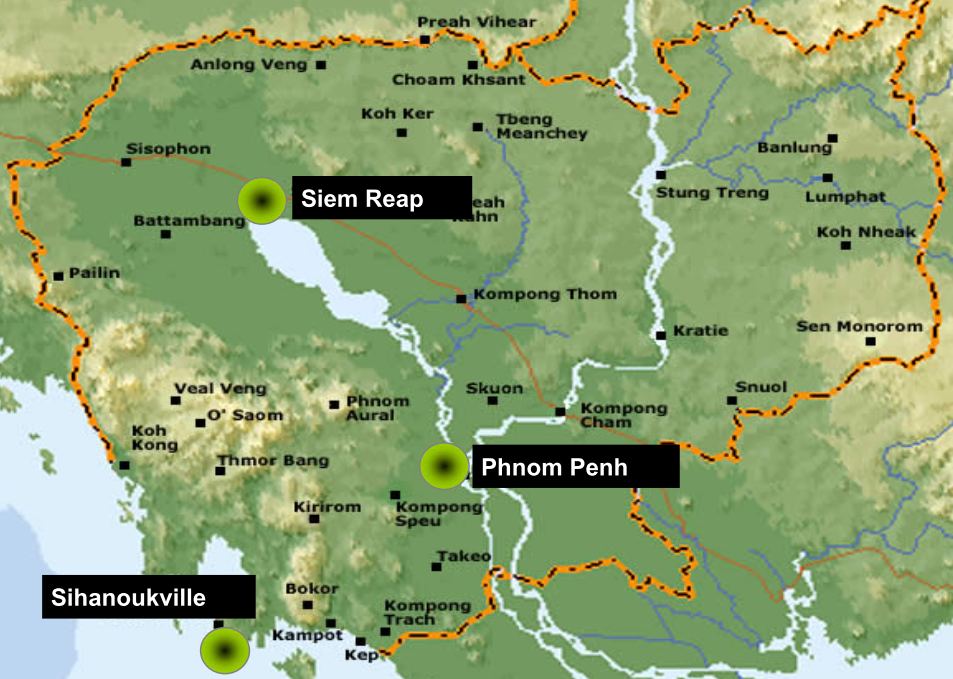 Overall, Cambodia has tremendous potential for growth. It has a population of 15 million but its airline market is tiny and is the third smallest in ASEAN (of the 10 ASEAN countries, only Brunei and Laos have smaller aviation markets). Cambodians propensity to travel, which is now extremely low, is expected to increase as the economy grows. But most of Cambodia's growth in the aviation sector will likely be driven by tourism as Siem Reap attracts an increasing number of visitors and as tourist infrastructure starts to be developed in areas other than Siem Reap and Phnom Penh.
In response to the anticipated growth, Cambodia unveiled plans earlier this year to develop a new airport at Siem Reap with two Korean firms potentially partnering with Cambodia Airports to pursue the project. There is also potential to expand the existing airport at Siem Reap, which Cambodia Airports subsidiary Société Concessionnaire des Aéroports (SCA) took over in 2001. While the capacity of the current terminal at Siem Reap is 2 million passengers per year, it can be expanded to accommodate up 6 million annual passengers. The airport has 16 aircraft stands and has a 2550m runway capable of supporting medium-size widebody aircraft.
Cambodia Airports - the new branding for SCA and CAMS
SCA signed its first concession agreement with the Cambodian government in 1995 and took over Phnom Penh Airport in 1996. SCA now holds the concession contracts, which were awarded on a build-operate-transfer (BOT) basis, for all three of Cambodia's airports until 2040.
Cambodia Airports' other subsidiary, Cambodia Management Services (CAMS), holds the operating contracts for the three airports. Both SCA and CAMS now operate under the new Cambodia Airports branding, which was adopted in Apr-2011. SCA and CMA are 70% owned by Vinci with the remaining 30% stake held by Muhibbah of Malaysia.
Since being established in 1995, SCA has invested USD220 million in its three airports with a further USD130 million investment planned for the next five years, according to Mr Laurent. Cambodia Airports now has 1250 employees across the three airports, compared to only 180 employees at just the one airport when SCA first took over at Phnom Penh.