Business travel demand slumps further in November - IATA
Business and First class air travel slumped further in November, according to latest data from IATA. The number of passengers travelling on premium tickets fell by 11.5% in Nov-08, following a 6.9% decline in Oct-08, reflecting the "sharp intensification of recession in major economies around the world and the contraction of world trade", according to the industry body.
IATA stated, "the dislocation to financial sector activity from last September clearly reduced business travel associated with M&A deals and other financing, [while] in November, travel by manufacturers may also have fallen sharply, given the evidence of large declines in traded goods volumes".
IATA stated that industry yields are now declining, as less of the more expensive premium fares are sold. Premium revenues are falling faster (-12% in Nov-08) than premium passenger numbers (-11.5%). Average premium fares (excluding taxes and surcharges) were rising at well over 10% a year until August, but fell to low single figure increases by Oct-08 and turned negative in Nov-08.
Latest data from airlines like Qantas confirm the trend. Qantas today reported that its Nov-08 international yields (excluding exchange) grew by only 1.3% in Nov-08, following a 5.2% increase in Oct-08. Qantas' domestic yields (excluding exchange), slumped 4.6% in Nov-08, following a 0.1% fall in Oct-08, according to the Centre for Asia Pacific Aviation's estimates.
According to IATA, the world's major long-haul markets saw the largest declines in premium travel during Nov-08, with a massive 17.7% year-on-year reduction across the Pacific, a 9% fall across the Atlantic and a 9.9% decrease in Europe to Asia travel.
IATA stated there remains growth of premium travel in a few of the smaller markets, including within Africa and the Middle East, albeit much lower than previously, in both premium and economy travel. There is also some growth in travel numbers between these regions (still showing economic growth) and key export destinations such as Europe. However, the previously robust Latin American region is now in sharp decline as these economies are hit by the fall in commodities prices and the weakness of key trading partners in North America.
IATA premium traffic growth (% change year-on-year): Nov-08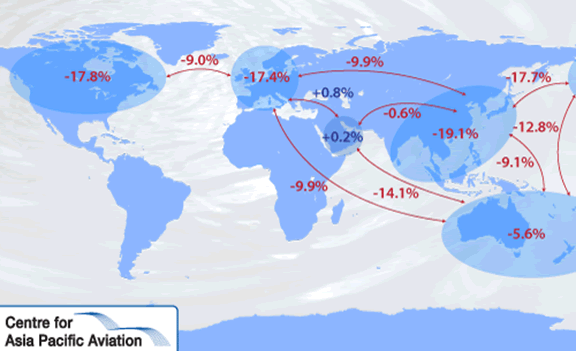 The Pacific has been a weak market for much of the year and for the period Jan-Nov-08 premium passenger numbers were down 4.7%, while intra-Asian premium demand is down by the same amount.
IATA premium traffic growth (% change year-on-year): 11 months to Nov-08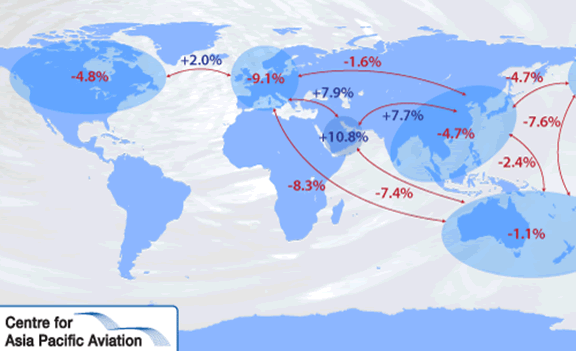 Economy travel numbers also fell sharply, by 6% in Nov-08, following a 1.8% decline in Oct-08.
IATA concluded, "the low point for air travel has not yet been reached, since the economic environment is still deteriorating. With yields now falling, this is adding up to be the most difficult revenue environment the industry has faced". IATA expects the "powerful negative influences" on travel of all segments would keep passenger number growth negative throughout the first half of this year.