British Airways' outlook clouded by yield uncertainty
Analysis
British Airways reported a 1% year-on-year increase in passenger traffic (RPKs) in Jul-2008, including an 11% reduction in premium traffic and 3.5% increase in non-premium traffic. The steep fall in premium demand (albeit an improvement on previous months) is playing havoc with the airline's yield. BA stated, "yield uncertainty continues to make revenue forecasting difficult".
The carrier stated that while underlying volumes and seat factors stabilised during the first quarter and are "expected to improve in the peak Summer months", yields will be "under pressure from the year-on-year impact of lower fuel surcharges, exchange movements and mix".
British Airways premium vs non-premium demand growth (% change year-on-year): May-2008 to Jul-2009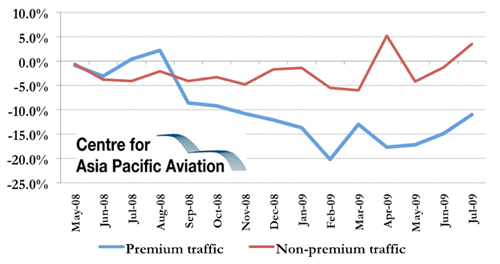 Reviewing BA's cumulative two-year change in premium traffic, there was some improvement last month, but there is still a long way to go before normalcy is restored.
British Airways two-year cumulative premium demand growth and 12-month moving average: May-2008 to Jul-2009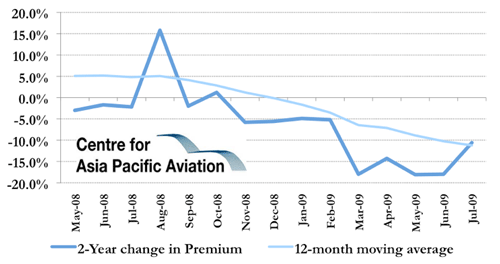 Yields down sharply in first quarter
For the three months to 30-Jun-2009, BA reported a 12.2% slump in revenue, lead by a 12.5% decrease in passenger revenue as yields slumped 9.7%, or -13.3% excluding exchange, "as a result of price declines and a shift in the sales mix within cabin class".
BA's cargo business was hit even harder, with "significant excess capacity driving lower prices". Cargo revenue collapsed by 28.1% in the first quarter, as FTKs declined by 11.5% and cargo yields fell 18.8%, "driven by lower levels of fuel surcharges as the oil price fell and significant price declines".
Outlook: More liquidity needed to ride out storm
As the yield picture remains highly uncertain, BA has moved to raise approximately GBP680 million of liquidity through a GBP350 million convertible bond issue and by gaining access to bank facilities, which are currently used to provide guarantees to its pension funds. This will increase liquidity to approximately GBP2 billion to help BA ride out the current difficult trading conditions.
BA is parking 22 aircraft this Winter, while the delivery schedule for its first six A380 aircraft has been extended by an average of five months with the second six aircraft delayed by an average of two years.
On 31-Jul-2009, CEO, Willie Walsh, stated trading conditions "continue to be very challenging", with "no visible signs of improvement". He added, "our work to reduce costs, which started last October, is beginning to bear fruit as they are down 6.6%, but with revenue still weak, there is much more to be done".