British Airways 1H08/09 results: "incredibly difficult" - but looking better than next half
Analysis
Still in profit despite the onerous market conditions, British Airways did manage to deliver an operating profit of GBP140 million and is looking ahead to a "small profit" for the full year.
The first half was "...a good performance given the incredibly difficult trading conditions. The six month period will be remembered as one of the bleakest on record."
Premium traffic - "weakened" post-summer. But all-business class to go ahead from London City next year (are any of those bankers still there?)

"Trading conditions continue to be challenging, with longhaul premium traffic in particular having weakened after the summer."
But ....
"....... Our new, double daily, business class only flights start from London City airport to New York next year and the first Airbus A318 aircraft to operate the service is now in production at Toulouse. The aircraft will feature fully flat business class beds for up to 32 passengers." (Meanwhile, Singapore Airlines is more bullish on long haul premium, saying today: "For the longer-haul, premium demand is still holding firm, but for shorter-haul travel within the region, we're seeing more trading down. Executives are persuaded to travel coach in the short-haul services, but for the long-haul, they know there's the comfort of Business class...")
Where's the money coming from?
The Americas have fared poorly as the US economy deteriorated, but UK and Europe has delivered. Africa and Asia/Pacific have each seen 10-15% revenue increases, as these regions held up better in the first half of the year.
This is unlikely to be true of the next half though, as the US disease sweeps the world. BA is already discounting heavily in some of these markets, especially on the long haul premium routes.
British Airways: Origin of sales: 6 months to Sep-08; GBP millions
| Region | 1H08 | 1H07 |
| --- | --- | --- |
| | | |
| | 2,954 | 2,740 |
| | 2,205 | 2,110 |
| | 749 | 630 |
| Americas | 912 | 934 |
| Africa, M/E, Asia | 471 | 433 |
| Far East/Australasia | 417 | 363 |
| | | |
| Total | 4,745 | 4,470 |
Capacity - only 1% reduction planned for next year (watch this space!); some marginal routes axed
We continue to review capacity plans across the network. We plan to reduce capacity by around 1 per cent in the 2009 summer schedule without compromising the network."
As part of the planned 2009 summer schedule we have suspended four services. These are the Heathrow services to Dhaka and Kolkata and the Gatwick shorthaul services to Dublin and Zurich."
This relatively small reduction assumes that airline failures and other airline cutbacks will leave BA plenty of space to ply its wares. This remains to be seen.
Cash - GBP1.8 billion: unchanged (although GBP down significantly)
"Our financial position remains strong with our cash level at the end of September unchanged from March at £1.8 billion. Net debt was £1.4 billion, in line with this time last year. Committed facilities of £2.0 billion have been secured for aircraft purchases out to December 2012."
Pensions - (up GBP201 million - liability reportedly around GBP1.5 billion in the "corridor")
"An interim valuation update for the UK defined benefit pension schemes on an IAS 19 basis, as at September 30, 2008, showed a net increase of £201 million to the pension deficit. This resulted in no change to the amounts recorded in the Group's financial statements, due to its application of the corridor."
If the suggestions about pension indebtedness are correct - as investment values tumble - the net capital value of the airline is becoming heavily weighed down.
Cutbacks - managers severed "in line with expectations"
As part of our continuing restructuring process around a third of the 1,350 eligible managers chose to take voluntary severance. This was in line with our expectations and most will leave the company by December 31, 2008 (resulting in a "GBP40 million severance provision" - see below)".
Costs - fuelled by oil, but currency losses of about GBP100million. Manpower costs up 8.6%.
"Total Group operating costs were up 18.2 per cent, due primarily to the dramatic increase in fuel costs, with unit costs up 19.2 per cent.
"Fuel costs were up 52 per cent on last year, despite a fuel hedging profit of £329 million during the period. The market price of fuel was up 73 per cent over the same period last year.
"Other costs were also up £200 million, with currency effects contributing almost half of the increase. Employee costs rose by 8.6 per cent mainly due to the inclusion of a £40 million severance provision, annual pay awards and increasing manpower to support our transition to Terminal 5."
Dividend - sorry, not this time....When will I see you again?
"The Directors recommend that no dividend be paid for the period ended September 30, 2008."
"Management anticipates that the talks with Iberia will take several months to conclude."
CEO Willie Walsh is holding the line on the operational merger with American ("next year") and is having to fight off suggestions that Iberia should have a larger share of the joint venture BA-IB airline, now that BA's share price has slumped.
British Airways and Iberia share price: 20-Nov-07 to 07-Nov-08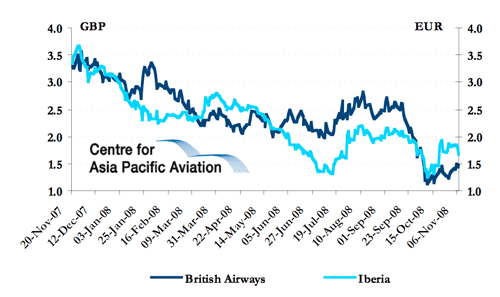 _
The breakdown appears to be shifting from the "natural" 65:35 in favour of BA, towards an updated 55:35 or so, given the new relativity between market capitalisation of the two airlines - or at least that is what Iberia is apparently now targeting.
And Alitalia is also on the cards, although BA would not seem to be playing with a strong hand. Despite a "strong interest" in working with the Italian flag and having "made a very credible and potentially exciting proposition for the new company.", this didn't include paying money. Presumably the direct talks with CAI - that have gone well, according to Willie Walsh - have the edge on Air France-KLM's in that BA would use Malpensa as the (politically favoured) hub, against AF-KLM's preference for Rome Fiumicino.
Perhaps some of this is bold talk, but Lufthansa's entry into Heathrow via the bmi acquisition - even if it did cost the German flag dearly - requires some sort of response, if BA's long term position is to be maintained.
The Outlook - gloomy with dark patches

"The industry continues to face very difficult trading conditions on the back of a weak economic environment."
Nonetheless, along with fuel price reductions, BA sees some revenue and yield improvements ahead. The lower GBP seems to be a key part of this equation, but it is not altogether clear why the premium market should be quite as generous to BA in future....
"Yield improvements, due mainly to price and exchange, are expected to more than offset volume reductions. Overall we now expect revenue to grow by at least 4 per cent, an increase on our previous guidance of a 3 per cent increase."
And in case you thought it was all good news....

As if life wasn't tough enough already, BA is still paying for its past indiscretions in the cargo area. Legislative penalties and civil class actions are being lined up, even as BA's share price trembles.
"There are on-going investigations into the Company's cargo surcharges by the European Commission and other jurisdictions. These investigations are likely to continue for some time. The Company is also subject to related class action claims. The final amount required to pay the remaining claims and fines is subject to uncertainty. A detailed breakdown of the remaining provision is not presented as it may seriously prejudice the position of the Company in these regulatory investigations and potential litigation."