Boeing order book shows some growth but order book value suffering, MTU Aero Engines drops
Boeing's horror year continues, but at least its order book is moving firmly back into positive territory. The manufacturer updated its orders and deliveries for the year to 15-Jul-2009, revealing that it has received another eight unidentified B737 orders, although it has suffered cancellations for another three B737 and two B777. This takes the official total to 89 cancellations for the year, against 93 new orders.
In addition to these, Panama-based carrier, Copa Airlines, ordered 13 B737-900s yesterday, as well as taking eight options, bringing Boeing's net orders for the year to 17. These orders have yet to appear on the manufacturer's site.
All but six of the cancellations this year have been for widebody aircraft. 73 B787 orders have been dropped, as well one B747, four B777s and five B767s. In comparison, the majority of orders the manufacturer has received this year have been for B737s (81 of 106 orders).
This translates into a significant drop in the book value of Boeing's order backlog, given the list prices for the various models (2008, USD):
Narrowbody:

B737: USD51.5-87.0 million;

Widebody:

B767: USD127.5-173.0 million;
B787: USD150.0-205.5 million;
B777: USD205.5-286.5 million;
B747: USD234.0-308.0 million.
This means that Boeing needs to book between two and four narrowbody orders to compensate for every lost widebody order. The net loss of 60 B787 orders (73 cancellations and 13 orders) alone brings the value of Boeing's order book down by USD9-12 billion.
Boeing orders and cancellations (year to date)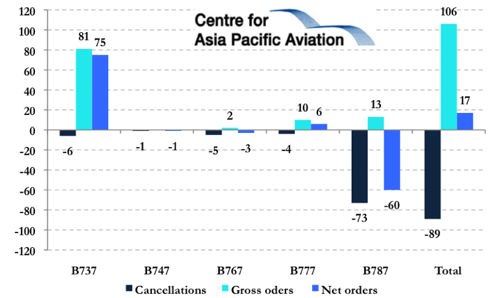 Source: Centre for Asia Pacific Aviation & Boeing
Boeing's share price was up 1.7% in trading on Thursday.
Elsewhere, MTU Aero Engines' stock dropped 4.9% yesterday. The company was downgraded from 'neutral' to 'underperform' by the Bank of America Securities-Merrill Lynch Research on Thursday, cautioning of the company's exposure to low ordering for commercial airlines. Uni Credit placed a 'hold' recommendation on the stock on Monday, citing changes in the company's product-mix and the increased expenditures for research and development.
Selected Aviation suppliers daily share price movements (% change): 16-Jul-09
Source: Centre for Asia Pacific Aviation & Yahoo! Finance