Boeing and Airbus face mass aircraft deferrals and cancellations
Analysis
Airlines around the world are opting out of orders placed in much more optimistic times. Many are simply going broke. Airbus shows 122 order cancellations in the year to 30-Nov-08, while Boeing recorded seven for the full year. Details of deferrals are not disclosed, but many more carriers are seeking to delay orders than expedite them in the current environment, including major carriers such as Cathay Pacific and Southwest Airlines.
Thai Airways this week requested Airbus delay the delivery of six A330s scheduled this year (along with pre-delivery payments), citing acute cash flow problems. China's CAAC is encouraging airlines to cancel or delay planned new aircraft deliveries this year and to coordinate capacity adjustments with other airlines. The CAAC added it would strictly examine new aircraft purchase orders and noted 43 fewer aircraft would join the Chinese fleet this year than originally planned. Even more cancellations and deferrals in China's market are expected in coming months.
Boeing reports 53% slide in orders in 2009
Unsurprisngly, after recent highs, both major manufacturers' orders are down too. Boeing has unveiled a 53% reduction in net orders in 2008 to 662, handing the title of top selling manufacturer back to Airbus (which has predicted 800 orders for the full year).
Boeing vs Airbus* annual aircraft orders: 2001 to 2008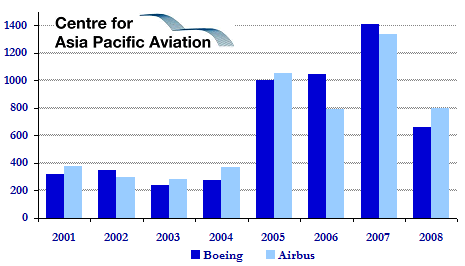 For Boeing, orders had been sliding all year, finishing the year with a whimper, with just 44 orders in the final quarter, as the economic crisis engulfed more countries and slashed demand for air travel.
Boeing gross orders by month: Jan-08 to Dec-08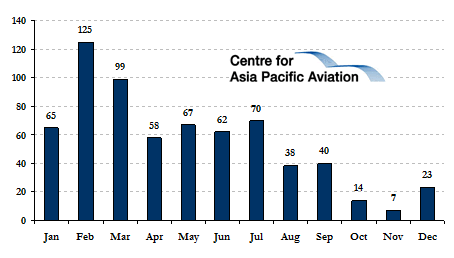 Demand/supply disconnect?
This is the first time since 2004 that Boeing has notched up less than 1,000 orders for the year. Clearly, earlier airline expectations of future demand had become disconnected with reality. Also, high aircraft prices and rising fuel costs initially acted as deterrents.
Boeing vs Airbus* combined total annual aircraft orders and deliveries: 2001 to 2008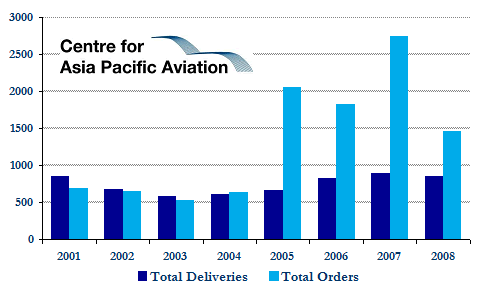 As a result of the orders slowdown and of cancellations/deferrals, Airbus has already dropped plans to scale up production rates of its A330 and A320 models this year and next. Production cuts could become the order of the day for 2010 and beyond if the backlog starts to crumble.
As the Teal Group's Richard Aboulafia, last month noted, aircraft orders are "suddenly turning out to be firm as jelly" and suggested that as much as 30-70% of the manufacturers' backlogs could be affected.
Deliveries also wane
Boeing's delivery performance also suffered, with 15% fewer aircraft delivered in 2008, for a total of 375, partly due to a strike by Boeing machinists which halted production for almost two months at the end of the year. Airbus is expected to deliver over 470 aircraft in 2008 and both manufacturers will be delivering well over 400 aircraft each in 2009. The question is, will airlines operate them, or park them in the desert?
Boeing vs Airbus* annual aircraft deliveries: 2001 to 2008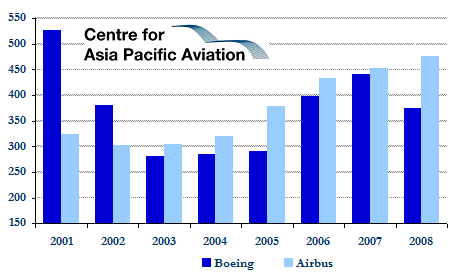 Airlines cutting capacity
According to IATA, aircraft were still being taken out of the active worldwide fleet at a rate of 94 aircraft a month by Nov-08 - well in excess of the 75 new aircraft delivered in November. As a result, fleet sizes are still currently declining.
Monthly aircraft retirements and deliveries: 2006 to Nov-08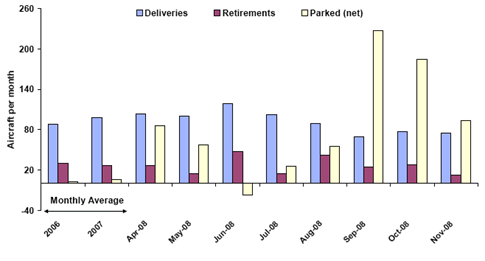 However, this trend may be softening. IATA noted the apparent slowdown of aircraft parking rates in Nov-08 "may indicate a waning impact from the summer fuel price spike that rendered so many older aircraft uneconomic". Newer aircraft are not as crucial to efficiency gains as they were just a few months ago. IATA however cautioned that one month's data is not necessarily the start of a trend. Nor is there any guarantee of USD40 per barrel oil for the full year.
Conclusion: Contrarian fleet buyers: now's your chance!
12 months ago, Airbus' Leahy stated cycles in this industry "used to be peaks and canyons or big troughs - now it looks like we are getting more hills and valleys".
The manufacturers are now clearly confronted with one of those big canyons again, with order making expected to be scant. 2009 is a year for the contrarian fleet investors and bargain hunters. The more aggressive LCCs are expected to be the ones knocking on the doors in Toulouse and Seattle this year. And who knows, the environment could be ripening for new entrants.