Beijing Capital – easily the busiest airport in China in 2009
Beijing Capital International Airport's passenger numbers reached 65.5 million in the 12 months ended 31-Dec-2009, making it by far the largest airport in China. (As a system, Shanghai's two airports combined handled 57.2 million passengers). 14 Mainland Chinese airports reported annual traffic of more than ten million passengers in 2009, with all the major airports (with annual passengers of over 5 million) reporting solid year-on-year growth, as the Chinese aviation industry shrugged off the gloom of 2008.
See related report: 2010 could be a big year for Chinese airlines as traffic booms. Will they look to invest abroad?
Chinese airports passenger numbers and passenger numbers growth in 2009: (Annual passengers over 5 million airports)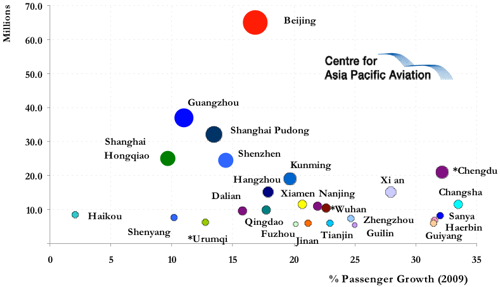 In growth terms, the smaller airports of Chengdu, Changsha, Sanya, Harbin and Guiyan reported growth of above 30%. Beijing was also the fastest growing airport among the nation's five largest airports (ie Guangzhou, Shanghai Pudong, Shanghai Hongqiao and Shenzhen), driven by strong year-on-year growth in 1H2009.
NB: CAPA retains comprehensive Chinese airport traffic databases dating back to 1997 - and prior in many cases - as well as extensive airline and outbound/inbound tourism statistical data from the mainland. Contact us for more information.
Chinese major airport passenger numbers and passenger number growth: Jan-2009 to Dec-2009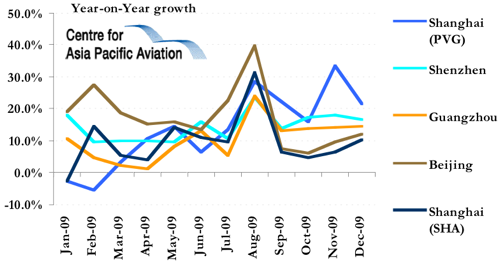 China's airports profitable in 2009
China's airports reported CNY34 billion (USD5 billion) in operating revenue in 2009, CNY500 million/USD73 million less than 2008, with profits of CNY30 billion (USD4.4 billion) in 2009, according to the CAAC. Beijing probably accounted for around 14% of the national airport revenue total.
In the six months to Jun-2009, Beijing Capital International Airport reported a 14.5% increase in total revenues to USD338 million. The airport generated a sixfold increase in operating profit to USD37.3 million (net profit increased by 85.6% year-on-year in the period to USD15.3 million) in the same period, despite restrictions on raising charges in 1H2009.
These results are expected to have improved in 2H2009, on stronger domestic (and to a lesser extent, international) aviation demand, and as BCIA focuses on lowering expenditures (involving strict budget controls and plans to save on energy consumption), while also further developing its commercial resources to improve non-aeronautical revenues.
Second airport to ease traffic pressure in Beijing
With resurgent passenger demand, the CAAC is progressing with plans to develop Beijing's second airport. The CAAC, earlier this month, confirmed plans to commence construction on the airport during 2010 (the plan is, however, still awaiting final approval from the State Council). The airport is earmarked for completion in 2015 to ease traffic pressure at Beijing International Capital Airport.
Beijing Capital (the fourth largest in the world by passenger traffic in 2008, behind Atlanta Hartsfield-Jackson, London Heathrow and Chicago O'Hare), has only "some three years" left until it reaches maximum capacity, according to the airport's GM, Dong Zhiyi.
The airport is designed to handle 78 million passengers with all three terminals combined, with the maximum set at 85 million passengers. However, the greatest concern for the airport, according to CAAC Director General, Li Jiaxiang, is the lack of air space for expansion.
China to invest USD13 billion in airport infrastructure in 2010
The new Beijing airport, to be constructed in the Daxing District in Southern Beijing (Daxing is shown towards the bottom of the map below and 'A' represents Beijing Capital International Airport), is one of 25 airport construction and expansion projects that comprise the government's CNY90 billion (USD13.2 billion) investment in national airport infrastructure in 2010.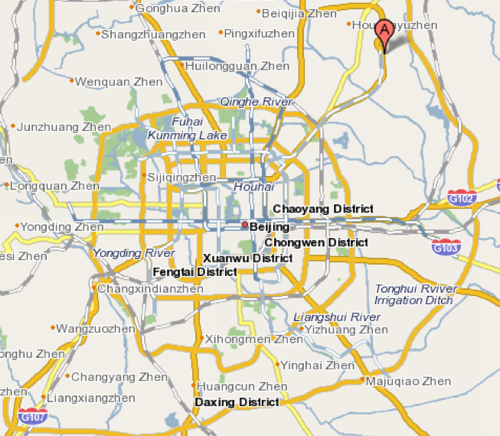 This follows an investment of CNY60 billion (USD8.8 billion) in 2009, as part of which six new airports were constructed 2009 (including Tuofeng, Batang, Lindu, Saertu and Shadi airports), for a total of 166 airports and an increase in total floor space at China's civil airport terminals of 660,000 sqm.
The CAAC commented, "increasing fixed-asset investment is a crucial measure to boost the industry during the financial crisis".
The second Beijing airport – a brief history
Beijing Municipal Government first revealed plans to construct a second airport in the city in 2002, with the opening originally expected ahead of the 2008 Beijing Olympics. However, it opted to expand Beijing Capital International Airport (BCIA) instead, as the site selection became a politically charged issue.
Sites in neighboring areas, including Wuqing of Tianjin and Langfang of Hebei, were also considered. Daxing reportedly became the preferred site for its infrastructure, climatic and air traffic control conditions.
It is likely the new airport will exclusively handle burgeoning domestic traffic to and from the capital. BCIA is expected to lose many of its domestic services, which could post significant operating and cost issues for airlines based in Beijing.
Beijing capacity to increase to 145 million pax p/a
With the construction of a second airport, Beijing will join a list of key cities worldwide that are served by two airports, and will become the second city in China (after Shanghai) to operate with two major civilian airports within the city boundaries.
The new Beijing airport will reportedly have ultimate capacity to handle 60 million passengers p/a. Combined with the maximum of 85 million at Beijing Capital, the Chinese capital will have capacity for 145 million passengers p/a upon completion of the second airport, making it one of the world's leading systems.