Beijing Airport shares soar, Aeroports de Paris reports reduced profit. Airport share wrap.
Beijing Capital Airport shares leapt a healthy 15.8% on Friday, continuing the airport's strong performance this month. There is no obvious cause for the strengthening, although recent falls in the price probably do not reflect the reasonably bullish noises that its prime customer, Air China, has been making about its traffic outlook.
Selected airports daily share price movements (% change): 13-Mar-09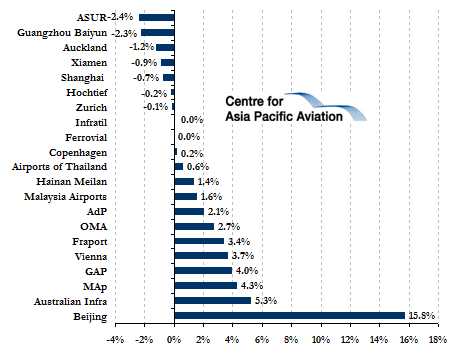 Beijing Capital's share price has dropped significantly this year, although domestic traffic figures are holding up reasonably well in the circumstances.
Beijing Capital International Airport share price: 02-Jan-09 to 13-Mar-09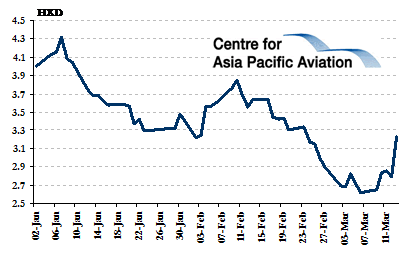 Aeroports de Paris (AdP) shares showed a modest gain as the operator reported slower growth in 2008, although profitability remained substantially at previous levels. Revenues improved 10.0% and EBITDA was slightly down, with an annual result of 12.0%, against 13.5% in the full year of 2007.
Airport de Paris passenger number growth, EBITDA growth and Revenue growth: 2006 to 2008