"Awful long way to go" before positive premium demand growth resumes: IATA
The International Air Transport Association (IATA) stated that premium passenger demand remains "fragile", with Aug-2009 premium numbers still down 12% year-on-year. However, it was an improvement from the low point in May-2009, when demand was down 23.5%.
Premium fares down 18%, with premium revenues down 30% in Aug-2009
IATA estimates premium fares are now down 18% year-on-year (compared to almost 27% in Apr-2009), following a slow upturn in fare levels in Jul-2009 and Aug-2009. Although the situation has improved from 1H2009 levels, revenues from premium passengers are still estimated to have fallen 30% in Aug-2009.
Premium traffic growth by region (% change year-on-year): Aug-2009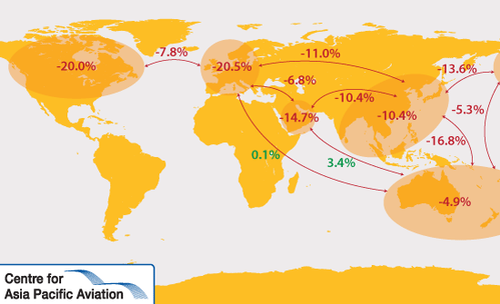 According to IATA, "there is an awful long way to go before positive growth resumes", adding that while the premium revenue direction is now up, "the pace of improvements is weaker than passenger numbers".
IATA total premium traffic growth: Jun-07 to Aug-09
Some fall back in premium demand in Sep-2009 likely
IATA also warned that given the volatile pattern in premium travel demand and the "relatively weak" upturn in world trade, "some fall back in premium travel in September would not be unexpected".
IATA added that while world trade has picked up since Jun-2009, it has not been sufficient "to warrant a significant rise in premium travel".
According to IATA, passenger load factors are now back to pre-recession levels. Higher load factors have a flow-on effect onto fare levels, as the cheaper seat categories do not have to be left open quite so long.
Over 90% of passengers travelling on economy
According to IATA, over 90% of passengers travel on Economy seats, with this market segment down 0.4% year-on-year in Aug-2009, compared to its low point in February when it was down 8.4%.
IATA added that there has been some shift of Business travelers to Economy travel, which has moderated the decline in the back of the aircraft, but the size of this impact is "small". The turnaround in Economy travel has been driven by consumer confidence in major economies, which has been rising since hitting a low in Feb-2009.
However, IATA warned that the rise in confidence so far does not support much more than zero growth in Economy travel numbers.
Overall, international passenger numbers were down 1.5% in Aug-2009.
Structural decline in Business travel in Europe continues

According to IATA, short-haul premium travel within Europe remains "extremely weak", down by over 20% year-on-year, with IATA adding that this is "on top of a structural decline", as business passengers switch to cheaper seats.
North Atlantic premium travel has improved, as US and European economies began to grow during the third quarter, but is still almost 8% down on last year.
According to the industry body, the strongest rise in economic and business activity has been seen in the Asia Pacific region. Travel within the Far East saw the largest improvement in Aug-2009, with premium travel in this region moving from a 19.5% decline in Jul-2009 to a 10.4% decline in Aug-2009. Economy travel rose strongly, so overall passenger numbers in this region are now 4.4% higher than 2008 levels.
However, these improvements are not benefiting long-haul markets connected with the region to the same extent. According to IATA, passenger numbers across the North and Mid Pacific remain down 8.2% overall in both Jul-2009 and Aug-2009, as an improvement in premium travel was offset by a deterioration in Economy.
In the Middle East, the Ramadan period, which started in late-August in 2009 compared to September in 2008, has distorted the Middle East growth rates downwards. Despite this distortion, the general trend is that Middle Eastern airlines are gaining market share on long-haul markets, although their revenue share is easing, suggesting weaker yields.
IATA Middle East premium revenue share vs premium traffic share: May-2008 to Aug-2009
Recovery in premium segment required for airline profitability
The recovery in the premium passenger market segment is key for a return to profitability for most network carriers. This, in turn, relies on continued improvement of world trade. However, IATA has warned that the economic situation and premium travel remains volatile and it could take longer for clearer trends to be established.