Avolon: young lessor with young fleet eyes Asia Pacific
Just 11 months on for leasing start-up Avolon, CEO Domhnal Slattery has blown away any suggestion the industry newbies are not up to any challenge, touting his team's experience in the industry.
"Although we are a new brand we have an experienced leadership team through RBS Aviation Capital which I started from scratch to become the third largest financier in the industry. Our team at Avolon has about 200 years experience in the industry and have deep and long relationships with the airlines," he said.
Being a new face in the aircraft leasing industry is not something that concerns Mr Slattery in the slightest.
Since its establishment in May-2010, Avolon has raised more than USD2.5 billion of capital including an equity commitment of USD1 billion from CVC Capital Partners, Cinven and most notably Oak Hill Capital Partners. The lessor currently has 11 aircraft in service to customers which include LCCs IndiGo, Spring Airlines and Frontier, as well as other carriers. It made its debut at number 48 on the list of 50 top lessors by fleet value.
A320neo talk
As a self-confessed "fundamental investor of the A320 family", Mr Slattery is excited and confident about the arrival of the neo and will be studying it very carefully. The CEO believes it is unlikely the neo will have much of an affect on the A320 family at all. He reasons that by the time the neo comes out there will be upwards of 6000 A320 aircraft in the market.
"The arrival of the neo is an important milestone and we intend to take a good hard look at it," he confirmed.
COMAC 919 and CSeries
As for the COMAC 919, Mr Slattery sounded a little less supportive, however, strongly stated that as a lessor, Avolon looks at everything. As a new aircraft type from a new aircraft manufacturer, it was never going to be an easy feat to win over lessors who generally adopt a "wait-and-see" approach when it comes to new products. However Mr Slattery is confident in its abilities to deliver as ordered.
"We believe it will be delivered on time and to its technical specification. It is likely to succeed over time, however it will first need to prove itself in China and then move to the rest of the world," he said.
Mr Slattery said that for the CSeries he is holding back until he sees more lessors put pen to paper.
"We find the CSeries 300 an interesting aircraft but we will need to see more aircraft orders being realised in the near term."
Avolon also boasts a fleet of aircraft with an average age of 1.6 years – a cool 11.2 years younger than the lessor average.
"Our core strategy is to maintain a portfolio of the youngest fleet in the world," he said.
Avolon average fleet age (at 04-Apr-2011)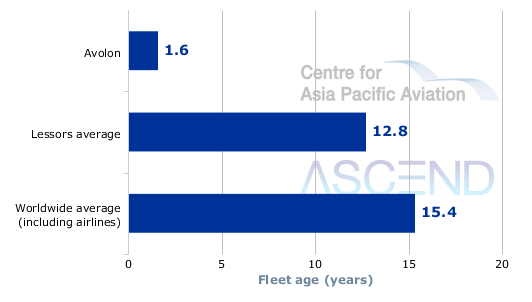 A significant cog in the Avolon motor is the Asia Pacific market, where it plans to allocate half of its resources.
Avolon customers by region (at 04-Apr-2011)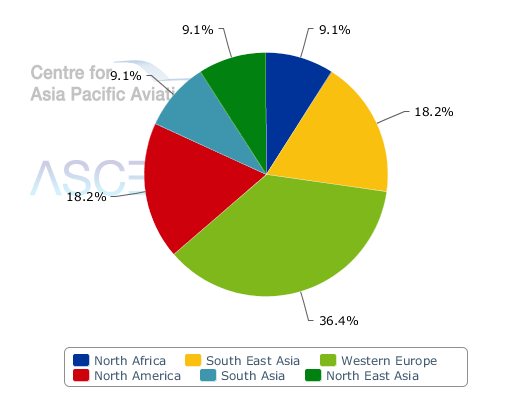 "We expect to allocate 50% of all our investments to the Asia Pacific region and specifically to the markets east of India," Mr Slattery said. "Ten years ago, we would have allocated 25% of our portfolio to the Asia Pacific region."
"Today I wonder if 50% is underestimating the market opportunity."