Avianca moves build network utility through Synergy's pursuits. CAPA Latin America Summit report
Analysis
Latin American airline group Avianca has declared its ambitions to emerge as one of two pan Latin American airlines that will dominate the region due to ongoing consolidation in the region. Avianca is already the dominant airline in Latin America's third largest market Colombia, and holds a solid position in one of the region's most promising air travel markets, Peru.

After putting a potential merger with Avianca Brazil on hold a couple of years ago, Avianca is now actively pursuing a tie-up with its Brazilian sister company as the country's economy begins a slow recovery. Avianca believes a strong position in Brazil, coupled with pursuits by its parent Synergy in Mexico and Argentina, allows for Avianca branded airlines to compete effectively for passengers in Latin America's most important markets.

In the short term, Avianca is close to announcing a fourth European destination in Germany, and is also seriously examining launching service to Rome and Paris. The company has determined that an opportunity exists to connect passengers to those destinations through its largest hub in Bogotá.
Through its 2009 merger with TACA, Avianca has become a powerful force in Central and Latin America. The airline group is the largest airline in Colombia, with a 52% market share for 2Q2017. Avianca is the third largest airline in Peru, with a 12% market share during the same period.

Avianca group airlines also hold commanding seat shares in Costa Rica (20%), El Salvador (72%) and Ecuador (27%). (Calculations are based on data from CAPA and OAG for the week of 25-Sep-2017)

During 2017 Avianca has consistently stated that Latin America's aviation market will evolve into two airlines covering the region and connecting the area with the rest of the world. "We're positioning ourselves to be one of them", company CEO Hernán Rincón recently stated at the CAPA Latin America Aviation Summit in Cartagena, Colombia.
CEO Hernán Rincón speaks with CAPA executive chairman at the CAPA's Latin America Aviation Summit in Cartagena, Colombia
One tool Avianca could use to leverage its strength in becoming a pan Latin American airline is deeper ties with Avianca Brazil, which is also owned by Avianca's parent Synergy; however, each airline operates as a separate entity. The airlines do codeshare on flights between Brazil and Colombia and onward to certain destinations.

Avianca examined a potential merger with Avianca Brazil in 2014, but decided conditions were not favourable. Now that Brazil is slowly emerging from an economic recession, Avianca is once again aiming to merge with Avianca Brazil. In the context of improving economic conditions, Avianca has determined that Avianca Brazil has done a nice job of building market share in Brazil, and improving its financial performance.

See related report: Avianca: shareholder strife threatens plans to deepen ties with United

Avianca Brazil is the fourth largest airline in Brazil, capturing a 12.8% domestic market share for 1H2017. The airline has also expanded into long haul international markets in 2017, after focusing on domestic market growth for several years.
Domestic market share of Brazilian airlines for 1H2017

The airline has launched daily service from São Paulo Guarulhos International airport to Miami and twice daily service from Guarulhos to Santiago, Chile, which gives Avianca Brazil's Star Alliance partners better access to Chile. Avianca Brazil has also added service from São Paulo to Avianca's hub in Bogotá, after operating a once weekly service from Fortaleza to Bogotá for many years.

See related reports:
Avianca Brazil is also planning to launch flights from São Paulo to New York JFK in Dec-2017, and is evaluating flights to Buenos Aires.

Deepening its relationship with Avianca Brazil is key to Avianca's aims to reach its goal of becoming a pan Latin American airline. Brazil is Latin America's largest aviation market, and gaining a foothold in the country through a domestic partner is essential for Avianca to build an extensive route network in Latin America.
Avianca leverages Synergy investments for coverage in Mexico and Argentina
Avianca's parent Synergy is also establishing a new airline in Argentina and pursuing a USD100 million stake in the Mexican regional airline Aeromar. Mexico is Latin America's second largest market behind Brazil, and broadening its reach in the country is important for Avianca's network utility.

Although Aeromar held just a 2% share of Mexico's domestic market in 1H2017, it holds a 3% domestic seat share at Mexico City Juarez airport, and could provide Avianca links to Mexico's growing passenger market as Synergy works to help Aeromar bolster its position in Mexico.

Avianca operates flights from Bogotá, Lima and San Salvador to Mexico City Juarez. Mexico's market is dominated by SkyTeam's Aeromexico, which has formed a cross-border joint venture with Delta Air Lines. According to schedules from CAPA and OAG, Avianca codeshares with Aeromexico on its flights to and from Mexico City, reflecting the reality that global alliances cannot offer complete blanket coverage.

Argentina is one of Latin America's most promising markets, with a large collection of airlines flocking to the country to capitalise on the government's declaration to double the country's domestic traffic in four years (using 2016 as a baseline).

There is a lot of discussion regarding Argentina's readiness to handle such a large increase in traffic, ranging from infrastructure concerns to the government's unwillingness to lift minimum fare requirements. But that has not stopped numerous airlines from attempting to exploit the country's untapped demand.

See related report: CAPA Latin America Summit: JetSMART cites numerous opportunities for expansion

Avianca Argentina aims to operate ATR 72 turboprops on a mix of trunk and regional point-to-point routes, and recently headlines have emerged indicating the airline is working toward an Oct-2017 launch – more than year behind schedule. The delays reflect challenges aspiring airlines face in Argentina, even with the government's more liberalised mindset.

Avianca, meanwhile, is examining adding services to the secondary Argentinian markets of Córdoba, Mendoza and Tucumen from Bogotá and Lima. Mr Rincón, speaking at the CAPA Summit, remarked that for Avianca there are opportunities to exploit routes that would help passengers minimise backtracking, using the example of passengers in northern Argentina travelling through Buenos Aires for a trip to Miami. Mr Rincón concluded it is much easier to go through Lima or Bogotá. Avianca plans to work with Avianca Argentina to feed Aviana's new international routes to Argentina.

See related reports:
Avianca is also close to announcing a fourth European destination in either Frankfurt or Munich, both of which are hubs for Avianca's fellow Star Alliance partner Lufthansa. Mr Rincón told CAPA TV both airports are attractive, great connecting hubs. Lufthansa has served Bogotá from Frankfurt for half a century, but there are no flights between Munich and Colombia.
CAPA TV interview with Avianca CEO Hernán Rincón
It is logical for Avianca to tap into Lufthansa's two largest hubs measured by seats. And if Avianca can tap into demand from what it deems as non capital cities to Europe, one stop through Bogotá could become an attractive option for those destinations.

Avianca is also considering those secondary types of markets as it evaluates adding flights to Rome and Paris – hubs for its SkyTeam partners Alitalia and Air France, respectively.

European airlines dominate service from Rome and Paris to South America. Alitalia operates flights to São Paulo and Buenos Aires from Rome, and has a commanding seat share between Rome and upper South America. Its SkyTeam partner Aerolineas Argentinas operates flights from its hub in Buenos Aires to Rome.
Weekly seats between Rome Fiumicino Airport and upper South America: 2012 to early 2018
Air France operates flights from Paris to Bogotá, as well as to São Paulo Guarulhos International airport. Air France holds a commanding seat share of 85% from Paris to upper South America, and is the only airline operating between Paris Charles de Gaulle and lower South America.
Weekly seats between Paris Charles de Gaulle and upper South America: 2012 to early 2018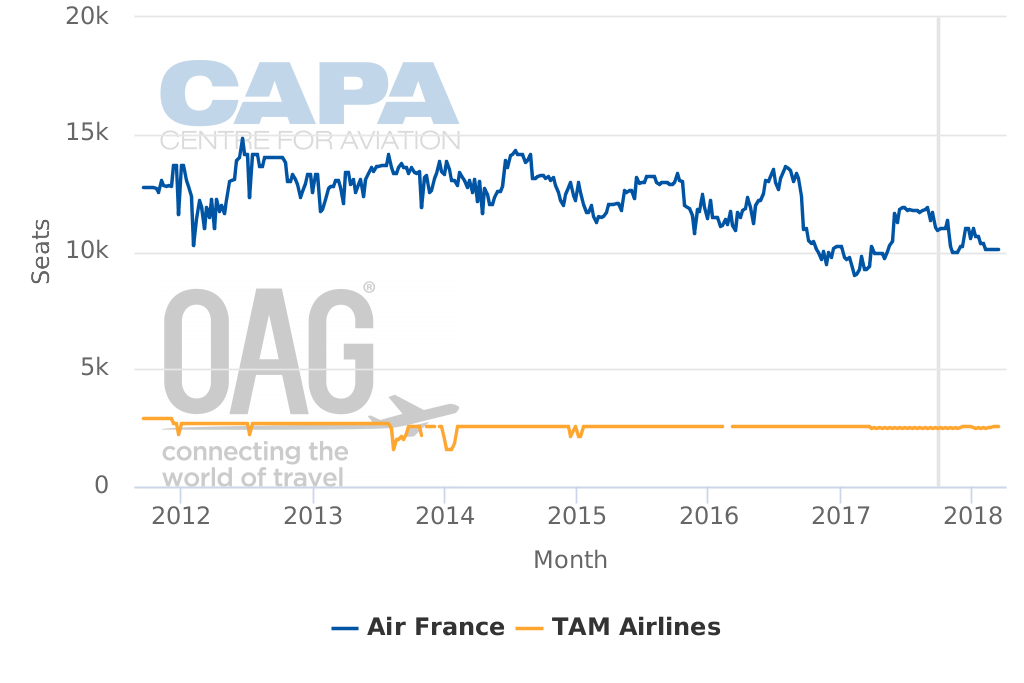 Avianca uses Synergy pursuits to realise its network ambitions
Avianca has made its ambitions to be one of Latin America's dominant airlines well known, and the company is looking to leverage the pursuits of its parent company Synergy to build a network to realise those ambitions.

Obviously it is not clear whether the Latin American aviation market place will evolve into two large major airlines, but Avianca is aggressively moving to build network utility to remain a viable competitor as the region realises its full traffic potential.