Austrian leads the way, Lufthansa to acquire minority shareholders' stakes
Analysis
The rise followed Austrian's announcement of plans to hold an extraordinary shareholder meeting on 16-Dec-2009, at which Lufthansa intends to vote on an offer to "squeeze out" the remaining shareholders of Austrian Airlines for cash compensation of EUR0.50/per share. Lufthansa's holding company, ÖLH Österreichische Luftverkehrs-Holding-GmbH (ÖLH), had already acquired 95.4% of the share capital of Austrian by end of Oct-2009.
In Sep-2009, Lufthansa filed a buyout offer of EUR4.49 per share to acquire the remaining shares, having reached the 90% ownership requirement of the Vienna Stock Exchange. However, the offer was deemed unbinding after the German carrier's shareholding exceeded 90%.
Austrian Airlines recently conducted an internal audit, determining the company has a negative value of EUR207.2 million, corresponding to a negative per share value of EUR2.43. The European Commission approved the takeover by the German carrier on 28-Aug-09, when Austrian Airlines' shareholders offered a total of over 75% of the necessary shares for sale, meeting Lufthansa's preconditions for the merger. The merger was initially scheduled to be closed within ten stock exchange trading days.
Shares in British Airways gained 0.9% on Friday, while Iberia lost 3.2%, as investors digested much activity by the airlines. The proposed BA and Iberia merger was met with opposition, with BA CEO, Willie Walsh, denying the merger would increase fares or reduce the carrier's standards, stressing that both carriers will maintain their individual brands.
BA cabin crew union, Unite, stated it would not back the carrier's plans to merge with Iberia unless the carrier takes steps to ensure there are no significant job losses. Mr Walsh admitted the new deal would lead to further job cuts for the carrier. Meanwhile, voting on a strike ballot by the cabin crew staff commences on 16-Nov-2009. Unite predicts the majority of staff would vote for the strike, and plans to meet with BA management in "coming days".
Meanwhile, Iberia has reserved the right to pull out of its merger deal with British Airways if BA's pension scheme deficit is larger than GBP3 billion. BA is still yet to reach an agreement on the size of the pension shortfall with the fund's trustees, and does not expect to reach an agreement for another two to three months.
BA also stated it is open to talks with the Civil Aviation Authority (CAA) for the creation of a "national control company", which would own a 50.1% stake in the UK half of the BA/Iberia merged group. The purpose of the company will be to preserve BA's UK traffic rights.
Iberia reports revenue reduction, generating operating and after tax losses
Iberia has released its financial results for the three months ended 30-Sep-2009, highlighting losses at the operating and after tax levels. Iberia reported an operating loss of EUR56 million, compared to a profit of EUR21 million in the previous corresponding period, and generated a EUR16.4 million loss after tax, compared to a EUR30 million profit in 3Q2008.
Iberia's operating revenue dropped 19.6% year-on-year for the third quarter, as yield decreased 13.8% year-on-year and passenger traffic (RPKs) weakened (-6.0%). Operating revenue per ASK was cut 15.5% year on-year to EUR7.2 cents in the third quarter, despite a 10.6% year-on-year reduction in operating cost per ASK to EUR7.5 cents. Total operating costs were also down, 14.9% to EUR1,211 million for the three months ended 30-Sep-2009.
Finnair expects strike action to cost EUR2.5-EUR5.0 million per day from 16-Nov-2009
Shares in Finnair jumped 5.3% on Friday, despite looming industrial unrest. The Finnish Air Line Pilots' Association (SLL), representing Finnair pilots, rejected settlement proposals put forward by State appointed mediator Esa Lonka on 13-Nov-2009, with the pilots scheduled to commence strike action on 16-Nov-2009.
Between 750 and 800 pilots are protesting plans by the company to use its pilots to train aircrew to operate Finnair aircraft leased to other carriers, while retrenching some of its own pilots. The strike is expected to cost the carrier EUR2.5 million to EUR5 million per day. A fifth of the carrier's flights have been cancelled, including almost all long haul services. Finncomm Airlines and Blue1 have announced plans to increase services from 16-Nov-2009, due to the Finnair's pilot strike.
Elsewhere, shares in Aeroflot gained (+2.8%), Aer Lingus up (+1.7%), Turkish Airlines jumped (+0.9%), Air France-KLM remained virtually flat (-0.1%), SAS dipped (-1.0%) and Aegean Airlines lost (2.5%).
Europe selected airlines daily share price movements (% change): 13-Nov-09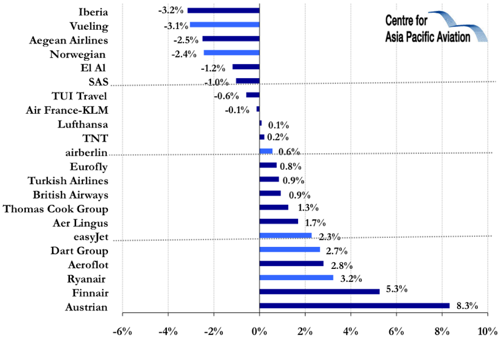 Finnair pilots reject proposals, strike begins Monday – Edited press release
Finnair and The Finnish Airline Pilots' Association have failed to reach agreement in employment agreement negotiations. Finnair pilots begin a strike Monday 16-Nov-2009.
Due to the strike Finnair is likely to cancel nearly all long-haul flights departing from Helsinki on Sunday (15-Nov-2009), as well as European flights departing on Sunday and returning on Monday. Finnair's scheduled flights on Monday are cancelled. The carrier aims to operate all of its leisure flights regardless of the strike.
Finnair recommends that customers postpone their journey if their flight is cancelled due to the strike. If postponement is not possible for the customer, Finnair will attempt to make special arrangements to enable the journey.
Finnair Senior Vice President, Timo Riihimäki, explains, "if a customer's flight is among those cancelled, the options are postponement of the journey, re-routing or a refund of the unused part of the ticket. Finnair will be flexible in changing flight bookings, irrespective of the type of ticket".
Finnair operates approximately 200 flights per day. Finnair's codeshare partners will fly to and from Helsinki as normal despite the strike. If customers have a ticket with a Finnair flight number sold for another airline's aircraft, they can take this flight as normal.
Finnair SVP Human Resources, Anssi Komulainen, added the carrier is "totally stunned and apologises sincerely for the inconvenience this causes to our customers. The SLL has now turned down three settlement proposals within in a year and a half. The employer would have been prepared to accept all of these proposals. The strike that will now begin on Monday will cancel out all those savings achieved with great hardship by other employee groups. Now we are forced to come up with totally new solutions in order to secure the future of the company".