Australian Infrastructure Fund reports 7.6% pax increase; GMR shares gain 7.6%
Australian Infrastructure Fund (AIX) shares dropped by 1.8% on Wednesday (01-Dec-2010). On the same day the airport operator announced the passenger traffic across its airports increased 7.6% year-on-year in Oct-2010. Highlights include:
GMR Infrastructure (+7.6%) shares gained the most ground on Wednesday. GMR had announced plans to divest its 50% stake in InterGen NV to China Huaneng Group for USD1.23 billion.
Selected airport operators/investors daily share price movements (% change): 01-Dec-2010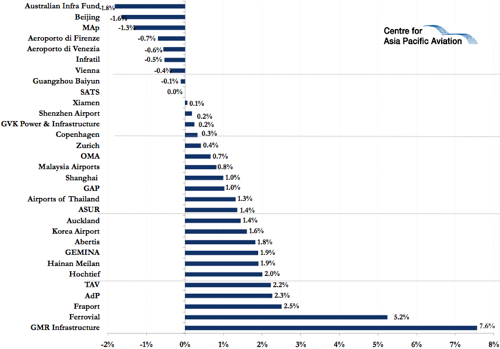 Lagardere SCA shares rose by 5.3% on Wednesday following reports it is considering selling its international magazine business in order to focus on its French magazine titles.
Selected airport suppliers daily share price movements (% change): 01-Dec-2010