Asiana yield weakness continues; Thai reports worse-than-expected losses, Jazeera also unprofitable
Asiana Airlines' shares fell 0.5% yesterday, as the carrier reported a widened USD105 million operating loss in the three months ended 30-Jun-09.
Asiana's profit before income tax was USD49 million, compared to a loss of USD18 million in the previous corresponding period, although this return to the black was predominantly due to gains from equity ties with affiliates. The carrier reported yield reductions in the period of 7.4% for international passenger services - the first quarterly yield reduction since 2Q2007 - and a 17.5% reduction in cargo yield, the second consecutive quarter of deep reductions.
Asia Pacific selected airlines daily share price movements (% change): 13-Aug-09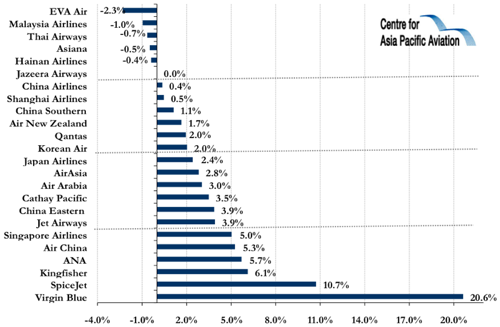 Thai Airways' shares were also down yesterday, by 0.7%, on reports that the carrier generated a worse than expected net loss of USD158.2 million for the three months to Jun-2009 - a worsening from the USD27 million loss reported in the same period of 2008. The result was attributed to foreign exchange losses and falling passenger numbers, due to political unrest in the country and the swine flu epidemic.
Also in the red in the quarter was Jazeera Airways, with a net loss of USD4.4 million and a USD7.7 million loss in the six months to Jun-2009. Despite these losses, the carrier expects a turnaround in 2H2009 and profitability in the full year, as business travellers downgrade to LCCs. CEO, Stefan Pichler, stated the carrier's network restructure from a dual to single hub "briefly impacted revenues" in the quarter, but will "ensure that Jazeera Airways will progress towards having the lowest CASK in the region".
Among the gainers yesterday, Virgin Blue's shares soared 20.6% (following gains of 5.0% on Wednesday and 5.3% on Tuesday) on renewed investor interest, with a turnover of more than 70 million shares yesterday. Qantas also continues to gain, increasing its four-weak gain to 41.2%, more than double the ASX 300's increase.
According to JP Morgan, the two Australian airlines are generating new-found investor confident ahead of the release of their full year financial results this month. However, Virgin Blue Chairman, Neil Chatfield, stated he was unable to explain the reason for the carrier's gain, other than to say that investors are buying back into airlines in general. However, Virgin Blue is likely to have benefited from news this week that Flight Centre expects further growth after positive Jul-2009 sales levels. The carrier is likely also benefiting from expectations it will receive ACCC approval to proceed with a formal JV agreement with Delta on trans-Pacific operations, after Qantas, United and Singapore stated they would not oppose the application.
Singapore Airlines' shares also gained 5.0% yesterday, as Chairman, Stephen Lee, stated the carrier's conservative business approach, "strong foundations", strong balance sheet, and ability to not rely on debt, would allow the carrier to recover more effectively than its competitors.