Asian freight load factors slump in January - worries over market protectionism grow
Analysis
Another set of airline traffic data, this time from Association of Asia Pacific Airlines (AAPA), confirms the severe downturn facing the cargo sector. Some of the major freight players are becoming concerned the severe downturn in manufacturing (and hence cargo shipments) around the world could result in a rise in protectionist actions by governments.
UPS Chairman and CEO, Scott Davis, urged the US and its trading partners around the world to avoid the "huge mistake" of responding to the "current dark economic times" with measures to restrict free trade. Mr Davis stated, "the need to support global trade grows more urgent by the day".
Mr Davis added, "global trade is one of the most important tools we have to help lift us out of the financial crisis. No argument against free trade can justify the negative impact to economic and human development. Proponents of free trade find themselves with an increasing challenge these days. The facts are clearly on the side of trade, but popular perception clearly is not...[so] we simply must do a better job telling the story".
Asian cargo markets slide 24% in Jan-09
AAPA international freight tonne kilometres (FTKs) were 23.6% lower than the same month last year, while members' cargo load factors fell by 7.4 ppts to just 56.6% as capacity reductions (-13.7%) failed to keep pace with falling demand.
AAPA international freight traffic growth vs freight capacity growth: Feb-08 to Jan-09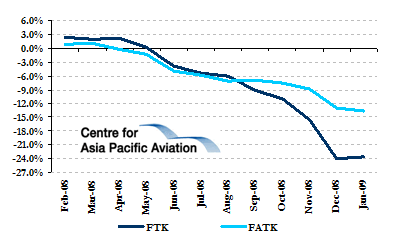 AAPA Director General, Andrew Herdman, stated, "the collapse in world trade is having a severe impact on airfreight demand, forcing airlines to temporarily ground a number of dedicated freighter aircraft".
Asian passenger numbers continue to fall heavily, especially premium demand
Mr Herdman also acknowledged premium passenger travel demand has been "hit particularly hard", as businesses seek to cut costs in response to the global economic downturn.
International passenger numbers carried by AAPA members declined by 7.8% to 11.4 million in Jan-2009.
AAPA international passenger traffic growth vs passenger capacity growth: Feb-08 to Jan-09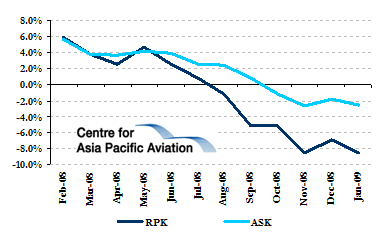 Traffic measured in RPKs fell 8.5% in Jan-2009, but capacity for the month was only 2.6% lower year-on-year, leading to a 4.6 ppts reduction in average passenger load factor to 73.9%.
AAPA international passenger numbers growth vs passenger load factor: Feb-08 to Jan-09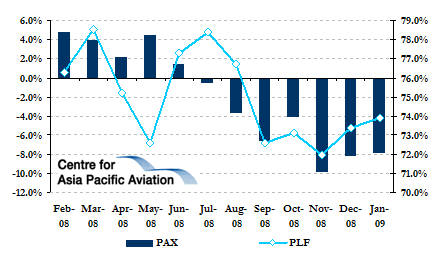 Outlook "extremely challenging"
Clearly, additional capacity cuts will need to be made by AAPA members to adjust to the sharply lower demand in both passenger and cargo markets. Overall, Mr Herdman said the operating environment remains "extremely challenging".