Asian airline share price wrap - Chinese airlines soar on government bailout plan
Shares in China's major airlines had a strong day yesterday on reports the Chinese Government could approve requests by the big three airlines' parents for emergency funding support. The government could provide the parents of Air China, China Eastern Airlines and China Southern Airlines approximately USD440 million each to help them cope with significant financial pressures.
Asia Pacific selected airlines daily share price movements (% change): 17-Nov-08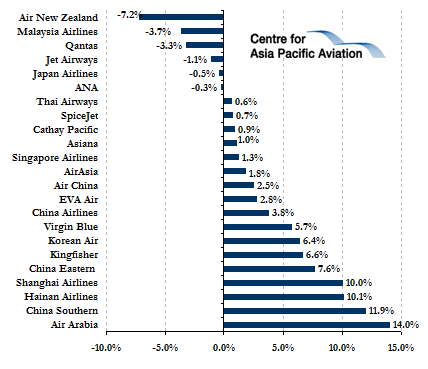 India's Kingfisher Airlines also had a strong day, rising 6.6% in Mumbai yesterday on reports by Chairman & CEO, Vijay Mallya, that he had received offers from several foreign airlines to buy a stake in the carrier. Any deal would however be a long way off, requiring a change in government policy. With elections scheduled next year in India, significant policy changes are unlikely for a least a year.
Meanwhile, Air New Zealand's shares continued to tumble yesterday on a weak outlook for the New Zealand economy and concerns over rising competition in the airline's key markets.