Asian air cargo markets shattered by global economic downturn
Asian cargo markets are bearing the brunt of the global economic slowdown, which in turn is having a severe financial impact on the region's airlines. IATA forecasts Asian airlines will report a USD600 million operating loss (USD1.1 billion net loss) in 2009, due in large part to their large exposure to the air cargo segment.
Latest IATA data confirms the downturn, with worldwide cargo demand falling 13.5% in Nov-08. Director General & CEO, Giovanni Bisignani, described the reduction in international cargo as "shocking". He stated, that air cargo handles 35% of the value of goods traded internationally, which clearly shows the "rapid fall in global trade and the broadening impact of the economic slowdown".
Asia Pacific carriers (representing 44.6% of global freight) saw freight traffic fall by 16.9% in Nov-08 - the largest decline of any region. Double-digit freight traffic declines were also experienced by Latin American carriers (-15.7%), North American carriers (-14.4%) and European carriers (-11.0%). Freight traffic for Middle Eastern carriers turned negative (-1.6%), following 1.0% growth in Oct-08. African carriers, while being the only region posting freight growth (2.2%), saw a decline from the 3.0% growth posted in Oct-08.
IATA international cargo traffic (FTK) growth (% year-on-year) by region: Nov-08 vs YTD 11 months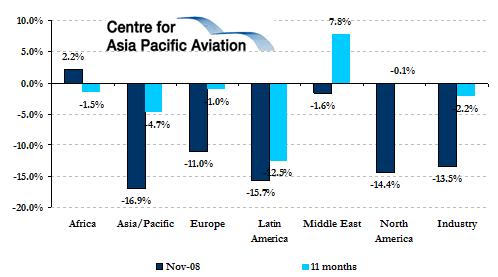 As freight accounts for a larger percentage of revenues for the Asia Pacific carriers, fourth quarter profits for the region's carriers will be disproportionately (and negatively) impacted by the downturn in the global air freight market, according to IATA.
In Dec-08, Cathay Pacific announced two B747-400BCFs will be grounded for 12 months in the California desert from this month and several new freighter aircraft deliveries will be delayed. The airline will reduce cargo capacity to Australia, North America and Europe. Cathay has also delayed construction of its Hong Kong cargo terminal, which had been scheduled to commence operations in 2011.
Singapore Airlines Cargo unit is meanwhile offering pilots up to 30 months' unpaid leave and is considering grounding some aircraft over the next few months, in response to weak market conditions.
EVA Air recently reported its cargo revenue fell by a third in Nov-08 year-on-year, as volumes plunged 25.5%, yields slumped 5.7% and cargo load factor dropped 6.0 ppts to 72.5%.
The worldwide air cargo sector is also embroiled in widening action by competition bodies over fuel surcharge price fixing. Several carriers have already been found guilty and incurred multi-million dollar fines.
IATA concluded, "plummeting business confidence and the continuing turmoil in financial markets indicates that the worsening trend will be continued in December".