Asia Pacific leads August passenger traffic decline - freight slumps
IATA stated demand in Asia in the month was influenced by Olympic-related security measures in China and growth could pick-up in coming months - a telling indication of the important role that China now plays in the region's system. That view is supported by Beijing Capital International Airport, which this week predicted post-Games passenger traffic would recover. IATA added that a weakening Japanese economic outlook also contributed to the decline in Aug-08.
Worldwide international passenger demand (RPK) growth slowed to 1.3% in Aug-08, including a 3.1% reduction in Asia Pacific traffic.
IATA International scheduled passenger traffic (RPK): Industry vs Asia Pacific (% change year-on-year): Sep-07 to Aug-08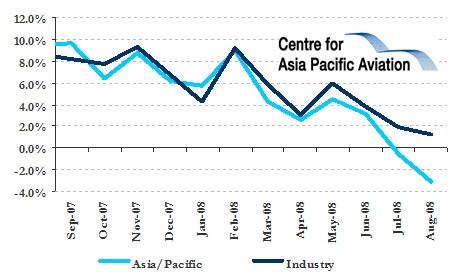 Asian airlines grew their capacity by 1.7% in the month, leading to a sharp reduction in load factor to 75.1% - with a significant load factor gap now opening up from the rest of the industry (79.2% in Aug-08).
IATA Industry vs Asia Pacific passenger load factors (%): Sep-07 to Aug-08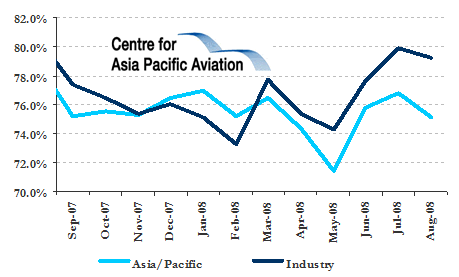 Giovanni Bisignani, IATA's Director General and CEO, stated, "the slowdown has been so sudden that airlines can't adjust capacity quickly enough", He added, "while the drop in the oil price is welcome relief on the cost side, fuel remains 30% higher than a year ago. And with traffic growth continuing to decline, the industry is still heading for a USD5.2 billion loss this year".
Asian freight markets are much more worrying, with demand (FTKs) slumping 6.8% year-on-year in Aug-08, following a 6.5% decline in Jul-08. International freight traffic saw its third consecutive month of contraction with a 2.7% decline in Aug-08, following falls of 1.9% in Jul-8 and 0.8% in Jun-09.
IATA International scheduled freight traffic (FTK): Industry vs Asia Pacific (% change year-on-year): Sep-07 to Aug-08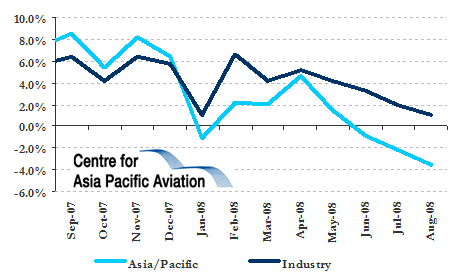 According to Mr Bisignani, because airlines carry 35% by value of the goods traded internationally, the three-month decline - led by weakness in the Asia Pacific markets (which account for a massive 45% of global air cargo) - is a "clear indication that global trade is slowing down". He added, "the impact of the financial crisis is broad geographically and will worsen before it gets better".
Mr Bisignani stated, "the industry crisis is deepening and no region is immune". At least 20 international airlines are at risk of bankruptcy amid global financial turmoil, according to IATA. Mr Bisignani concluded, "urgent measures are needed. From taxation to charges and operational efficiencies, all areas impacting the business must be examined for ways to reduce costs and drive efficiencies. It's a matter of survival".