Asia Pacific airline stocks rally, Asiana and Virgin Blue lead the way
Asia Pacific airline stocks marched higher yesterday, courtesy of a rally on broader markets and weakness in oil prices. Crude fell another USD1.25 per barrel overnight in New York to USD74.40, for June delivery.
Asiana Airlines (+9.8%) and Korean Air (+4.2%) continued their recent strong gains, as Asiana reported a very healthy first quarter operating margin approaching 10%.
Asiana Airlines operating profit margin: 1Q2007 to 1Q2010
Revenue surged 27.4% to USD1,036 million, with international passenger operations accounting for 57.7% of the total.
Revenue contribution: 1Q2010
Operating costs rose just 1.7% to USD933.6 million and operating profits turned from a USD106 million loss in 1Q2009 to a USD101.6 million gain in 1Q2010, thanks to resurgent passenger demand.
Asiana Airlines international passenger traffic growth (RPK) and passenger yield (in KRW) growth: 1Q2009 to 1Q2010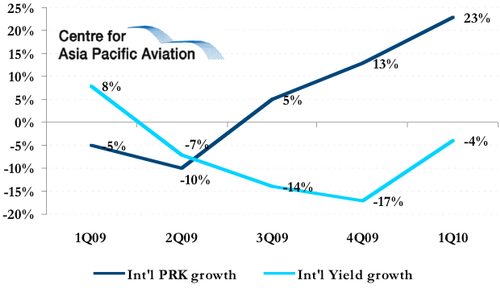 Elsewhere, Virgin Blue (+7.7%) and Chinese airline stocks were also sharply higher.
Asia Pacific selected airlines daily share price movements (% change): 13-May-2010