Ash Attack shows real value of aviation to global economic and social fabric. More shocks to come
Aviation's value in world commerce and communications is generally taken for granted – until it stops. Ask any travel agent or airline today what the social wear and tear has been as a result of the ash cloud over Europe; from deep inconvenience to family tragedies, surface transport options have proven woefully inadequate to fill the gap, even those within Europe, let alone the hundreds of thousands of travellers stranded around the world.
The commercial and economic value is easier to account, although it will take months to see the full impact of this week's airspace shutdown. It will be vast, many billions of dollars - far greater than the immediate economic impact figures doing the rounds at present.
Nearly one third – by value - of all world trade in goods moves by air. Closing Europe's airspace has the effect of shutting down nearly a third of that operation.
Our whole global economy is built around fast movement of high value products, from fresh produce, through computer products, car parts, urgent medical supplies and even gold. More economically importantly even than that, entire supply chains rely on immediate delivery of ingredient products for manufacturing and retailing. Thus there is a near-endless variety of affected companies and consumers as the blockage moves downstream.
Then there is the world's largest "industry", tourism. The disruption to tourism flows caused by the European grounding stretches far beyond the local impact, with all the potential tourists by air also being prevented from flying in either direction.
Added to the impact on trade in goods, in other words, this week's disruption consequently is so significant that it will have a measurable negative effect on the terms of world trade.
The carbon footprint vs the social and economic cost
Aviation accounts for around 8% of global economic output (and more, depending on the degree of proximity applied), while generating about 2% of total carbon emissions. That is a pretty favourable cost/benefit ratio – especially considering that the industry has had a history of continuous improvement with regards to both noise and efficiency.
The Ash Attack has provided an unplanned social and economic experiment, with airlines again at the epicentre. All those who believe that airplanes are toxic to the environment have had a sneak preview of what the world would be like if, indeed, people and goods did not fly.
One effect is fewer (airline) emissions. The UK's Plane Stupid, a group dedicated to opposing air travel, suggests that the exclusion of aircraft in European airspace has saved some 200 tonnes of carbon emissions (although the volcanic eruption has more than a passing impact on the environment and the temperature of the atmosphere – the underlying issue). Clearly the best way to reduce mankind's carbon footprint is to cease breathing and end global trade. But somewhere between the two there is a medium that is realistically sustainable; even the most radical carbon campaigners generally stop short of suicide as a solution to global warming/climate change.
The group's carbon reduction calculation did not however account for the drastically increased emissions resulting from travellers forced to turn to alternative use of much less efficient surface travel modes as car or bus – and the also-questionable emission profile of trains, depending on whether they are powered by coal/electricity or nuclear sources.
There are other social consequences. One feature of the risk-based judgment that shutting down airspace was necessary was obviously the risk of personal injury. Air crashes are dramatic and front page news. No politician or senior bureaucrat would want to be pilloried by the media in front of graphic
Yet air travel is, by a massive margin, the safest form of passenger movement. It is inevitable for example that there will have been a spike in road accidents as a result of the large number of additional travellers over the past few days. In 2008 – certainly with higher numbers of surface than air travellers - 39,000 people died in road accidents in the EU alone, and another 1.7 million were injured.
But, for the entire world's air passenger traffic in 2008, there was a total of 502 deaths in aircraft accidents – with around three billion passengers flying that year.
The respective numbers are not directly comparable, but it is a demonstrated fact that post-September 11, as fearful travellers chose to go by car instead of flying, US road casualties increased by thousands. The resultant very real social costs cannot easily be measured, although there are accountable – and very large - dollar figures to accompany the costs of services involved in such events.
And everyone is affected…
It is not just large companies, such as the major airlines which are in the firing line. For example, few Kenyan flower growers realised that they were so intimately linked to the airline industry, until the supply route for their exports suddenly closed; the car and computer industries, with their high value input items also quickly suffer as supply dries up. Lobster fishermen around the world were left with masses of product on their hands, with nowhere to go. Restaurants and food markets all over the world were affected directly or indirectly, and consumers quickly saw food prices increase.
The airlines themselves have lost up to USD1 billion a week as a direct result of this unforeseen natural disaster; Asia Pacific airlines alone have already lost around USD250 million. Inevitably, the European airlines have been worst affected.
One or two perhaps, like Ryanair with its huge cash pile, could afford to sit and wait it out, at least for a while. Others face serious damage. British Airways for example needed this like a hole in the head. It anticipated an operating loss of up to GBP800 million for the financial year just ended, a GBP3.7 billion pension fund deficit and fares more strikes after the British General Election (the trade union Unite is already positioning itself to block pressure for cost-saving changes to employee contracts arising from this event).
Further down the pecking order, smaller LCCs and regional airlines that are more cash flow sensitive, especially during this period when business should be picking up towards the (northern) summer, will be carefully counting the cost. Those that operate high frequency/volume operations to southern Spain in particular, from where most northern European holidaymakers are trying to get home by bus via Madrid, or by what other means they can, are particularly at risk.
Not only do they suffer an injurious loss of revenue, they also have the added insult of having (legally or ethically) to pay for alternative accommodation and travel arrangements for their stranded customers.
Then there are the immediate relatives: airports, air navigation service providers, all of the airline and airport suppliers – which are legion.
Where there's a loss, there's a claim lawyers' heaven looms
Always where there is financial loss there is a claim. Already national governments are lining up to challenge the European Union to find the money to compensate their airlines, and others. But there are difficulties here.
There has not been an even process, where all key participants were involved. There has been a variety of decision makers involved, some better qualified than others – and some notable failures to make decisions, as British Airways and Lufthansa have been quick to point out. And, amid this haste and uncertainty, basically a lot of actions have been taken with probably only scant attention paid to the ultimate legal outcomes. This all makes for a lawyers' heaven.
'Europe' is a broad area, parts of which have been badly affected by the eruption while other parts have not. The reaction by some ANSPs has been stricter in some cases than others. There is a history of division between the more 'successful' (typically 'northern') airlines and those that frequently went cap in hand to their governments to cover constant losses caused by profligacy, most of them in the southern part of the continent where the ash has so far failed to permeate. They have suffered less, also being excluded from operating within the cloud zone, but it is the northern airlines which have accrued the biggest damage. It will be interesting to see if Ryanair joins the compensation queue – if it were to do so, it would probably be at the forefront.
In this legal minefield and as noted by CAPA, the aero-engine manufacturers reportedly may be threatening to withdraw warranties on any engine flown through the ash – something which is difficult to estimate precisely. Presumably that is why at least three airlines flew their own 'test missions' at the weekend: to gather technical evidence of their own to compare with the authorities' computer simulations and 'guesstimates'.
Engine warranties are big business for airlines – engines can cost as much as 40% of the total aircraft price. Interestingly, and in a strange case of role reversal, although large parts of Norwegian airspace opened on Tuesday afternoon, 20-Apr-2010, two airlines, SAS and Norwegian, declined to fly as they deemed the cloud to be too thick. In the air, the dust cloud, on the ground a legal minefield.
But there is also a global assortment of discomfited travellers and businesses and industries, all of whom will be looking for someone to sue in these unusual circumstances.
How rigorous was the risk assessment?
Furthermore, this begs the question as to how much research could, or should have been done into the propensity for engine damage in this scenario before ICAO issued recommendations and advisories (which are, necessarily, far from black and white in terms of measurable conditions and therefore open to interpretation).
After all, volcanoes are hardly a new issue, with several recorded incidents of large jet aircraft flying straight through thick (not thin and widely dispersed) ash plumes, some of which suffered severe damage, others a little damage and others none to speak of. Some reports indicate there may have been as many as 80 such incidents over two decades. It does not need an actual eruption to undertake tests when the damage-causing material in these sub-glacial eruptions is, effectively, sand.
If scientists aren't coming out of this very well, then neither are politicians and their governments. Most seemed virtually oblivious to the crisis for three days, keeping their heads well down, when the blame game started.
In the UK the responsibility for deciding whether or not aircraft can fly seems to be split, incongruously, between the public sector Civil Aviation Authority (understandably), the Meteorological Office (a government department that became a semi-privatised agency, which is responsible for forecasting the weather), along with the air navigation services provider, NATS. The latter is also part privatised and run by a group of airlines, thereby indirectly overseeing their own financial suffering by preventing themselves from flying.
There are also suggestions that Brussels might have taken precedence, possibly even overriding decisions being taken by national administrations. And, eventually, as the dust started to die down, the national transport ministers finally arranged a telephone hookup.
NATS now advises that it is "working closely with Government, airports and airlines, and airframe and aero engine manufacturers to get a better understanding of the effects of the ash cloud and to seek solutions'.
The hundreds of thousands of people left stranded, and businesses disrupted who each have their own tale of misery can be excused for saying "you should have understood it long ago." Not to mention some very vociferous airlines.
A volcanic future? The uncertainty persists
Meanwhile, the only certainty is that there can be no certainty for the time being. It does appear that the worst is over, but this is a wilful creation and unpredictable. Suggestions are that there is more to come. So far the volcanic eruption under the Eyjafjallajökull Glacier in Iceland has actually created no records.
So far it is barely a pale shadow of some of the bigger examples. In the 18th century the Laki eruption wiped out a quarter of the population of Iceland and ruined crops for years across Europe. By comparison this eruption, under the fifth largest (but much smaller) one, is trifling.
It must be of worldwide concern that seismic activity in on the increase, both in Iceland and more widely (China, Haiti, Chile etc). Iceland sits at the convergence of the Atlantic and European tectonic plates, making it particularly prone to this sort of activity. That fact, coupled with prevailing winds that go west-east/southeast, means that whenever there is an eruption this sort, major disruption is likely to occur.
Rumours began to spread this week that another volcano, the awesome Hekla volcano was bubbling up ready to blow. Fortunately it isn't, yet.
Map: Major volcanoes in Iceland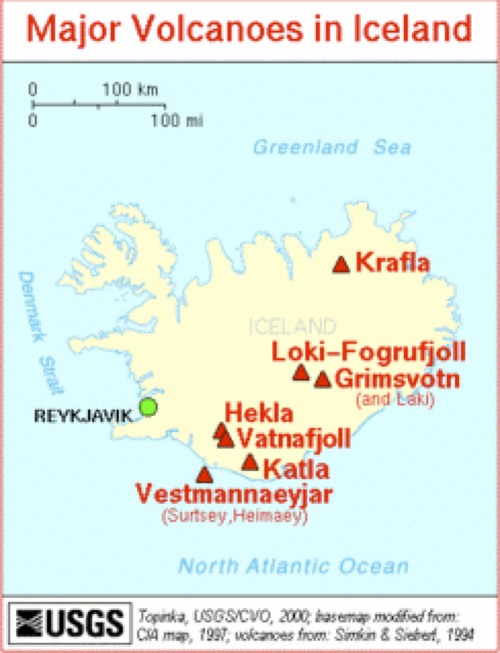 The volcanoes mentioned here are amongst many that could erupt at any time. Like Los Angeles and Yellowstone Park, Iceland is overdue for 'the big one'.
(Ironically, one airline that has fared reasonably well out of this week's events is Icelandair. Although many of its European services were cancelled, transatlantic flights westwards were able to continue, both out and inbound, as the cloud drifted in the other direction. And when Glasgow Airport reopened for a short time on 20-Apr-2010, one of the first airlines to land was Icelandair, carrying passengers from cities such as Boston and Seattle, most of them probably ignorant previously of Icelandair's sixth freedom services between Europe and North America.)
The Constant Shock Syndrome

In 2003, following the onset of Sudden Acute Respiratory Syndrome (SARS), with its massive negative impact on aviation (just as the industry was recovering from the 1997 Asian Financial Crisis, the 2000 Tech Bubble Burst and 2001's September 11 attacks), CAPA coined the phrase "Constant Shock Syndrome" to describe the constant dunking that airlines receive. There is rarely any warning.
Now, just as there are gentle signs of recovery from 2009's disastrous economic downturn (and the effects of H1N1), European airlines – and many others – are attacked again from left field. Several are in serious straits, notably some smaller regional operators who fly just within Europe.
If there is anything certain in the lives of airlines, along with airports and the entire feeding chain, the Constant Shock Syndrome is well tested and proven. There will be more, whether it is from volcanic eruptions, or other more familiar shocks. For now, to corrupt two familiar expressions, it is 'Groundhot Day' all over again.
(CAPA analysts in the US (Ron Kuhlmann) and the UK (David Bentley) provided some of the material for this report).