Another oil price bubble to wreak further havoc on airline finances
Oil prices have risen over 4% in two days, adding another USD1.35 per barrel overnight in New York to USD72.68 - an eight month high - after trading as high as USD73.23 in intra-day trade. The steep increase in oil is ruffling the few feathers that remain in the global airline industry.
Drat those greedy speculators!
IATA Director General & CEO, Giovanni Bisignani, told the airline group's annual general meeting in Kuala Lumpur this week that "rising oil prices anticipating recovery are a great risk". He added, "greedy speculation must not hold the global economy hostage - failure to act by governments would be irresponsible".
Lufthansa CEO, Wolfgang Mayrhuber, has called for stricter regulation guiding financial market spectators, whom he stated were responsible for the volatile oil price. He added, "the old rule whereby supply and demand dictated the price of a certain raw material no longer applies".
Jet fuel spot prices continued to rise in the week to 09-Jun-09, after soaring 16% the previous week. Prices rose 0.4% at New York Harbor in the week to 09-Jun-09, +0.9% at the US Gulf Coast, -0.9% in Los Angeles, +1.1% in Amsterdam and +2.2% in Singapore against an underlying 2.1% increase in the WTI crude price.
Daily jet fuel prices (kerosene, cents per gallon) at New York, US Gulf Coast, Los Angeles, Amsterdam, Singapore vs Crude Spot price (WTI, USD per barrel): 02-Jun-09 to 09-Jun-09
02-Jun-09

03-Jun-09

04-Jun-09

05-Jun-09

08-Jun-09

09-Jun-09

one week
Change

12 month
Change

New York Harbor

181.75

175.05

180.4

180.2

180.48

182.55

0.4%

-54.0%

U.S. Gulf Coast

178.5

171.8

176.15

176.95

177.98

180.05

0.9%

-54.2%

Los Angeles

186

178.3

181.85

181.95

181.23

184.3

-0.9%

-54.9%

182.05

177.36

184.39

181.89

180.99

184.09

1.1%

-54.8%

174.76

177.86

175.83

176.19

172.26

178.57

2.2%

-56.1%

WTI Spot

68.58

66.14

68.8

68.43

68.05

70.02

2.1%

-47.9%
Daily jet fuel prices (kerosene, cents per gallon) at New York, US Gulf Coast, Los Angeles, Amsterdam, Singapore: 02-Dec-08 to 09-Jun-09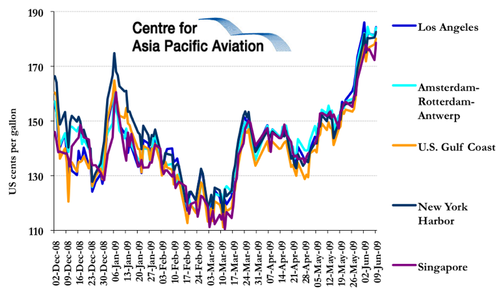 Big drop in fuel costs, but airline losses to widen as revenues dry up
Jet fuel prices are still down around 54-56% year-on-year, and crude prices are down 47.9%. As a result, the industry fuel bill is forecast to decline by USD59 billion to USD106 billion in 2009, according to IATA. Fuel will account for 23% of operating costs with an average price of oil at US$56 per barrel (Brent). By comparison, the 2008 fuel bill was USD165 billion (31% of costs) at an average price of USD99 per barrel.
Crude oil (Brent) average annual prices (USD per barrel): 2000 to 2009F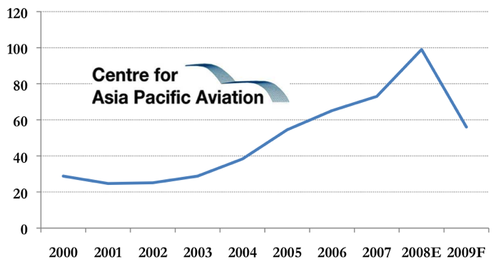 IATA's oil price (Brent) forecast for 2009 has fallen from USD110 per barrel in Sep-2008 (when it predicted an industry loss of USD4.1 billion). The expected oil price average this year has fallen to USD56 per barrel, but airline the airline loss estimate has ballooned to USD9 billion. This is because USD80 billion in total revenue is predicted to disappear from airline pockets this year, due to "falling demand, collapsing yields, broken consumer confidence, and pandemic fears", according to IATA.
Evolution of IATA's crude oil forecast (left scale) and industry losses forecast (right scale) for 2009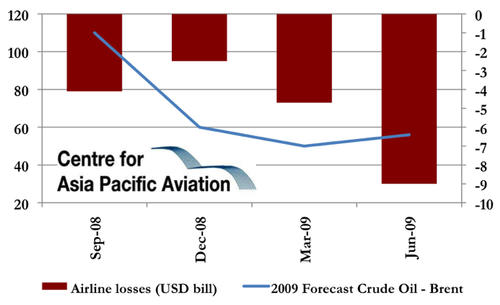 Jet Fuel and Crude Oil Price ($/barrel)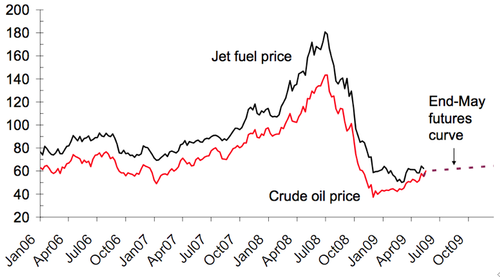 Outlook: What success fuel surcharges as another oil bubble emerges?
The weary airline industry is again forced to confront spiraling fuel costs. But with traffic demand remaining stubbornly weak, they have few levers to pull.
Thai Airways has ventured out to raise its fuel surcharges (effective 12-Jun-09) by USD10-15 per sector, or an increase of around 15%, depending on the route. Whether the increase sticks remains to be seen, as price sensitive consumers may simply take their booking somewhere else.
Overall, the continued rise in the price of oil, in the absence of a real underlying economic recovery, has the potential to significantly threaten the already fragile state of airline finances. Unfortunately for airlines, it appears another oil price bubble is emerging - and this one could have far greater consequences than the last.