Amsterdam Airport's cargo traffic shows no sign of resurrection
Analysis
The latest traffic at Amsterdam Schiphol International Airport indicates that while the deterioration in passenger traffic may be slowing, cargo traffic is continuing to slow, and is now dropping below 30%. Apr-2009 passenger traffic at the airport declined 14.7%, the lowest drop off since the beginning of 2009.
Amsterdam Airport passenger number growth and cargo volume: May-2008 to Apr-2009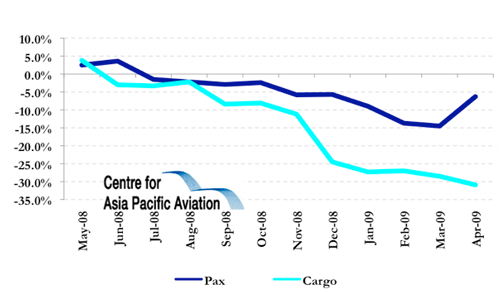 Cargo traffic fell a massive 30.9%, one of the strongest declines registered at any major European cargo airport this year. 25 carriers operate dedicated cargo services to/from Amsterdam, making it the third largest cargo hub in Europe, after Frankfurt and Paris Charles de Gaulle.
Cargo traffic at major European airports: Apr-2009*

The only major airport consistently reporting larger declines in cargo traffic has been Milan, which has been suffering heavily, both in cargo and passenger traffic, and from the withdrawal of Alitalia.
KLM consolidating cargo operations, trying to build passenger traffic
KLM controls approximately 50% of both passenger and cargo capacity at Amsterdam, and has been reporting steady declines in cargo traffic since mid-2008.

The carrier consolidated the cargo activities of Martinair, which represent the latter's main business, on 01-Jan-2009. Cargo traffic continues to drop, although KLM continues to add cargo capacity as it absorbs the operations of Martinair.
Air France-KLM Group announced in late May that it would move to cut cargo capacity by 11% between April and October this year, after a combined loss of EUR284 million on cargo in FY2008/09. It has also deferred delivery of two B777F from 2009 to 2010-2012.
Amsterdam Airport capacity and frequency share: Top 10 airlines
KLM's passenger traffic has been down to all regions for the year to date, although traffic to the Middle East has remaining relatively strong for KLM, even growing in Apr-2009. The Americas has also been performing relatively well, although Asia Pacific traffic continues to decline at better than 7% year-on-year.

European traffic, which accounts for most of the capacity out of Amsterdam, has been the weakest region for KLM for the year to date. Apr-2009 saw the strongest European traffic performance for the carrier for the year, down just 2.7%.
Top 5 international routes by capacity share (% of total) to/from Amsterdam
Encouragingly, KLM's capacity reductions are now moving broadly in line with the downturn in traffic. In Apr-2009, traffic to the Americas fell 1.8%, while capacity fell 3.1% and European capacity was reduced by 2.9%, with passenger traffic declining 2.7%.
This has not been enough to prevent some major cutbacks by the Schiphol Group. One in five jobs will be lost at the Dutch airport operator by the end of 2010 in a radical shake-up of its operations. Schiphol's net profit fell by 41% in 2008 and a further 50% fall is possible in 2009. It is hoped the Dutch government's decision to scrap the flight tax on 01-Jul-2009 will help the recovery process. It is estimated the tax has resulted in the loss of 1.5 million passengers through AMS. But a broader-based recovery will depend on improving global economic conditions.